The Best Products for Keeping Stainless Pretty!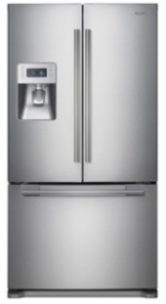 Stainless steel is the most widely sold finish for most kitchen appliances. Not only is it attractive to look at and fitting for most home decor, but it also has a long life span and is virtually stain resistant. But the big concern those that own stainless steel appliances have is trying to keep them looking clean and streak-free.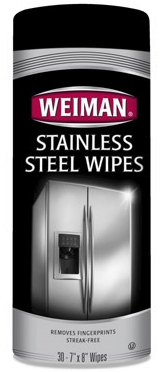 So which products are best for cleaning stainless steel appliances and maintaining their shine? By far, Weiman makes the best stainless steel cleaner available on the market. This product is so effective in leaving a clean, streak-free shine, it was rated #1 by Consumer Reports (www.consumerreports.org). It effortlessly removes fingerprints, grease marks, food splatter, and dirt, and leaves the surface sparkling clean.
Best of all, there's no scrubbing involved. Just spray the product directly on your refrigerator, dishwasher, stovetop, or other stainless steel appliances, and then rub in with a soft cloth. Use a separate dry cloth to lightly buff the appliance and you're done! Cleaning experts recommend using Weiman Stainless Steel Polish & Cleaner several times a week to keep appliances looking clean and polished.
And here's a quick note: Weiman also offers a line of pre-moistened wipes for cleaning stainless steel appliances, and while they work just fine, they are honestly not as good as the spray-on polish. The spray lasts longer and is less expensive, so it's definitely the best buy.
Microfiber cloths are also recommended, but they're meant to be used with water only. They won't leave lint behind, and are designed specifically for removing dirt, smudges, fingerprints, dust, and other debris, without scratching delicate surfaces. I polish with my microfiber cloth between the cleanings I do with the Weiman product.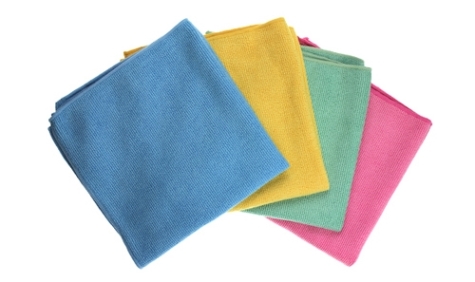 There's also Windex. It works great as a quick way to keep appliances looking nice in between more thorough cleanings. Simply spray it on and wipe it away with plain paper towels. Fingerprints and smudges are removed and there's no streaking left behind. Cleaning expert, Martha Stewart, recommends it as a way to keep stainless steel appliances looking their best. I'm not as crazy about it though—it's too toxic for my taste. But in a pinch it's a viable choice.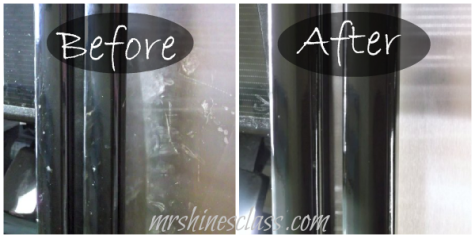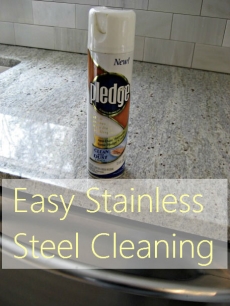 Finally, some folks claim Pledge furniture polish works great. And I would agree—especially on stainless steel sinks.
When reading advice from cleaning experts, though, the one thing they all agree on is that to keep stainless looking nice over the long haul, it must be maintained on a regular basis; wiping it down in the evening as you clean up from dinner is really the best approach. Taking my cue from an old adage, "A stitch in time saves nine," I function according to "A wipe in time saves nine."
---
Sources:
www.goodhousekeeping.com
www.healthyhomecleaning.com
www.mrshinesclass.com
www.involvingcolor.com
---


Alice Osborne
Weekly Newsletter Contributer since 2006