New Twists to 3 Old Themes
The thing I love about cooking and baking is how much fun it is. This activity is so amenable to experimenting. Sometimes my experiments flop, but lots of times they succeed. I love giving new twists to old themes. Here are three new themes I think you'll love knowing about: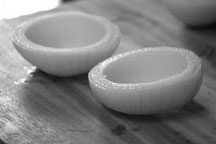 The first theme I'm talking about is meatloaf. While you probably have your favorite meatloaf recipe, and you've probably made mini meatloaves before, have you ever tried doing mini meat loaves in onion cups?
They're easy to do and pack an extra flavor wallop because of being baked in an onion. It takes about 20 minutes to prep them, and about 35 to 40 minutes to bake them. Cut 3 onions (red or white work really well) in half lengthwise, and remove the centers, leaving 3 to 4 layers of the onion for a cup.
Mix up your favorite meatloaf recipe and divide it evenly, mounding the loaves up nicely, between the onion cups. Brush the tops of your loaves with olive oil.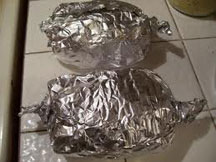 Now here's the other cool feature of this idea: You can either wrap them in foil and grill them for about 20 minutes on each side, or you can place the foiled loaves in a pan in the oven and bake at 350 degrees F for about 40 minutes.
We did this the other night in the oven, and included baked potatoes and a baked butternut squash. Talk about an efficient use of the oven - it was a delicious meal, too.
You can discard the baked onion cup, but I saved them. I chopped them up and used them the next night in a hamburger soup that I put together using one of the leftover mini meatloaves. Call me clever.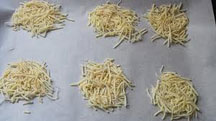 The next theme? Speaking of soup, we all like crackers with our soup, but have you ever had Pamesan crisps instead? These are SO good. For 18 crisps you need 1 cup of shredded Parmesan cheese and a little salt and pepper. That's it. Just line 2 cookie sheets with parchment paper. Then spoon 2 teaspoons of the cheese onto the cookie sheets; spread them into 2-inch circles, leaving about 1-inch of space between each crisp. Sprinkle with salt and pepper.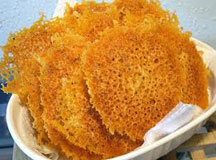 Bake them for 5 to 7 minutes, or until cheese is golden brown. Remove from the oven and let them cool for 5 minutes. Transfer the crisps to a cooling rack to finish cooling. They are an amazing accompaniment to any hearty soup or stew and nothing could be easier.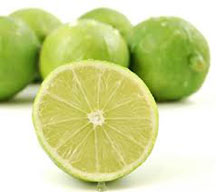 And my last theme: Key lime pie. But this new twist creates an eat-out-hand to-go version. All you need is 2 (8 ounce) packages cream cheese, a can of sweetened condensed milk, 1/2 cup of lime juice, and a box of graham crackers.
Whip the cream cheese either in a food processor of with your hand mixer and add the condensed milk and lime juice. Mix this thoroughly. That's it - just spread it between graham crackers and garnish with a lime wedge if you like.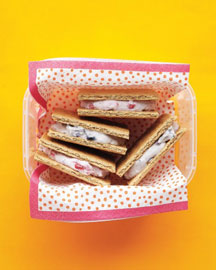 You can try this with different flavors, too. By omitting the condensed milk and adding a little lemon juice (about 2 tablespoons), you get a cheesecake taste. From there you can add fresh fruit pureed into the cream cheese mixture - all the berries work nicely, as does drained crushed pineapple. The combinations are limited only to your imagination.
So have a little fun yourself - experiment in the kitchen this week and see what new twists you can come up with.
---
Sources:
www.fourcornerfoodies.com
www.veganluvies.blogspot.com
www.themixedstew.blogspot.com
www.wizardrecipes.com
www.whatscookingamerica.net
www.marthastewart.com
---
---
---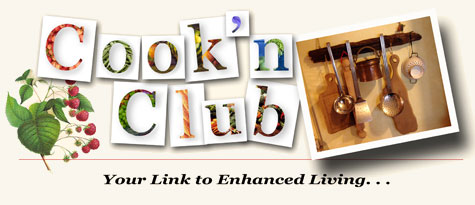 Contribute to the Cook'n Club!
DVO would love to publish your article, prose, photography and art as well as your cooking, kitchen and nutrition tips, tricks and secrets. Visit the Newsletter Submission / Win Win for All section in our Forum for more information and details.