What Went Wrong with this Bread?!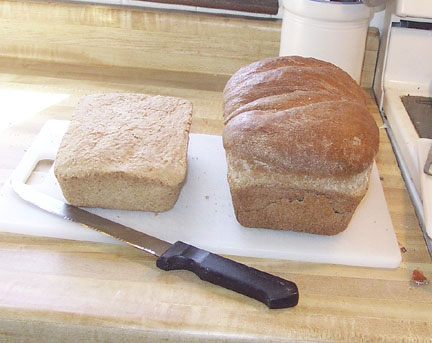 Mistakes happen. especially in the kitchen (sadly). I've been on a bread-making craze and have found this mistake thing to hold true with it as well. But as we have all heard, we can learn from our mistakes. They aren't for nothing! So when I found this chart in "Sourdough Cookery" pg. 12 about why your bread went wrong, (not just sourdough), I was thrilled! That way, when the bread doesn't come out perfectly (or comes out completely ruined), I know what to change. Hopefully this gets a close to perfect loaf next time.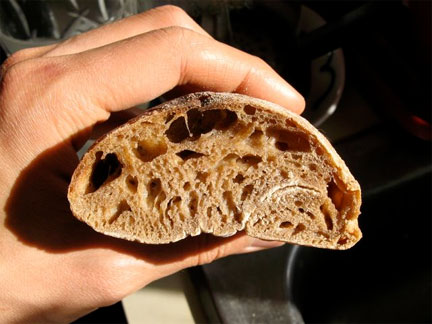 Hopefully this will be helpful to you, as it was to me.
| | |
| --- | --- |
| Problem | Cause |
| Poor texture or color, low volume or heaviness | Inferior flour, oven temp too low, over-rising, milk not scalded |
| Coarse texture or dry crumb | Too much flour, under-kneading, over-rising, milk not scalded |
| Undesirable flavor | Over-rising inferior yeast or flour, too much temp while rising, oven temp too low, under-baked |
| Bread won't rise | Weak or inactive yeast, dissolving yeast in water that is too hot |
| Streaks through loaf | Poor mixing, under-kneading, too much flour on board, top of dough drying before shaping, using greased hands to shape loaves |
| Uneven shape | Too much dough for pan, improper molding or shaping, over-rising before baking, rising in a draft, pans touched in oven |
| Flat loaf that brown too quickly | Yeast killed with hot water, under-rising of loaf, over-rising of load which falls in center before completely baked |
| Porous bread with pale crumbling crust | Over-rising, too much flour, dough too stiff |
| Thick crust | Over-rising, under-kneading oven temperature |
| Cracks in sides or top of crust | Dough too stiff, under-kneading, uneven heat in baking, too rapid cooling in draft |
| Tough crust | Inferior flour, too much salt, too much handling, needs more shortening |
| Pale crust | Too little sugar, too much salt, drying of dough during rising, oven heat too low |
| Bulging | Under-kneading dough not punched down before shaping, loaf molded without removing gas bubbles, over-rising. |
---
Reference:
Davenport, Rita. Sourdough Cookery. Tucson, Arizona: HPBooks, 1981. Print.
2 Breads Image:
http://m.thefreshloaf.com/files/images/loafimprovement.JPG
Holey Bread:
http://www.thefreshloaf.com/files/u19075/IMG_3770.jpg
---
---
---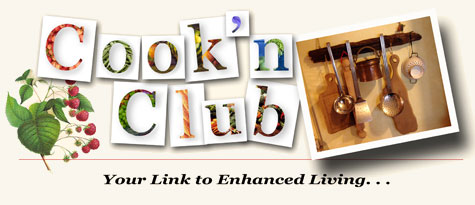 Contribute to the Cook'n Club!
DVO would love to publish your article, prose, photography and art as well as your cooking, kitchen and nutrition tips, tricks and secrets. Visit the Newsletter Submission / Win Win for All section in our Forum for more information and details.