An Amazing Use for Carrots!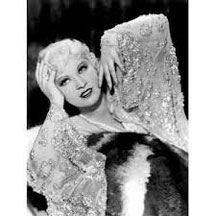 Silver screen actress, Mae West, said, "Eating my carrots? No, I can't stand them. The only carrots that interest me are the number you get in a diamond." I have a couple children that didn't like their carrots either.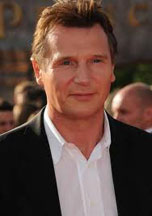 But actor Liam Neeson sees the practical side to carrots: "I'm Irish, so I'm used to odd stews. I can take it. Just throw a lot of carrots and onions in there and I'll call it dinner."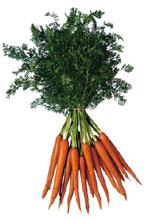 Well, whether you loathe the thought of eating them, or see them as a smart rescue to a pot of unusual stew, one thing you can't debate is how incredibly rich in vitamin A they are. They're also packed with vitamins B and C. But of course, if you won't eat them, then what difference does their high vitamin content make?
A lot of difference, if you look at them as the main ingredient of an amazing facial mask! Vitamin A has anti-aging properties when applied topically. And vitamins B and C help restore skin's elasticity. These vitamins also have a tautening, "face-lifting" action - as well as being anti-inflammatory and helping to fight off skin infections.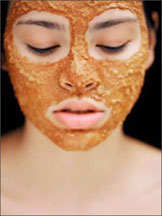 The skin, the largest organ of the body, absorbs what is put on it, thus a facial made with carrots is a very smart idea. So you can still receive the nutrition benefits of carrots - you just wear your carrots instead of eating them!
But remember, the fresher the carrot, the better, because the vitamin content dwindles when they're stored for a long time. Now here's the recipe for the mask - it's good for even the most sensitive skin. What an amazing use for carrots! Who knew?
---
VITA-Carrot Mask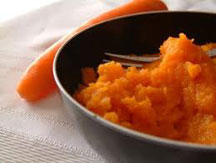 High in Vitamins A, B, and C, this ultra-nourishing face mask will leave you feeling healthy and so pretty.
Ingredients:
1

large, fresh

carrot
1 tablespoon

almond, sweet

oil
5 drops

jasmine essential

oils

(optional)
Directions:
Peel and puree carrot and strain off juice. (You can drink this.) Blend pulp with sweet almond oil and add jasmine essential oil, if using, drop by drop. (You can also add a few jasmine flowers when they're in season.)
Recline on a not-very-special towel and apply pulp to your cleansed and exfoliated face, avoiding the eyes and mouth area. Relax and allow the mask to work for 10 to 15 minutes. Rinse well with warm water, then pat dry and moisturize as usual.

Recipe formatted with the Cook'n Recipe Software from DVO Enterprises.
---
Sources:
www.popscreen.com
www.thecinemasource.com
www.askgeorgie.com
www.blackhairmedia.com
www.lipglossnheels.blogspot.com