Cream of You Name It Soup
Cream of
what
soup? Get excited. This is a basic recipe to use with almost any vegetable of your choice! Below is a list of different vegetables matched with herbs, spices, and all sorts of flavors. Feel free to be creative. Mix and match. Try a new vegetable. Enjoy experimenting. Use your favorite herbs. (I recommend the parsley and basil in the carrot soup.)
I got these from an old college class. I was assigned to make the Cream of Carrot soup. I laughed when I saw it, wondering, "How could that be any good? I don't even like carrots!" But then I got to take that first bite... let's just say that this soup changed my mind. The herbs made it taste so amazing.
Garden Tip:
If you have a garden, now is the time you have a ton of vegetables you don't know what to do with. Try doing something new with that squash and zucchini.
---
Cream of You Name It Soup
Ingredients:
White Sauce
6 tablespoons

butter

or margarine
6 tablespoons
flour
1 tablespoon

chicken bouillon

granules
1/2 teaspoon
salt
1/4 teaspoon
pepper
3 cups
milk
desired spices
Directions:
Melt butter over low heat; then blend in flour, bullion, salt, and pepper. This is also when you add the desired herbs or spices. Cook over low heat until it becomes bubbly. Remove from heat and stir in milk. Return to heat and let it boil while stirring for one minute. Keep on warm.
Now for the veggies. Cut the vegetable of your choice and cover them with water (with the water just a little higher than the vegetables themselves). Bring to a boil; then reduce heat, cover, and simmer for 10 to 15 minutes (or until soft). Puree some of the vegetables using some of the cooking water to help with the process. (Be sure to leave some of the vegetables out of the puree so the soup can have some bite-sized pieces. You'll want the texture.)
The last step is to combine the white sauce, puree, and cooked vegetables. Pour over enough cooking water so you get the desired consistency; you don't necessarily want glue.
Cream of Potato
4 diced potatoes
2 stalks diced celery
1/4 cup onion
Cream of Asparagus
4 cups asparagus
2 Tbsp. lemon juice
Dash of ground nutmeg or mace
Cream of Green Bean
3 cups green beans
1 tsp. crushed savory
Cream of Broccoli
4 cups broccoli
1/2 tsp. dry leaf thyme
1/8 tsp. garlic powder
2 bay leaf (added to white sauce and removed before serving)
Cream of Carrot
2 cups carrots (about 6 large)
1 Tbsp. dry parsley
1/2 tsp. dry basil

Cream of Cauliflower
4 cups cauliflower (about 1 head)
1 tsp. curry powder
1/4 cup onion, chopped fine (cooked with cauliflower)
2 green onions (garnish)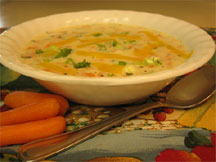 Cream of Zucchini
3 cups zucchini (about 4 medium)
1/8 tsp. nutmeg
Cream of Mushroom
3 cups mushroom
1/8 tsp. nutmeg

Recipe formatted with the Cook'n Recipe Software from DVO Enterprises.
Pictures from http://byufoods.blogspot.com/2008/02/milk-and-cheese.html
Recipes from Brigham Young University