Oh, What Can We Do with a Mason Jar?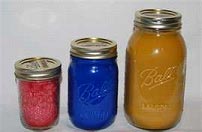 One of the great perks of writing these articles for DVO is the research I get to do. Scouring different web-sites, talking with friends, scanning magazines (by the way, you HAVE subscribed to the new, beautiful, amazing, DVO Cook'n Magazine, haven't you?).
Anyway, while sleuthing around various web-sites I was lead to one called Keeper of the Home, (KeeperOfTheHome.org). The woman who writes this blog is all about organic, natural, down-home cooking, cleaning, and reusable rather than buy new, ideas. I love this type of useful information because it helps me to "think outside the box" and maximize my time and resources.
With that introduction, have you ever thought about how to reuse rather than throw out old mason jars? Whether we can or not, most of us have several, if not dozens, floating around our home. Guilt keeps us from just throwing them away or putting them on a neighbor's front porch at 2 AM in the morning and running away. No more worries. Below are several fresh ideas that may help you think of these familiar glass jars in terms of storage, gifting, and home decorating.
•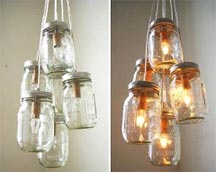 I found this idea on my Facebook page. I get the idea of how to do this up to the point where the electricity has to be connected. It surely cannot be too complicated. My hubby just looked at the picture and said, "Oh that would be easy to do." Very clever design and certainly cheap.
•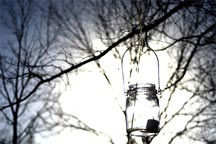 Outdoor lighting, anyone?
• Use the jars to put your left-over's in: everything from soups, extra rice, scrambled eggs, smoothies, anything!
• Clever soap dispenser
• We should be drinking at least 8 glasses of water a day but who can keep track? A one quart mason jar is equal to 4 cups of water. The jar would do double duty: act as a glass, and help you keep track of how much you are drinking throughout the day.
• Need to soak some seeds before making your own peanut butter? Just put them in a mason jar and soak them overnight.
•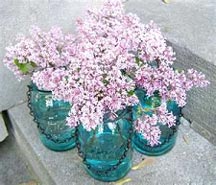 Want to take some flowers to a neighbor but you don't have a vase? Take a jar, put some ribbon around the top and use it as a quaint vase.
•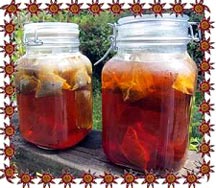 Are you making sun tea? Put your tea bags in a 1/2 gallon size mason jar, place it in a sunny place and wait for the tea to be ready. Made it and stored it in one step.
•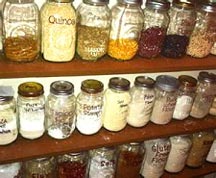 I wrote a few weeks ago about putting fresh herbs and some vegetables in water in order to keep them fresh. Guess what jar you can use to do this? Just fill it 3/4 full of water, and put your herbs in it.
• If you guy in bulk, 1/2 gallon jars are perfect for storing any extra's. Also, my hubby came home with a BAG of herbs the other night. I knew right away that I could put them in a jar, screw on the lid, and they would stay fresh as long as I kept the herbs in a cool, dark place. Perfect!
• Dehydrated vegetables would not only look pretty in these glass jars, but they would stay fresh as well.
•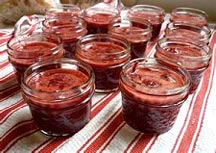 Freezer jam. Say no more.
• Storing noodles, rice, and beans.
• Mixing salad dressing
•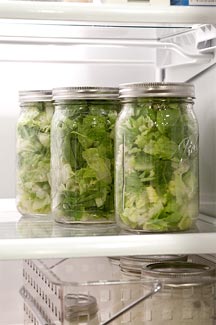 Store salads. If your week is going to be hectic, make your dinner salads ahead of time and store them in individual mason jars.
Image by Paula from Salad in a Jar
•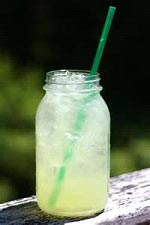 Use as drinking glasses. One of our family's favorite restaurants served home-soup and rolls and all drinks were served in mason jars. My kids loved it!
•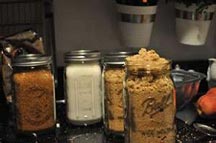 Hectic mornings? Make your own biscuit, pancake, scone or bread mixes and put just the amount you will need for your family, in a jar. Store in the refrigerator and pull it out when that hectic morning arrives!
•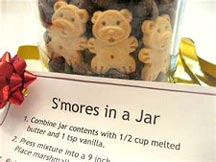 Using the same idea above, write the recipe for the ingredients on a card and tie it on the jar with a pretty bow. Give it to a neighbor for HER hectic morning.