Must-Know Biscuit Mix Tips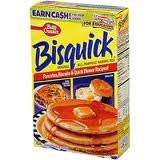 First let's talk Bisquick - a clever derivation of the plain word, biscuit - now biscuit-making is QUICK! Ever wonder how Bisquick got it's start? From Betty Crocker's Bisquick Cookbook I learned this:
"In 1930, the idea for Bisquick was 'born' on a train when Carl Smith, sales executive for General Mills, ordered biscuits with his meal. Though well past lunchtime, fresh, piping-hot biscuits arrived within minutes. The chef's timesaving secret? He explained to Mr. Smith that he blended lard, flour, baking powder, and salt in advance and stored the mixture in an ice chest. Smith immediately recognized the potential of a pre-mixed baking mix, so he took the idea to Charlie Kress, the head chemist at General Mills, who began developing a top-secret biscuit mix.
"Less than one year after Smith's discovery, Bisquick biscuit mix appeared on the market. In 1931 it was a runaway hit. Competitors worked feverishly to develop comparable products, and within a year there were 95 other biscuit mixes introduced to the marketplace. But by 1933, on six remained, with Bisquick remaining the leader of the pack."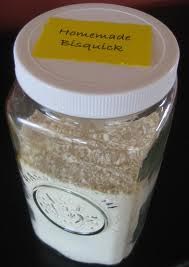 And today we have loads of recipes for superb Bisquick mixes - money saving, healthier alternatives to this grocery store pantry staple. And staple it is, considering all the wonderful things you can make from this mix:
Cinnamon rolls, waffles and pancakes, Danish pastries, coffee cakes, quick breads, muffins, scones, do-ahead breakfast bakes, fruit pizzas, quiche, dumplings, crab cakes, appetizer squares, veggie bites, battered onion rings, pull-apart breads, flatbread, breadsticks, pizza crust, corn bread, bread sticks, breading for meats and poultry, "impossible pies" (coconut, taco, lasagna, pizza, ham & Swiss, broccoli, chicken primavera, salmon & asparagus, mac'n cheese, spinach, zucchini, cheesecakes, French apple, cherry-almond, pumpkin-pecan, banana custard), casseroles, sandwich bakes, pot pies, tortas, stuffings, calzones, bean bakes, desserts (chocolate swirl cake, shortcakes, fruit cobblers, fruit crisps, crumb cakes, upside down cakes, caramel apple cake, pound cakes, fruit tortes, black bottom cherry dessert, tarts, pear-raisin pie, key lime pie, frozen Tiramisu squares, bars, biscotti, cookies), and of course, biscuits!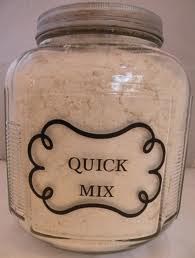 You've probably made your baking mix (sometimes called QUICK MIX) and chances are, have some in your pantry now, even as we speak. Looking at the list of everything you can do with it, we can conclude that if we don't have it in our pantry, we better get busy and make some very soon!
This said, here are 4 must-know Biscuit Mix Tips - how to measure, store, deal with humidity, and substituting a lower-fat biscuit mix for original biscuit mix in recipes:
1) MEASURING: For best result, spoon the mix, without sifting, into a dry-ingredient measuring cup, and level the top with a straight-edged utensil. Do not tap or pack the mix into the cup.
2) STORING: Biscuit mix keeps best if stored in an airtight container or plastic bag in a cool, dry place, such as a pantry shelf. If keeping it for a longer time, store it in the refrigerator or freezer. If your mix is frozen, measure out the amount you need for your recipe and let it come to room temperature before using. Return the remainder to the freezer.
3) DEALING WITH HUMIDITY: Biscuit mixes react to the environment just like other flour-based products do. If the weather is hot and humid, you may find that doughs and batters are more sticky, soft, or wet. You can add small amounts of the mix to the dough or batter to make it easier to work with.
4) SUBSTITUTING LOWER FAT BISCUIT MIX FOR ORIGINAL BISCUIT MIX: The biggest difference you will find is in the amount of water that is soaked up when preparing doughs and batters. So you'll need to adjust accordingly.
And to conclude, here is a basic biscuit mix you might want to mix up just as soon as you can:
---
Homemade Biscuit Mix
Yield: approx. 12 cups; adapted from allrecipes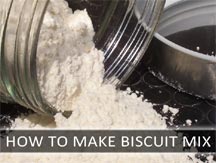 10 cups all purpose flour
1/2 cup aluminum-free baking powder (I like Rumford's, found in my natural foods store)
4 Tbsp. sugar
2 tsp. salt
2 cups butter
Mix together flour, baking powder, sugar and salt. Cut in butter until mixture is crumbly. Store in an airtight container for up to 6 weeks or in the freezer for longer storage.