What's in Santa's Kitchen?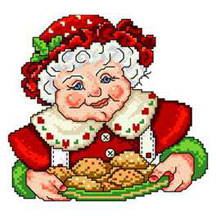 Everyone knows that a well stocked kitchen of essentials is one of the best gifts a woman can have. But what exactly, would a "well stocked" kitchen look like? As I pondered this question, an idea as bright as a Christmas tree flashed in my head. Who would be more perfect to talk to about this kitchen conundrum that Mrs. Claus?
I mean, with all of the elves making so many toys for those on Santa's "Nice" list, she must be doing a lot of baking to keep everyone happily working through the night. Actually, I found out later that the elves don't work through the night. "Santa doesn't run a sweat shop, dear," she told me in her sweet, little Mrs. Clause voice. Good to know.
Anyway, thanks to Google People Finder, I was able to get her mobile number, and quickly sent Mrs. Claus a text asking for some of her time. I explained that I have a writing dead-line and if I don't meet it, DVO Dan would be hard pressed to invite me to his annual Christmas party. Fortunately, Mrs. Clause soooo understands dead-lines.

When she called me, we began by having a lovely conversation about our children: I told her I had 3, to which she let out a quiet little "Oh-h-h", before telling me she had 50,642 elves, none of which looked like her or Santa. She wanted to know about DVO, and if the DVOites, (yes, that is what she called you), were considered to be "naughty or nice". I assured her that you were all good for a trip down the chimney. (You owe me!) She asked me to tell Dan to leave his "Best Stuffing Cookbook", on a table instead of the usual cookies for Santa. She said she was in a bit of a rut as to what to make for dinner, and all of the cookies were making Santa's cholesterol is too high anyway. I assured Mrs. Claus that Dan would take good care of her. "He'd better," she replied sweetly, "or Santa will conveniently lose his address." I laughed. She didn't.
When we finally got around to what one particular kitchen in the North Pole looked like, Mrs. Claus was all business. "Let me see, let me see," she said. I heard a thud as she put her mobile down, then the sound of a lot of drawers and cabinets opening and closing. I swear I also heard her hum "Rudolph the Red Nosed Reindeer", but maybe that was me.
"Hello? Hello?" Mrs. Claus' voice sounded a little muffled. "Oh, silly me," she said laughing, "I had some pie dough stuck to my phone. I'm making oat pies for the reindeer: every day, oat pies. You should see my kitchen! What a mess. But then," she continued somewhat conspiratorially, "you should see what the reindeer do to the barn, and Santa and the elves have to clean that!" I can only imagine.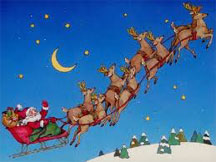 "You know, I think I will just email you my kitchen essentials list," she said. "Dasher, Dancer, Prancer, Vixon, Comet, Cupid, Donner, and Blixen can get a little testy when they don't get their pies on time. Would you believe that yesterday they refused to fly on a practice run until they ate?" Never one to pass up the opportunity to be extra good at Christmas, I assured her that the reindeer pies were more important, and she could e-mail me her list when she had some time.
A few days later I received her list; not in an e-mail, but in a letter I found in my mail box. The outside of the envelop was stamped, "From the North Pole". How did she know my address, I wondered? When I opened the letter, a small handful of oats cascaded down to the floor. Surprisingly, they smelled like Christmas. I smiled as I read her list.
Mrs. Claus' Kitchen Essentials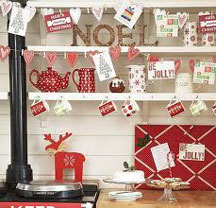 Colander: Look for one with feet that elevate it above the sink and has lots of well-distributed holes. Santa bought me one on our first anniversary. He is such a romantic!
Bowls: Stainless steel or glass in three sizes. I have both because when the elves start playing tag in my kitchen, something is going to get broken!
Can Opener: How else are we going to get our cans open? Oh, sometimes Santa's "Ho, Ho, Ho" humor is contagious!
Plastic or wooden cutting board: Whichever material you use, be sure to wash it thoroughly after using it to cut raw meats and poultry and to periodically clean it with a bleach solution. (I make Santa do this while I cut him a nice big piece of cherry pie).
Liquid measuring cups: I like the Oxo Good Grips Angled Measuring Cup, which helps me measure accurately without bending down to see the line. I am a little white-haired old lady, remember!
Dry measuring cups and spoons: I read in a catalogue that tests found the Tupperware products are the best for accuracy. I put them on my Wish List for Santa last year, and that dear old man got them for me. This year I am going to ratchet it up and ask for a diamond tennis bracelet!
Pot holders: The elves make me hundreds of these a year! Would you believe that all of them are green and red? Oh, how they love to come into the kitchen and see me using them.
Baking racks: For all of the cookies I bake. Do you know how to tell when I am baking? The sky will be a beautiful orange from the heat coming off my ovens.
Instant-read thermometer: Imperative for cooking foods to safe internal temperatures. Can't have Santa suffering from food poisoning when he's in a sleigh all night!
Swivel peeler: The Oxo Good Grips is simply the best there is. The reindeer love peeled carrots and Santa loves his mashed potatoes. I am really working on getting Santa to eat more like his reindeer! Oh, that man loves his meat and potatoes.
Ladle: There is nothing like having all of the children in bed and enjoying a cup of hot cider around the fireplace. Even Santa and I need our down time.
Pancake turner/spatula: Strawberry pancakes are Santa's favorite! The color matches his suit!
Tongs: We grow the best corn in our greenhouse. Fortunately, one ear can feed 10 of our little elves.
Long-handled kitchen spoon: I can't have burns on my hands when I have so many little booties to knit...
Long-handled slotted kitchen spoon: ...and scarves and hats!
Cheese grater: Consider one made by Microplane. Maybe Santa can bring you one for Christmas! But frankly dear, I would go for the diamond tennis bracelet.
Salad spinner: I know that it is good to have clean salad, and besides I just love spinning this thing! It is as much fun as putting tinsel on a Christmas tree.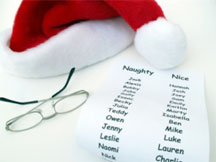 I hope that this list will help your DVOites, dear. Have fun at your party and remind Dan about the Best Stuffing Cookbook. This will be a good way for him to make up for all of those years when he was more naughty than nice and Santa gave him a present anyway.
Have a lovely holiday!
Mrs. Claus