5 Secrets to Healthier Green Bean Casserole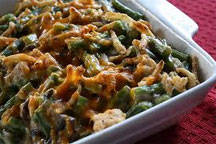 The old holiday meal standby - the green bean casserole - is not just yummy, it is also very versatile. Versatile in that it's one of those dishes that can be healthified without losing its alluring flavor. You can't say that about every casserole out there.
Invented over 55 years ago, it's traditionally made with butter, canned soup and canned French-fried onions. This holiday favorite is also traditionally high in calories, sodium and saturated fat. So since it IS a favorite, we don't want to go without it. That means I needed to find a more health-oriented version.
Off of the Eating Well site I found not only what I was looking for - a healthified recipe, but this breakdown of how the basic recipe stacks up to the healthier creation: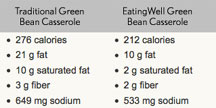 While the differences in the numbers aren't necessarily HUGE, they do add up. And when it comes to holiday meals, calories and fat and sodium grams add up quickly. Let's look at 5 secrets, then, to cutting the numbers: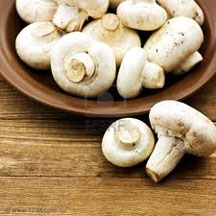 1. Make Your Own Sauce: The usual condensed cream of mushroom soup called for in the traditional green bean casserole is alarmingly high in sodium. We can fix this by making our own mushroom cream sauce, using fresh mushrooms, which would not only lessen the sodium, but increase the flavor factor a bunch!
2. Use Frozen or Fresh Green Beans: Fresh green beans are always tastier and healthier (lower in sodium, etc.) than canned, and frozen are the next best thing to fresh, so let's use one or the other instead. And while fresh are best, frozen green beans are a great quick-cooking item to have on hand, and are frozen at the peak of ripeness so they maintain their fresh flavor and vital nutrients.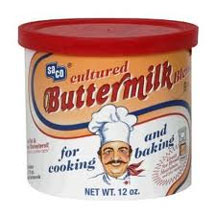 3. Use Low-Fat Dairy: The richness in the traditional recipe comes from butter, full-fat milk and sour cream. Of course, these ingredients are the cause of most of the saturated fat. The healthified recipe calls for low-fat milk and reduced-fat sour cream. Tangy buttermilk powder (Saco is a good brand) is added to give depth of flavor without a lot of calories or fat (look for it in the baking section of your supermarket). You get tons of flavor and 8 grams less saturated fat than traditional versions.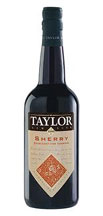 4. Add Flavor with Sherry: Sherry adds great depth of flavor to this recipe. Be careful when shopping, though: don't use the high-sodium "cooking sherry" sold in many supermarkets and instead look for dry sherry, sold with other fortified wines.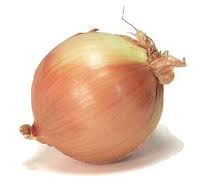 5. Skip the Canned Onions: Substantial calories can be saved by skipping the canned fried onions and sauteing our own. Toss fresh onion slices with garlic-seasoned flour and pan-fry them in just a small amount of oil - we'll have the texture and flavor of the canned version without all the calories and additives.
Now for what we're all waiting for, the actual healthy recipe, courtesy of Living Well:
---
Healthy Green Bean Casserole
Serves 6
3 tablespoons canola oil, divided
1 medium sweet onion, (half diced, half thinly sliced), divided
8 ounces mushrooms, chopped
1 tablespoon onion powder
1 1/4 teaspoons salt, divided
1/2 teaspoon dried thyme
1/2 teaspoon freshly ground pepper
2/3 cup all-purpose flour, divided
1 cup low-fat milk
3 tablespoons dry sherry
1 pound frozen French-cut green beans, (about 4 cups)
1/3 cup reduced-fat sour cream
3 tablespoons buttermilk powder (Saco is a good brand to look for)
1 teaspoon paprika
1/2 teaspoon garlic powder
Preheat oven to 400 degrees F. Coat a 2 1/2-quart baking dish with cooking spray. Heat 1 tablespoon oil in a large saucepan over medium heat. Add diced onion and cook, stirring often, until softened and slightly translucent, about 4 minutes. Stir in mushrooms, onion powder, 1 teaspoon salt, thyme and pepper. Cook, stirring often, until the mushroom juices are almost evaporated, 3 to 5 minutes. Sprinkle 1/3 cup flour over the vegetables; stir to coat. Add milk and sherry and bring to a simmer, stirring often. Stir in green beans and return to a simmer. Cook, stirring, until heated through, about 1 minute. Stir in sour cream and buttermilk powder. Transfer to the prepared baking dish.
Whisk the remaining 1/3 cup flour, paprika, garlic powder and the remaining 1/4 teaspoon salt in a shallow dish. Add sliced onion; toss to coat. Heat the remaining 2 tablespoons oil in a large nonstick skillet over medium-high heat. Add the onion along with any remaining flour mixture and cook, turning once or twice, until golden and crispy, 4 to 5 minutes. Spread the onion topping over the casserole. Bake the casserole until bubbling, about 15 minutes. Let cool for 5 minutes before serving.