A Delicious Morning Breakfast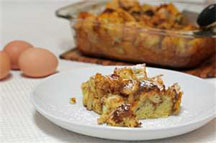 Oh. My. Gosh. When I read this recipe I just KNEW that it was going to be something all of the amazing men in my life were going to love. This recipe is simple and calls for ingredients we have around our home; especially during this time of year!
I am sure that like me, you are always looking for something a little special to serve guests for breakfast. I do believe that this will become one of your favorite offerings!
---
Pumpkin French Toast
8 eggs 1 teaspoon vanilla extract
2 teaspoons ground cinnamon
1/2 teaspoon ground cloves
1/4 teaspoon ground nutmeg
1 tablespoon white sugar
1 (15 ounce) can pumpkin puree
1 loaf Texas toast thick-sliced bread, cut into 1-inch cubes
1/3 cup brown sugar
1/4 teaspoon ground cinnamon
2 tablespoons all-purpose flour
1 tablespoon butter, softened
1. Preheat oven to 350 degrees F (175 degrees C). Grease a 9x13-inch baking dish.
2. Whisk the eggs, vanilla extract, 2 teaspoons of cinnamon, the cloves, nutmeg, and white sugar together in a bowl; beat in the pumpkin until fully incorporated.
3. Arrange the bread cubes in a single layer in the prepared baking dish; pour the pumpkin mixture over the bread cubes, and gently toss to coat.
4. Stir 1/3 cup of brown sugar, 1/4 teaspoon of cinnamon, flour, and butter together with a fork in a small bowl until the mixture is crumbly; sprinkle over the bread cubes.
5. Bake in preheated oven until golden brown on top, 30 to 40 minutes.