Make the Best Muffin, Ever!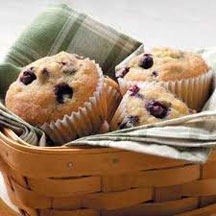 On DianasDesserts.com, I read something that caught my attention and touched my cook'n-lovin' heart: "Hot breads are always a hit and muffins are one of the easiest to make. They are more quickly and easily made than biscuits and no kneading, rolling or cutting is required. They can be a savory, last minute dinner muffin or a sweet delicious breakfast muffin. Made with whole-wheat flour, wheat germ, bran, honey, fruits and nuts, they can also be very nutritious."
I so agree with Diana. I LOVE muffins. I love how quickly they can be made, how pretty they are, how good they taste, how healthy they can be - heck, I even love the word - m u f f i n. They tote well, they make beautiful gifts, they're always a crowd pleaser, and I could go on and on.
Considering my love affair with muffins, you can imagine how jazzed I was when Cook'n and Dan came out with a new cookbook, The Complete Muffin Cookbook. Author, Gloria Ambrosia shares not just wonderful recipes, but also tips and techniques that she has gathered over the years for blending the ingredients to freezing the baked masterpieces for later enjoyment.
And those tips are needed - I've had some real muffin disasters in my time, so I'm looking for help in turning out the perfect muffin. I also love her low-fat recipes - especially the "Berry Berry Delicious Muffin."
But back to Diana and her muffin page. She also had some tips to share and I wrote them down. Then I got a great idea: When I start adding recipes I discover on blogs and websites to my new Complete Muffin Cookbook, I'm also going to add the how-to tips I find as well, into a chapter I'll create just for muffin-making hints and tips! It's so cool how the Cook'n books let me do this. OK, now let's look at Diana's muffin tips:
"In a large bowl, oil (or melted butter) and egg are beaten together to form an emulsion to disperse the fat more uniformly. Then the milk is stirred in. This much mixing can be done ahead and held. The two are combined just before baking.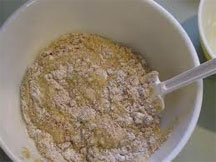 "To combine, cut and fold liquid into the dry ingredients. Mix only to combine. Batter will be lumpy but no pockets of dry ingredients should remain. The general rule is only 12 strokes. [I did not know this!]
"Bake as soon as it's mixed. When filling cups, do not mix batter between scoops. Excessive mixing causes loss of leavening.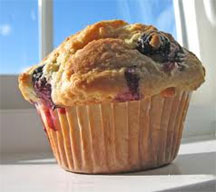 "The perfect muffin has a thin brown crust, a slightly rounded top with a pebbled appearance and a moist, even interior. There should be no peaks, no tunnels which are usually caused by excessive mixing and too much liquid (muffin batter should not be fluid).
And here's a super piece of advice: "Just because a recipe is in print does not mean that it is in balance. A guide for leavening 2 cups of flour in a recipe is either 2 1/2 teaspoons double acting baking powder, or 4 teaspoons fast acting baking powder, or 1/2 teaspoon soda plus 1 cup buttermilk (for the acid) and 1 1/4 teaspoons baking powder. Excess baking powder and soda taste bitter.
She also had some ideas for easy healthifying a muffin recipe:

Substitute 2 egg whites for one egg in the recipe. If these are stiffly beaten and folded in at the end it will produce a lighter muffin with less fat.

Use non-fat milk instead of whole milk.

Use salad oil in place of butter. In place of the fat in the recipe, use one-fourth of the oil and replace the other three-fourths with fruit puree such as applesauce. Jars of baby food fruits provide a quick choice of purees other than apple.

Adding non-gluten grain products (bran, germ, oatmeal, corn meal) for part of the flour makes a more tender muffin. Begin with the basic formula and change 1/2 cup of the flour to corn meal, bran, wheat germ, rye, oatmeal or leftover cooked cereal. Add 1/2 to one cup chopped apple, dates, prunes, raisins, apricots, figs, blueberries, cranberries, cheese, nuts.
Diana's tips concluded with: "Make your favorite muffin mixes by measuring the dry ingredients twice (or more ) into two separate bowls. Use one and package one with the list of wet ingredients to be added when mixing at a later date."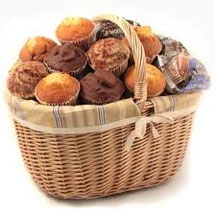 Keeping several different kinds on hand is a smart time-saving and easy-to-do idea. And they display beautifully in a glass cake container on the kitchen counter. Muffins and other quick breads freeze wonderfully also. Just tightly wrap them in plastic wrap and then put them in a freezer bag. They should keep for several months.
Now here's a little bit of muffin serendipity - a yummy recipe I found on a lovely blog, Simple Bites: Real Food for the Family Table, by Aimee Wimbush-Bourque (http://www.simplebites.net/how-to-make-the-best-muffins/). And she also has some tips (some Diana didn't mention) for perfect muffins.
---
One-Bowl Oatmeal Muffins
Yield: 12 muffins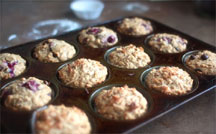 1 cup milk*
1 teaspoon white vinegar
1 cup rolled oats (not quick oats)
1 large egg, at room temperature
1/4 cup dark brown sugar
1/2 cup butter, melted and cooled slightly
1 cup plus 2 Tablespoons all-purpose flour
1/4 teaspoon salt
1 teaspoon baking powder
1/2 teaspoon baking soda
1/4 teaspoon nutmeg, freshly ground
1/2 teaspoon cinnamon, freshly ground
add-ins of your choosing (see suggestions below)
Combine milk, vinegar and oats in a large bowl and let stand one hour. Preheat the oven to 375 degrees F. Grease a twelve-cup muffin tin and line with cupcake papers. Crack the egg into the oat and milk mixture; add brown sugar and mix to combine. Stir in melted butter.
Sift remaining ingredients into the bowl: flour, salt, baking powder, baking soda, & spices. Gently fold into batter, taking care not to over mix. Sprinkle add-in and flavorings of your choice and combine muffin batter gently.
Use a large ice cream scoop or 1/3 cup measuring cup to scoop batter into muffin tins. Bake until light brown and tops spring back when gently touched, about 10-12 minutes. Note: Muffins will take slightly longer to bake if you are adding fresh fruit such as blueberries or rhubarb.
Remove from oven and cool in tins. To remove, run a sharp knife around the edges and pop muffins out. *You may also substitute 1 cup buttermilk, and then omit the vinegar from the recipe. And here are some recommended additions:
1 cup Raspberries, fresh or frozen & 1/2 cup Dark Chocolate, chunked or chips
3/4 cup Diced Apple (Granny Smith or Russet) and 1/2 cup toasted Walnuts, roughly chopped
3/4 cup Dried Cranberries & 1/2 cup toasted Pecans, roughly chopped
3/4 cup White Chocolate, chopped or chips & 1 cup Blueberries, fresh or frozen
1/2 cup toasted unsweetened Coconut & 3/4 cup Peanut-Butter Chips
1 cup diced Rhubarb, fresh or frozen & 1/2 teaspoon Green Cardamom, freshly ground
3/4 cup Dates, pitted and chopped & 1/2 cup Pistachios
3/4 cup Golden Raisins & 3/4 cup grated Carrot
---
Aimee's 10 Tips to Making the Best Muffins Ever:

Start with ingredients at room temperature, eggs, milk, etc.

Batter should be stiff enough to hold a spoon upright; if it seems runny, gently fold in a few extra tablespoons of flour.

Use the freshest spices as possible when they are required.

Grease the entire muffin tin, not just the holes. More often than not, the muffins expand over the sides, and if those sides have not been properly greased, you're going to run into trouble when you try to remove the muffins.

Fill muffin tins three-quarters full; the tops are the best part, so don't be shy with the batter.

Slide a baking sheet under the muffin tin to help prevent the bottoms from getting too dark in the oven. This also helps with cleanup in case there is overflow.

Take care not to over-bake the muffins.

Allow muffins to cool in the pan at least 10 minutes before removing them, especially if they contain soft fresh fruit.

Enjoy them fresh. But if you must freeze them, don't bake them first, just freeze the batter (without add-ins), then thaw overnight in the refrigerator and bake the muffins fresh in the morning.