Vegetarian for Health and Vigor
I'm not kiddin' - the vegetarian diet is for most folks, a fast track to health and vigor. There are solid reasons why many religions in the world promote this way of eating.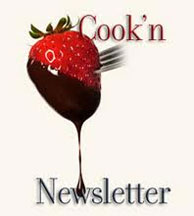 And it's no surprise to me that I get a LOT of requests from our readers (Donna Howard, Brandy Clements, Shawn Jamison, Kevin Randall, Patty Jacobson, and on and on) for more vegetarian articles, how-tos, and recipes.
So I here you and here we go: Let's start with a terrific resource for all the beginners out there. Do you know about ExploreVeg.org? They're also known as Compassionate Action for Animals (CAA) and their mission is to inspire respect for animals and promote vegetarianism through outreach, education, and community building. From the site you can order a free guide to vegetarian restaurants throughout the world (you select your country or state), and the site also has lots of tasty and easy recipes and how-to tips to get us started.

One of the things I especially like about ExploreVeg.org is the really helpful starter kit they'll send if we ask. It also has recipes and good tips for getting started on this path to healthy eating. I've been eating this way for several years now, and while I'm not vegan, nor pristine in my practice (I'll admit it, I like my grilled hotdogs in the summertime), I'm on this path enough that I really have discovered a new health and vigor.
Bottom line? Whether you're a novice in the kitchen or a seasoned chef, there's enough help on the web that makes cooking for the novice vegetarian a breeze. Here are a couple recipes that I've added to my Cook'n Vegetarian software that I really use a lot:
---
Hearty Black Bean Soup
Serves 2 From ExploreVeg.org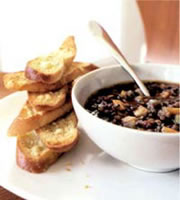 1 onion, chopped
2 cloves garlic, minced
2 15-oz cans of black beans, rinsed
1 15-oz can diced tomatoes, undrained
1/2 teaspoon chili powder
1/2 teaspoon paprika
1/8 teaspoon cumin
Saute the onions and minced garlic in a 1/4 cup of water in a nonstick saucepan. Once the onions have become translucent, place the onions and garlic in a large stockpot. Add the rinsed beans, water, and spices. Simmer over medium heat, stirring occasionally. Taste-test the soup after 20 minutes and remove from heat once the beans are cooked to your liking.
For a slightly different taste, add frozen or fresh vegetables such as chopped carrots, kale, or broccoli. I also like to add a good handful of chopped cilantro.
---
Veggie Wraps
Makes 5 wraps This recipe was found by going to one of ExploreVeg.org's recommended resources, VegWeb.com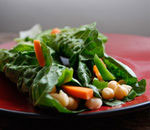 1 cup chickpeas, rinsed and drained (if canned)
1 tablespoon lemon juice
1 clove garlic, pressed
pinch salt
5 large leaves lettuce, chard, or other greens
2 carrots, julienned
1 small zucchini, julienned
1/2 green pepper, sliced
1 green onion, chopped
2 tablespoons pumpkin seeds
Put the chickpeas in a bowl with the lemon juice, garlic, and salt. Leave them to marinate either overnight, or just while you chop the vegetables. The longer they sit, the more flavor they'll absorb. They should be stirred occasionally to coat them in the lemon juice. Spoon some chickpeas into the center of a lettuce leaf, and pile on some veggies. Sprinkle with the green onion and pumpkin seeds. If you are taking your lunch on the go, take the lettuce separate from the rest of the veggies and assemble as you eat.