What is a Springform Pan?

And TORTE? Is That

Some Kind of Legal Term?
Have you ever wondered what the difference between a nine-inch round springform pan and a regular round nine-inch pan? Have what do you do with this pan, anyway?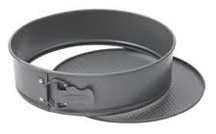 The springform pan is a two-piece pan that not only has sides that can be removed but the bottom comes out too. There is a round base and an interlocking band, usually 2 to 3 inches high, that forms the sides, opening and closing with the flick of a latch. The pan pieces are assembled for baking, and then, once the contents have cooked and cooled, the band is opened and removed. Because the cake remains on the pan's base, the springform is perfect both for delicate confections, and for the flourless chocolate cakes, and creamy cheesecakes.
The standard springform pan comes with one base, a round platform that can be either smooth or dimpled with waffle-life indentations. Some people like the flat bottom for cakes and the dimpled one for crumb crusts or heavy concoctions. They are actually interchangeable.
Used mostly in baking, this unusual pan has a fastener on the side that can be opened to remove the rim after the cake is cool. They are available in a number of sizes, 9- and 10-inch diameter being the most common. Cheesecakes or tortes baked in this type of pan can be served easily once the side of the pan is removed.
And what's so fun about this pan is that it comes in all sorts of shapes and even with an insert: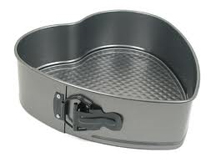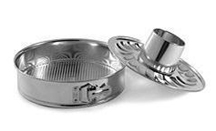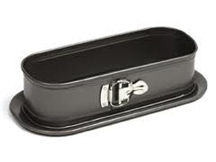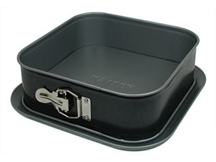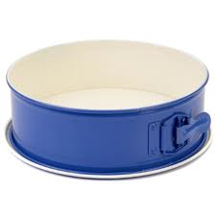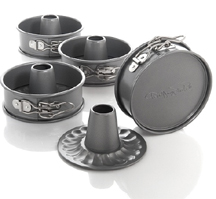 OK, that leads me to another thing I've wondered about: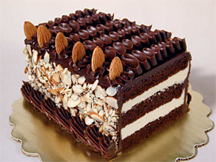 What exactly is a TORTE? The dictionary says Torte is the German word for "cake." It is a cake that uses groundnuts as the predominant dry ingredient in place of most or sometimes all of the flour.
Although they may be single layered, tortes are often sliced into several layers and filled with whipped cream, jam, or butter cream. Tortes make a great dessert for the Jewish holiday of Passover, when flour can't be used. AND, I would think a torte would be a perfect dessert for anyone with grain intolerances as well!
Speaking of perfect dessert recipes, here's one for you: a TORTE to die for that came to me by way of a neighbor who is an amazing cook. She doesn't remember where she got it, so I'm apologizing now for not being able to give proper credit.
---
Belle's 8-Layer Torte
Serves 16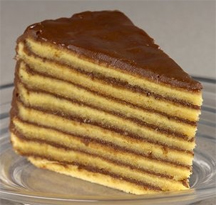 6 eggs, separated and room temperature
1 1/4 cups granulated sugar
2 tablespoons fresh-squeezed lemon juice, divided
1/4 cup cornstarch
1/2 cup all-purpose flour
¼ cup ground nuts (pecans, walnuts, almonds)
1/2 teaspoon salt
Chocolate Frosting (see recipe below)
Chopped nuts
Make the above cake recipe twice.
Preheat oven to 375 degrees F. Line two 14- x 10-inch rimmed pans with wax paper. Grease wax paper with butter. In a large bowl, beat egg yolks until thick and creamy. Gradually beat in sugar and 1 tablespoon lemon juice. In a small bowl, sift cornstarch, flour, ground nuts and salt together; add to egg yolk mixture. Add remaining lemon juice and beat until smooth.
In another large bowl, beat egg whites until stiff peaks form; fold into already prepared batter mixture. Spread batter evenly onto the prepared baking sheets. Bake 10 to 15 minutes; remove from oven. Remove from baking sheets immediately and remove wax paper. Let cakes cool on wire racks. Prepare and bake the 2nd batch of chocolate cake batter.
To assemble, cut each layer in half widthwise. NOTE: After making this recipe twice, you will end up with a total of eight (8) layers. Place each layer, one by one, onto a cake plate and frost each layer with Chocolate Frosting. After frosting the top layer, sprinkle with chopped nuts.
Chocolate Frosting
3 (1-ounce) squares unsweetened chocolate
3 (1-ounce) squares semi-sweet chocolate
6 egg yolks
1 cup granulated sugar
3/4 cup heavy cream
1 3/4 cups butter, room temperature
Melt chocolate (unsweetened and semi-sweet chocolate) in the top of a double boiler over hot water. In a medium bowl, combine egg yolks and sugar. Stir in heavy cream; add to the melted chocolate. Cook, stirring constantly, until thickened. Remove from heat and let cool.
In a medium bowl, cream butter until light and fluffy; beat into chocolate mixture, 1 tablespoon at a time. Chill until frosting is of spreading consistency.
---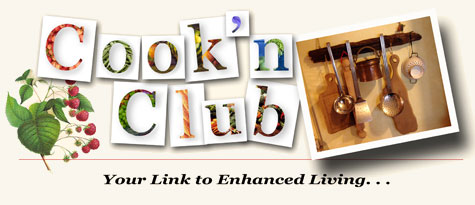 Contribute to the Cook'n Club!
DVO would love to publish your article, prose, photography and art as well as your cooking, kitchen and nutrition tips, tricks and secrets. Visit the Newsletter Submission / Win Win for All section in our Forum for more information and details.