Almond Milk to the Rescue!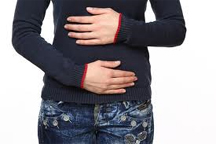 Either we struggle with it ourselves, or we know someone who does. I'm talkin' lactose intolerance (the inability to digest lactose—a type of sugar found in milk and other dairy products). While it's not a dangerous condition, it is very prevalent. Approximately 30 million American adults have some amount of lactose intolerance by age 20. Typical symptoms include diarrhea, bloating, gas, and especially cramping.
But no need to despair. What a day and age we live in: enter almond milk. It is a terrific alternative to cow's milk. For starters, it's the almonds. Almonds are perfectly packaged powerhouses of natural antioxidants, especially vitamin E, and more. They also are a good source of protein and fiber—more protein than any other tree nut. They're also naturally low in saturated fat and cholesterol-free. Because of these reasons, and more, the almond has been nicknamed the "King of Nuts."
There are a few different brands of almond milk on the market, and they all have pretty much the same nutrition profile. Almond milk, whether it's Blue Diamond's Breeze or Silk Pure Almond™ Milk, is not only loaded with antioxidants, it is packed with as much calcium and vitamin D as dairy milk, with absolutely no cholesterol, saturated fat, dairy or soy. Another thing in favor of this drink is that it is low in calories—only 60 calories per 8oz glass (Vanilla is around 90).
If you're wondering how to substitute it for dairy when cooking or baking, here are some tips (off the Silk Pure Almond Milk website):

In general, you can substitute almond milk for dairy milk, cup for cup.

Silk Pure Almond Original almond milk works well in both savory and sweet dishes.

Silk Pure Almond Vanilla almond milk has a touch of extra sweetness and is suitable for desserts, smoothies and breakfast treats.

Like dairy milk, almond milk will scorch if cooked at too high a temperature and can form a skin when heated. Stir constantly and use moderate heat for best results.

Using almond milk in your favorite baked good recipes may slightly affect the baking time. Check the oven a few minutes earlier than the time listed in the recipe.

If you're using almond milk in a cooked pudding or custard recipe, increase the thickening agent (such as cornstarch or flour) by a few tablespoons. Because almond milk contains no saturated fat, it requires a little extra thickener to set up properly. Better yet, choose from one of our pudding or custard recipes, which were specially developed to work perfectly with almond milk.

If a recipe calls for buttermilk, add a teaspoon of vinegar to almond milk before adding it to the recipe.

Unless specifically directed by your recipe, avoid adding acidic ingredients like sundried tomatoes or lemon to almond milk; they can cause the mixture to curdle.

Since Silk Pure Almond Vanilla almond milk is lightly sweet already, you reduce the sugar in any dessert recipe by one third to one half when using this product, with no sacrifice in flavor.
With all this in mind, I went looking for recipes that included almond milk, and there are tons. Here are a few to get you started. Let's experiment with this healthy alternative to dairy!
---
Homestyle Pancakes
Yield: 8-10 pancakes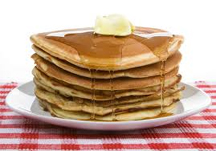 1 cup unbleached all-purpose flour or whole wheat pastry flour
1-2 tablespoons honey or agave syrup
2 teaspoons baking powder
1/2 teaspoon salt
1 cup plain or vanilla-flavored almond milk
2 tablespoons melted butter
2 eggs
Whisk together flour, sugar, baking powder and salt in a small bowl. In a separate bowl, whisk together almond milk, butter and egg. Add flour mixture to egg mixture and stir just to moisten - a few lumps are fine. Cook pancakes on a griddle over medium heat.
---
Poppyseed Cake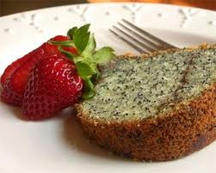 Cake:
1 cup melted butter
1 1/2 cups sugar
3 eggs
3 cups unbleached all-purpose flour
1/2 teaspoon salt
1 1/2 teaspoons baking powder
2 tablespoons poppy seeds
1 1/2 cups vanilla-flavored almond milk
1 1/2 teaspoons almond extract
1 teaspoon vanilla
Glaze:
1/4 c. orange juice
3/4 c. sifted powdered sugar
1/2 tsp. vanilla
1/2 teaspoon almond extract
Preheat oven to 350 degrees. Spray or grease a bundt pan or two 8x4-inch loaf pans. In the bowl of a stand mixer beat butter, sugar and eggs until light and fluffy, about 2 minutes. In a separate bowl, whisk together flour, salt, baking powder and poppy seeds. Add flour mixture to egg mixture alternately with almond milk, beginning and ending with flour. Stir in almond and vanilla extracts. Bake for 1 hour until top springs back and a tester inserted into cake comes out clean.
---
Velvet Chocolate Pudding
8 Servings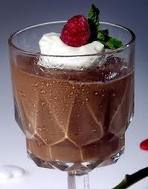 3/4 cup sugar
1/4 cup cornstarch
3/4 cup unsweetened cocoa
1/4 teaspoon salt
3 cups vanilla-flavored almond milk
1 teaspoon vanilla
3 tablespoons butter
Whisk together sugar, cornstarch, cocoa and salt in a medium saucepan. Slowly whisk in almond milk. Bring mixture to a boil over medium heat, whisking constantly. Reduce heat to low and simmer, whisking occasionally, until mixture thickens, about 4-5 minutes. Remove from heat and whisk in extract(s) and butter. Pour into 1 large bowl or 8 small serving bowls and refrigerate for at least an hour, until thoroughly chilled.
---
Banana Cream Pie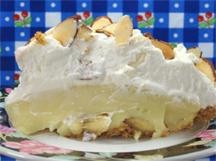 Crust:
1/2 cup sweetened flaked coconut
1 1/4 cups graham cracker crumbs
5 tablespoons butter or margarine, melted
Filling:
1/3 cup sugar
3 cups vanilla-flavored almond milk
1/4 cup cornstarch
1/4 teaspoon salt
Pinch of nutmeg
1 1/2 teaspoons vanilla
4 bananas, sliced
Sweetened whipped cream for garnish
Toasted almonds, for garnish
Preheat oven to 350 degrees. Prepare crust. In a small bowl mix together coconut, graham cracker crumbs and melted butter or margarine. Press into a 9-inch pie pan and bake for 10 minutes. Cool completely.
To prepare filling, whisk together sugar, cornstarch and salt in a medium saucepan. Slowly whisk in almond milk. Bring mixture to a boil over medium heat, whisking constantly. Reduce heat to low and simmer, whisking occasionally, until mixture thickens, about 4-5 minutes. Remove from heat and stir in vanilla. Transfer to large bowl and cool completely, whisking occasionally, about 1 hour.
To assemble pie, spread about 1 cup filling over bottom of prepared crust. Top with half of the sliced bananas, then another cup of filling, covering bananas completely. Repeat layering with remaining bananas and filling. Chill until set, at least 8 hours and up to 1 day.
---
Braggin' Bran Muffins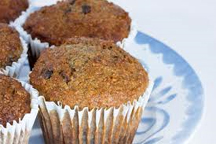 1 cup plain or vanilla-flavored almond milk
1/2 cup agave syrup or raw honey
3/4 cup unsweetened applesauce
2 tablespoons melted butter
2 eggs
1 cup wheat or oat bran
1 1/2 cups whole wheat flour
1 tsp. baking powder
1 tsp. baking soda
1 tsp. cinnamon
1/4 teaspoon salt
1 cup golden raisins
3/4 cup finely chopped walnuts or pecans
Preheat oven to 350 degrees. Whisk together Pure Almond, molasses, applesauce, oil and eggs in a medium bowl. In a separate bowl whisk together bran, flour, baking powder, baking soda, cinnamon and salt. Add bran mixture to egg mixture and stir just until moistened. Gently stir in raisins and nuts, if desired. Don't over-mix. Bake 18-20 minutes until tops spring back.
---
Butternut and Apple Soup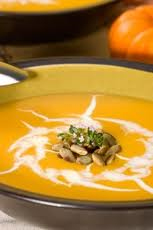 2 tablespoons olive oil
1 small yellow onion, peeled and chopped
1 clove garlic, chopped
1 Granny Smith apple, peeled, cored and chopped
1 large butternut squash, about 2.5 lbs, peeled, seeded and chopped into 1-inch pieces
2 stems fresh thyme or 1/2 teaspoon dried
1 bay leaf
1/4 teaspoon nutmeg
3 cups water
3 cups almond milk
1 teaspoon salt
1/2 teaspoon fresh ground pepper
1 teaspoon fresh lemon juice
4 tablespoons toasted sliced almonds, for garnish
Heat a 5-quart soup pot over medium-low heat; add olive oil and heat for 1 minute. Add onions and garlic and cook until softened, about 5 minutes. Add apple, squash, thyme, bay leaf, nutmeg and enough water to cover ingredients. Turn heat to medium high and cook for 15-18 minutes, stirring occasionally, until squash is tender. Stir in almond milk and heat through.
---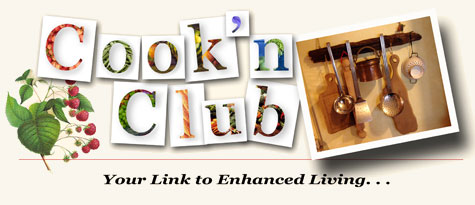 Contribute to the Cook'n Club!
DVO would love to publish your article, prose, photography and art as well as your cooking, kitchen and nutrition tips, tricks and secrets. Visit the Newsletter Submission / Win Win for All section in our Forum for more information and details.