Garlic Press News
Do you love garlic but hate chopping it or getting garlic odors on your hands or tools? The answer is a good garlic press, and the best one is the Kuhn Rikon Epicurean Garlic Press. Take a look at this honey:
Kuhn Rikon Stainless Steel Epicurean Garlic Press.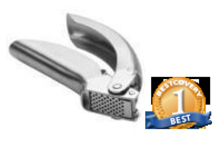 Why it's best: Consumer reviewers disliked lots of garlic presses saying they did a lousy job (producing more juice than minced garlic, making a mess, and leaving too much behind). Testers liked the Kuhn press because it produced the most consistent size and texture, and extracted more than other presses. It's made of stainless steel, has an ergonomic handle, and is dishwasher-safe and easy to clean.
See it at: CHEFS Catalog ($39.95), Cutlery and More ($39.95), Chef's Corner ($39.95) and Amazon.com ($39.99).
I like these features, but it seems a little pricey. So I kept searching for a top-notch tool I that didn't break the bank. I found a couple other options. First, the
Rosle Stainless Steel Press:

Why it's a best pick: While buyers universally seem to love the Kuhn Rikon Epicurean Garlic Press, a lot of cooks like the Rosle Garlic Press. Made of 18/10 stainless steel, and about the same size as the Kuhn, it can handle unpeeled cloves, and is effective and easy to clean and store. The handle is not quite as ergonomic as the Kuhn, and users say the Kuhn minces a bit better, but most agree that the Rosle also does a very good job.
See it at: Amazon.com ($28.39).
I dunno, still on the expensive side maybe. So, I decided on this last choice—the price was right. The tradeoff is that it's a little harder to clean, but that's OK with me. See what you think of the
Zyliss Jumbo Garlic Press with Cleaner: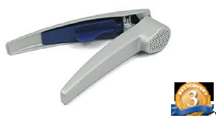 Why it's a best pick: While not quite as efficient or elegant as the Kuhn or Rosle, the Zyliss Jumbo Garlic Press with Cleaner is half the price of the fancier models, and has a much larger press that can handle multiple cloves or elephant garlic. It's fairly ergonomic, and comes with a small plastic cleaning tool that's great for scooping out peels (and stores in the handle so you don't lose it). And it's dishwasher safe and easy to clean.
See it at: Amazon.com  ($12.50).
Whew! Finding the right tool can be a chore. Now, how about a couple recipes to try the 'ol press out on? (Courtesy of garlicrecipes.org)
---
Creamy Zucchini and Garlic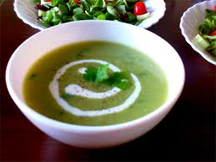 6 medium zucchini, grated
6 garlic cloves, minced
2 ½ tablespoons butter
2 ½ tablespoons garlic powder
2 ½ tablespoons of sour cream
1 teaspoon of thyme leaves, chopped
Fresh pepper
Melt the butter in a skillet. Add the minced garlic and saute over low heat for a short time.
Add the grated zucchini, garlic power and thyme. Cook, stirring frequently until the zucchini is tender. Remove from the heat and stir in the sour cream. Season with the fresh pepper. Serve.
---
Lemon Garlic Salmon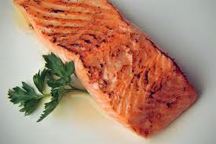 2 tablespoons butter
2 teaspoons garlic, minced
1 teaspoons of lemon pepper
2 six-ounce salmon fillets
Fresh lemon juice
Melt the 2 tablespoons of butter in a suitably-sized skillet over medium-high heat. Stir in the 2 teaspoons of minced garlic. Season the fillets of salmon on both sides with the lemon pepper.
Place the fillets in a pan and cook until it flakes when tested with a fork. Make certain to flip the fillets midway through cooking to brown on each side. Sprinkle with lemon juice. Serve.
---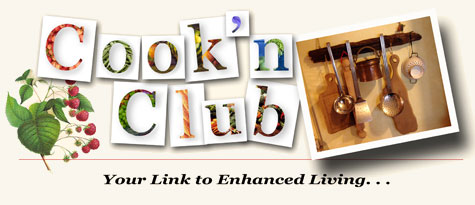 Contribute to the Cook'n Club!
DVO would love to publish your article, prose, photography and art as well as your cooking, kitchen and nutrition tips, tricks and secrets. Visit the Newsletter Submission / Win Win for All section in our Forum for more information and details.