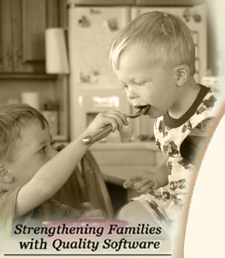 Cook'n Club Home
Subscribe Now!

Cook'n Forum
HomeCook'n Archive
Give-Aways

I have spent the last 2 hours reading your newsletter and wonderful recipes. I have already printed a whole bunch I want to try. I love them because they are using ingredients one has on hand. I love that and just wanted you to know how much we appreciate all your hard work in putting together this newsletter. Thank you very much.

Anna

Volume I - January 12, 2007
Hard-Boiled Egg Tips
Notes from Folks...



Speaking of hard boiled eggs: the eggs that crack while being violently rolled around in the boiling water can be very messy. To keep the egg from "leaking", splash a little vinegar or lemon juice in the water before turning on the heat. The acid "seals" the egg.

And if you plan to store some of the boiled eggs in your refrigerator, you will be able to easily tell them apart from raw eggs if you put a drop or two of food coloring (color of your choice) in the water while boiling the eggs.

Thanks for all your great recipes and cooking tips!

Pam Ratcliffe



---


For some time now, I've been using the following tips for boiling eggs, and usually only get an average of 1 out of ten problem eggs.

There are several challenges standing between the cook and the perfectly cooked hard-boiled egg: for most recipes the yolk should be fully cooked, but over cooking will turn the white of the egg rubbery; the egg shells should remain intact until the egg is fully cooked, but a rapid change in temperature usually causes the shells to crack and spill some of their contents; finally, the unattractive greenish ring around the yolk needs to be eliminated for reasons of appearance and taste. Follow this method for perfect hard-boiled eggs every time.

Hard-Boiled Eggs

Place the eggs in a saucepan and cover with 1 inch (3 cm) of water. To help make newer eggs easier to peel, add 1 tsp Baking Soda to the water. Bring the water to a boil over high heat. As soon as the water boils, cover the pot and remove it from the heat. Allow to sit for 10 minutes, or 8 minutes if you prefer the center of the yolks slightly creamy. Drain the water from the pot and crack the egg shells - this can be accomplished simply by shaking the eggs vigorously in the pot.

Cover the eggs with cold water and let them sit for 30 minutes. Cracking the egg shells allows the sulfur compounds that cause the yolk to turn green to escape, and since these compounds are water soluble, and the cold water will draw them from the egg. Peel the eggs beginning at the large end.

Donald Speer



---


Eggcellent tips Pam and Donald! Thank you so much!!

Dan





---
Contribute to the Cook'n Club!
DVO would love to publish your article, prose, photography and art as well as your cooking, kitchen and nutrition tips, tricks and secrets. Visit the Newsletter Submission / Win Win for All section in our Forum for more information and details.
---
---