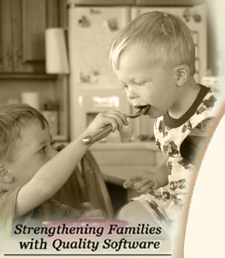 Volume I - January 12, 2007
5-Day Meal Plan

This "Hearty and Healthy" menu is put together for those of us in the colder areas of the states. Apologies (and envy!) to the international members who are enjoying summer now! My apologies also, to those who do NOT have to work around kid-palates. I hope you will still enjoy this menu and I hope those with kids will be able to persuade their kids to try these dishes.

This menu makes me want to start cooking and preparing on Sunday for the whole week's recipes. It would make much more "free" time for the weeknights. I'd make up the Garlic-Cheese Biscuits on Sunday and freeze them. Better yet, make a double batch for one of next week's meals or after-school kid-snacks!

Also, make up the Waldorf Salad for Monday, as it's always better the next day after when the flavors meld. Once you get these done, you only have to prepare the lasagna and bake it. You could even put together the lasagna on Sunday, refrigerate it, and bake it Monday night. Thaw and/or warm the biscuits in oven or microwave right before serving.

Make Tuesday's Applesauce Gingerbread Cake ahead, cut into serving sizes and freeze portions in Ziploc Freezer bags. For kids' snacks, freeze one piece in a sandwich bag. You can also make up the Sweet Cornbread Muffins ahead the same way.

Also on Sunday, you can cook up a chicken for the Hearty Macaroni Salad on Wednesday. Pick apart the bird, cut up and freeze the 1 cup of chicken for that meal in a separate zipper bag. The rest can be made into lunches or frozen separately for another meal. Use 1/2 cup of the broth for the Easy Fish and Vegetable Packets on Friday. Freeze the rest for another use.

On Tuesday, when you are cutting up vegetables for the Hearty Chicken and Potato Dinner, cook the pasta and put together the Hearty Macaroni Salad (all but the chicken, ham and shrimp). Then Wednesday, all you have to do is stir in those things and serve the salad over the lettuce. You can put together Thursday's Five Bean Salad and the Refrigerated Fruit Salad on Wednesday night.

Thursday's menu is for the slow-cooker. Almost a "free" evening! But, this would be a good time to put together Friday's Orange Trifle dessert.

For Friday's menu, the Easy Fish and Vegetable Packets2 could be totally prepared ahead! Put together the frozen ingredients into the foil packets, close them up, label them, and pop them right back into the freezer on Sunday! Add a Do Not Disturb sign, so it doesn't disappear before Friday! The only thing you will have to do is take the entrée out of the freezer after the potatoes are in the oven. They both bake at the same temperature. Start the potatoes about 10 minutes before the fish and veggie packets to have everything done at the same time.

Chop onions for the lasagna. Freeze in ½ -1 cup quantities in zipper plastic bags or larger quantities in plastic containers (margarine, cottage cheese containers). If you want to freeze in larger quantities, I'd recommend laying them out on cookie sheets, so they don't all stick together. If you are using block cheddar, parmesan, or Romano cheeses, grate or shred them now and store in the refrigerator or freezer in sealed bags or containers.

---
---
Contribute to the Cook'n Club!
DVO would love to publish your article, prose, photography and art as well as your cooking, kitchen and nutrition tips, tricks and secrets. Visit the Newsletter Submission / Win Win for All section in our Forum for more information and details.
---
---

Terms & Conditions | Webmaster | Privacy Policy | Unsubscribe





© 2007 DVO Enterprises, Inc. All rights reserved.
Sales: 1-888-462-6656