Demystifying Veganism
I have never really known what it means to be vegan. In my mind, veganism is a very restrictive diet that means you don't eat anything made from animal products- no meat, no dairy. I am not personally Vegan, but after doing some research and gaining insight as to what it really means to be vegan, here are some myths and truths surrounding veganism:
MYTH
I can't get enough protein on a vegan diet!
TRUTH
While it is true that most meat contains more protein per 100g than plant-based protein sources, it is not true that you cannot find sufficient protein sources on a plant-based diet. Here are some examples:
Black Beans – 21g/100g
Tofu – 19g/100g
Lentils – 26g/100g
Chickpeas – 19g/100g
MYTH
I am only 1 person, how would me eating vegan ever make a difference?
TRUTH
In one day, a vegan saves: 1100 gallons of water, 40 lbs of grain, 30 sq ft of forest, 20 lbs of C02, 1 animal. THAT is making a difference!
MYTH
Eating vegan is boring!
TRUTH
It is only boring if you make it boring! Instead of focusing on what you can't have, try celebrating what vegans CAN eat! Vegan meals are typically colorful, beautiful and tasty!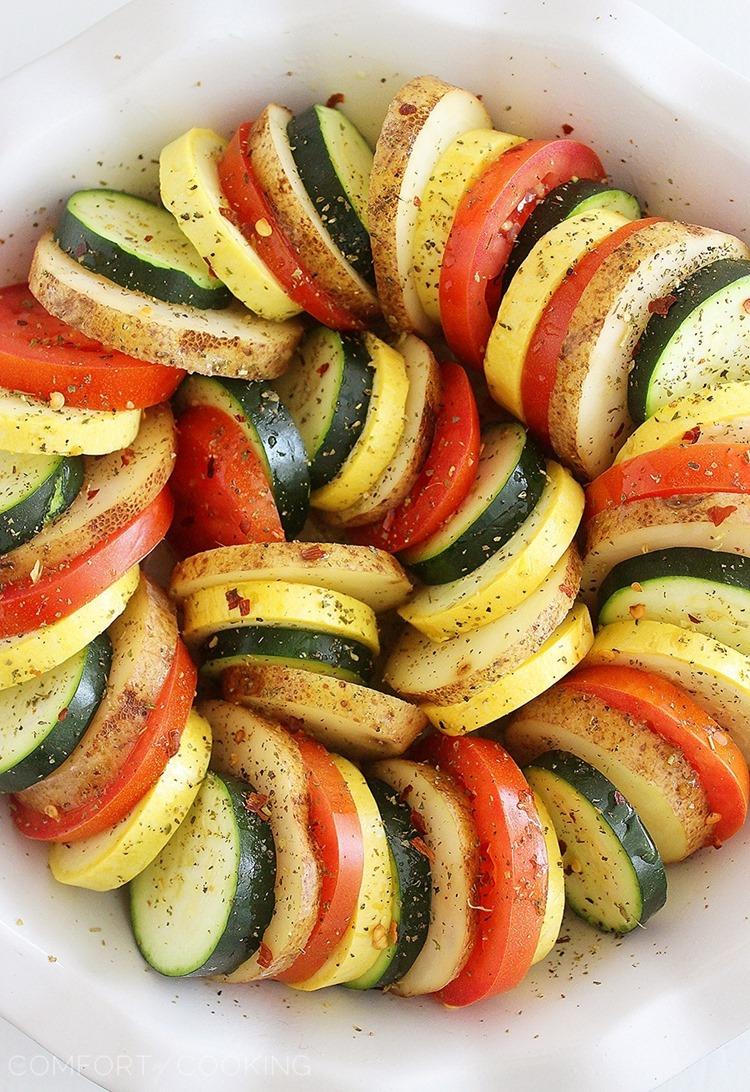 Here is a recipe for vegetable tian, a beautiful and delicious dish that is totally vegan!
Parmesan Vegetable Tian
Simple. Fresh. Delicious. Author: Jules @ WolfItDown says
Yield:
Makes 4-5 side dish servings
Serving size:
4
Calories per serving:

161




Ingredients:
1
large
yellow onion
, small diced
2
cloves
garlic
, minced
1
medium
zucchini
, thinly sliced
1
medium yellow
squash
, thinly sliced
1
medium baking
potato
, thinly sliced
2
medium roma
tomatoes
, thinly sliced
1/4
teaspoon
heaping
Italian seasoning
salt and freshly cracked
pepper
, to taste
1/4
cup
shredded
mozzarella cheese
2
tablespoons
freshly grated
Parmesan cheese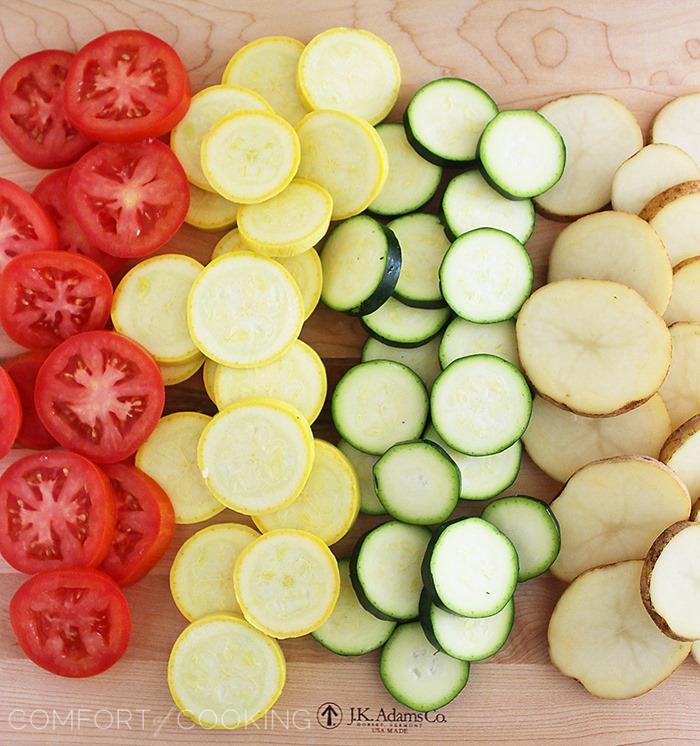 Directions:
Preheat oven to 400 degrees F. Lightly coat a round pie pan with nonstick cooking spray. Set aside.
In a medium pan, heat olive oil. Once hot, add chopped onion and garlic, cooking until soft and fragrant, 5-7 minutes. Spread the onion and garlic mixture on the bottom of pan. Evenly arrange the sliced vegetables on top, alternating as you go. Once you get all the way around, continue layering to fill the middle until no open space remains.
Drizzle all over with 1 Tablespoon olive oil and sprinkle with Italian seasoning, salt and pepper. Cover with aluminum foil and bake covered for 30 minutes.
Remove aluminum foil and sprinkle with mozzarella and Parmesan. Return to oven and bake uncovered for an additional 15 minutes, or until cheese is golden brown.
Enjoy!

Recipe formatted with the Cook'n Recipe Software from DVO Enterprises.
Add Recipe to Cook'n
Sources:
http://www.thecomfortofcooking.com/2014/02/parmesan-vegetable-tian.html
style="font-size:.35em;">
https://www.internationalvegan.org/nutrition/?gclid=Cj0KCQiA6IHwBRCJARIsALNjViUdqZHb-iNZxL5U4h7-3d6LSJcRmcy-dxKvuyHvU_mJKXGXm1dkCGYaArRnEALw_wcB style="font-size:.35em;"> https://plantearth.co/why-not-to-go-vegan/

Stefanie Hathaway
Monthly Newsletter Contributor since 2016
Email the author! stefanie@dvo.com
---
Subscribe to Cook'n Premium and get newsletter articles like this each week!