Is Eating Out of a Bowl More Satisfying than Eating off a Plate?
I talk all year about eating healthy, but the start of a new year gives the idea extra emphasis. A new year, a new you…so to speak.
Anyway, one very easy way to healthify a meal is to go the "bowl" approach. Dieticians and food scientists say this style of eating is not just healthy, but highly satisfying and is a leading way people are dropping the extra pounds our infamous holiday binging packed on. I like the way Lindsay, of www.happyhervbivore.com, does this. And I thought you might find some good ideas from her method, as well.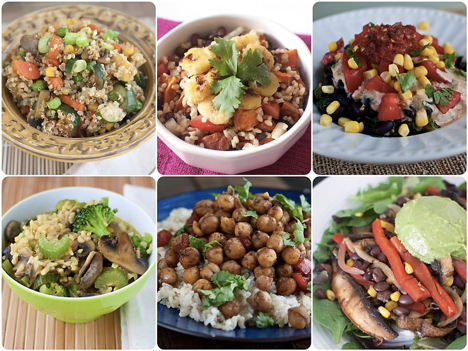 One reason science supports eating this way is how using the same bowl helps folks acclimate to portion sizes. In other words, they tend to develop a better connection with their bio (metabolic) hunger. Research shows that those struggling with overeating or feeling "satisfied" after dinner have especially benefited from bowl meals.
Research also suggests that eating out of a bowl is more satisfying than eating off a plate AND has a positive impact on the way you eat. There are a few theories and explanations for this, but Lindsay's favorite is based on the fact we hold bowls and bring them closer towards us, which fosters feelings of comfort and nourishment—a connection that can't be made by a fork and plate.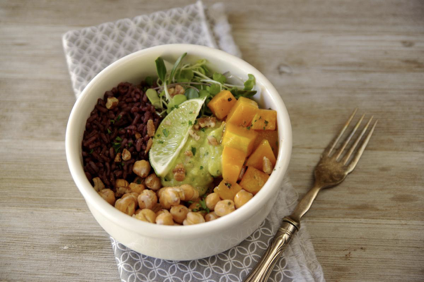 And if you deal with a busy lifestyle, one-dish-wonders are a great way to cope with the drain on your time and energy.
Since most of us are typically conditioned to plate our meals, I was interested in what help was out there regarding switching this approach to meal-making. Turns out, there are a lot of very good resources available. Williams and Sonoma, for instance, put out a great cookbook on the subject, that's available on amazon.com for about $12.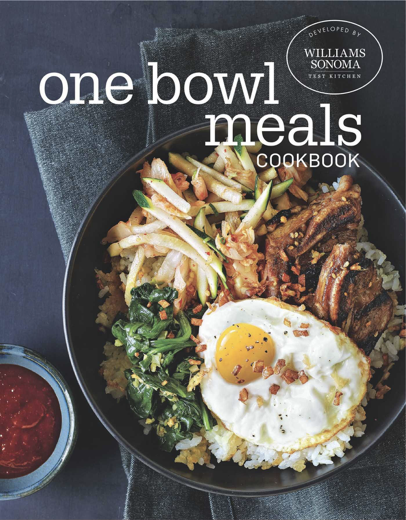 Another name for this one-bowl meal trend is Buddha bowls. These meals are basically built around combining a grain, a green, and a protein. Easy formula, right? When you think about it, how easy it is, to put a meal together this way when you always have some cooked rice, cooked chicken and salad greens in your fridge, ready and waiting.
Another good resource is OUR BEST ONE-BOWL MEALS from the ever popular Gooseberry Patch. This book emphasizes how this eating trend fits all meals. They've got tasty and easy recipes that cover breakfast, lunch, and dinner. For example, here's one of their breakfast recipes that folks at our house really like: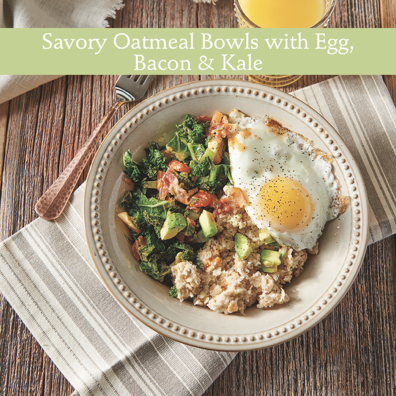 Savory Oatmeal Bowl with Eggs, Bacon, and Kale
Serving size:
2
Calories per serving:

275




Ingredients:
2
slices
bacon
diced
1
bunch
kale, thinly sliced
1/2
cup
fresh
tomato
diced
1
teaspoon
red wine vinegar
1/8
teaspoon
salt
1
cup
steel cut, cooked
oats
1/3
cup
diced
avocado
1
teaspoon
extra virgin
olive oil
2
eggs
1/8
teaspoon
pepper
1/2
teaspoon
hot pepper sauce
optional
Directions:
1. In a large skillet over medium heat, cook bacon until almost crisp, stirring occasionally.
2. Add kale; cook for 2 to 4 minutes, until wilted.
3. Stir in tomato, vinegar and salt.
4. Divide oats evenly between 2 bowls.
5. Top with kale mixture and avocado; set aside.
6. Wipe skillet clean with a paper towel; return to medium heat.
7. Add oil and swirl to coat.
8. Crack eggs into skillet, one at a time; cook for 2 minutes.
9. Cover and cook for one minute, or until whites are set.
10. Top each bowl with one egg.
11. Sprinkle with pepper and hot sauce, if using.

Recipe formatted with the Cook'n Recipe Software from DVO Enterprises.
Add Recipe to Cook'n
For most cuisines of the world, the bowl is the primary vessel for eating. It evokes a way of eating that seems to be about comfort and as well as sustenance. This isn't all that new in terms of how we look at food. "Comfort food" has been around a LONG time (think macaroni and cheese, for instance). But this one-bowl approach is a relatively new way of serving up the comfort.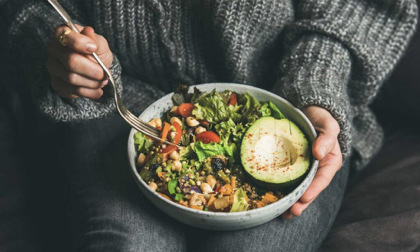 So the bottom line? A bowl that we pick up and touch is more likely to set an expectation of a hearty, filling and healthy meal. That weight in the hand is likely to make your brain think the food is more substantial and you're likely to rate it as more intensely fragranced and aromatic than for exactly the same food sitting passively on a plate.
Sources:
www.happyherbivore.com
www.theadvocate.com
www.gooseberrypatch.com
www.mazopiya.com