Pita Bread Can Wear Several Hats!
Pita, or pitta (in the UK), is a family of yeast-leavened round flatbreads baked from wheat flour. There are those that say this bread is an even better invention than sliced bread. It is no wonder that this round pocket bread has been a staple (serving as both a bread and a utensil) of the Middle East for 4,000 years.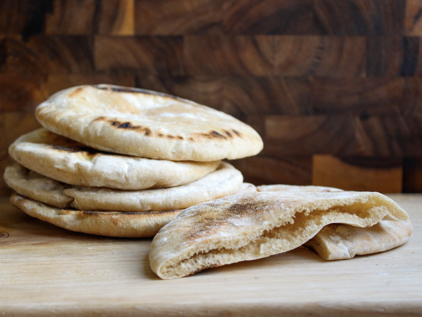 It's a rather simple bread that can be made with limited technologies. There are two major types of pita, baked in an oven or baked on a hot surface (like a pan) in the open. Pitas that are made on a hot surface typically do not have a pocket.
It's the oven-baked pita that will have a pocket in the middle. In this group you will find many variations in size, thickness, etc. If possible, they're baked at relatively high temperatures (around 800-900 degrees F). In the process, the flat dough expands dramatically forming an interior pocket (created by steam), and the baking is finished in only one minute!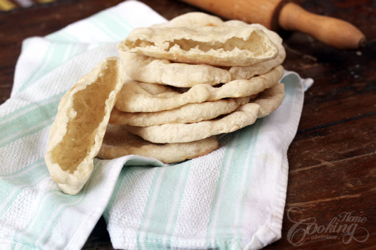 Few breads are as nutritious as a whole wheat pita. It's a good source of fiber and protein, with minimal fat. It has lots of calcium and barely any sugar. And one pita normally has less calories than two slices of bread.
We all know that pita bread makes a quick and easy sandwich pocket, but its uses can go way beyond that. Besides using pita as an emergency base for your individual pizzas, this delightful food can wear other hats as well. For instance:
PITA and CHOPPED VEGGIE SALAD.
Toss any chopped vegetable salad with a favorite dressing and stuff it into your pita. This is an excellent way to eat a healthy lunch on the go and it makes a terrific alternative to the typical sandwiches made with two slices of bread that you tuck into your lunch box or picnic basket.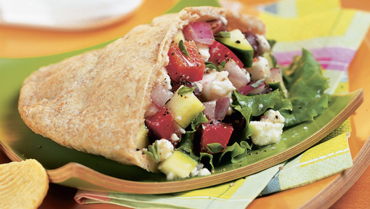 PITA LASAGNA.
Instead of noodles, this gooey, cheesy lasagna is layered with pocketless pita. Just rely on your favorite lasagna recipe, then layer all your meat(s) and cheeses between this flatbread. This is one of the best lasagnas I've ever eaten.
SWEET, SPICED BREAD STICKS.
Simply cut 2 pocket-less pita into 3/4-by-4-inch strips and toss them in melted butter (maybe 4 or 5 tablespoons). Lay them out on a parchment-lined baking sheet and give both sides of each bread strip a heavy sprinkling of sugar mixed with cinnamon, cloves, ginger, and a pinch of salt. This is all to your taste. When I tried this, I left out the ginger and substituted cardamom. You can bake them flat or roll them, as the photo shows.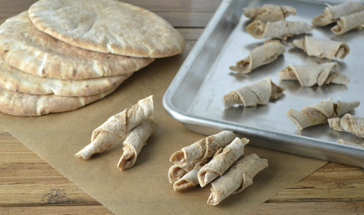 Bake these to a nice crispiness in a 325 degree F oven for maybe 30 minutes. If you turn them halfway through baking, the sugar carmelizes, creating a delicious crunchy surface. Let them cool slightly and then serve them up with chocolate sauce or your favorite jam (raspberry or apricot work really well). And good to know: These can be made ahead and stored for up to 2 days. Just keep them in an airtight container at room temperature.
GARLIC TOASTED CRACKERS.
Along the same lines as the sweet bread sticks, pita also makes great crackers. I cut pita pockets into triangles, split these, toss them in lots of melted butter, and lay them out on a parchment-lined baking sheet. You can bake them this way, or sprinkle with sea salt or salt and garlic powder, or salt and onion powder, or…You get the idea. These are fantastic with soups, stews, and chowders.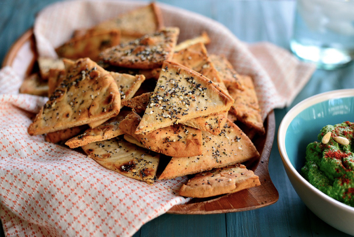 Your imagination is your only limitation on how to use pita bread. It's a versatile food that can wear even more hats than I've listed here, so have at it and let us know what else you come up with!
Sources:
www.seriouseats.com
www.homecookingadventure.com
www.vegetariantimes.com
www.perspectiveportions.com
www.simplyscratch.com

Alice Osborne
DVO Newsletter Contributor since 2006
Email the author! alice@dvo.com
---
Subscribe to Cook'n Premium and get newsletter articles like this each week!