GO GREEN, But GO STYLISH
With reusable grocery bags and baskets, that is. More and more folks are doin' it—saying goodbye to grocery store plastic by shopping with reusable totes and baskets. This practice not only helps the environment, it lets us feel virtuous, too.
I'm sharing this information now because it's getting close to farmers' market-time, and you want to be prepared with a good, strong tote when they get up and running. So hopefully you'll find something you like amongst these suggestions, or you might even decide to make your own.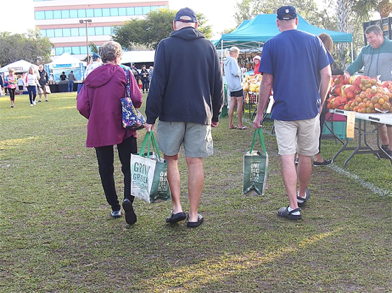 While, more and more grocery stores are now offering their own affordable brands (featuring their logos), I think these compact and colorful carry-alls (below) have some nice extra features that are worth looking at (besides being a bit more stylish).
ENVIROSAX BAG. These well-priced, lightweight bags fold up to practically nothing, carry the equivalent of two or three plastic grocery bags, and come in handy storage pouches to stash in your car or purse.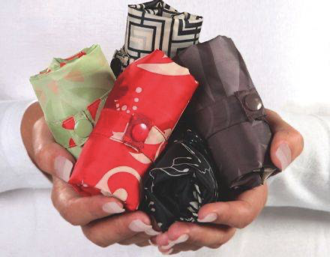 I'm coveting these bags not only for their fabulous patterns but for the fact that they're waterproof, too. If you're not into florals, look for these in several other lively designs, including black and white and retro. Envirosax bags, $10.99 each, available at www.envirosax.com. The company is motto is catchy: "Lighter than a lipstick, stronger than a suitcase!"
BEEGREEN REUSABLE GROCERY BAGS. Packs of 5 sell for $15.99. Made of 100% polyester RIP-STOP cloth which is much better in strength than ordinary polyester fabric found in many other reusable grocery bags. This functional polyester fabric is super light weight but VERY sturdy and resistant to rips and water. They're machine washable and dry quickly.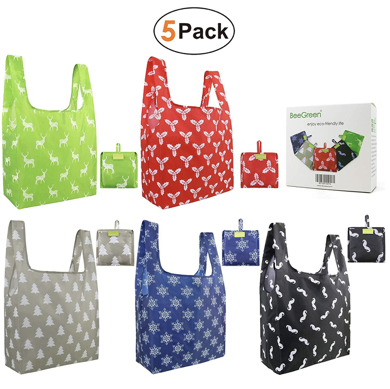 PLANET E REUSABLE GROCERY SHOPPING BAGS. In this pack of three you get 2 large collapsible boxes and 1 large collapsible insulated zippered cooler with reinforced bottoms. All made of recycled plastic. They're easy to store: they fold flat and take no space when you are not using them. It's ideal to store them at home or in your car. Dimensions:13"Lx11"Hx10"W. On amazon.com they run $29.99.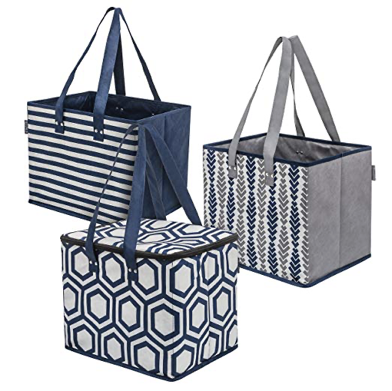 SHOPPING CART SORTING BAGS. And here's a clever idea. How about reusable totes that actually keep your shopping cart organized. Canned goods in one, meats and poultry in another, veggies in another, breads in another, and miscellaneous in the last. Smart, or what!? These are found online at www.dhgate.com and run around $3.75 each (and with free shipping, no less).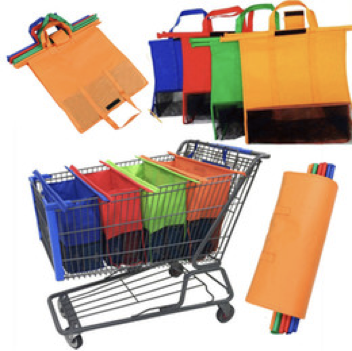 EXPANDABLE, FOLDING SHOPPING TROLLEY BAG. For those who don't want to carry bags, this trolley is great for wheeling groceries (made by the same company that created the grocery cart organizers). And when it's not in use, it flattens for compact storage. They're around $6 each, and again, the shipping is FREE.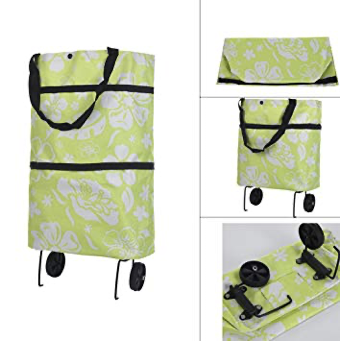 In closing, I think I'll thank you for reading through this little catalog of go-green-with-your-shopping ideas with a fantastic recipe for homemade pita bread (see my other article on
how it can wear several hats
). This is from www.cooking.nyt.com, and received 5 stars across the board from 849 reviews!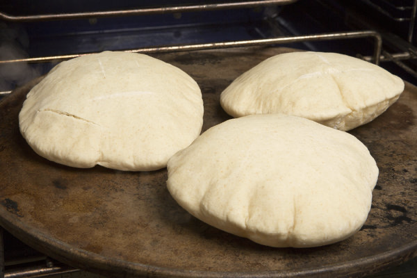 Homemade Pita Bread
Ingredients:
2
teaspoons
active dry
yeast
1/2
teaspoon
sugar
1/4
cup
whole wheat flour
preferably freshly milled
2 1/2
cups
unbleached flour
1
teaspoon
kosher
salt
2
tablespoons
extra virgin
olive oil
Directions:
1. Make sponge: Put 1 cup lukewarm water in a large mixing bowl. Add yeast and sugar. Stir to dissolve. Add the whole-wheat flour and 1/4 cup all-purpose flour and whisk together. Put bowl in a warm (not hot) place, uncovered, until mixture is frothy and bubbling, about 15 minutes.
2. Add salt, olive oil and nearly all remaining all-purpose flour (reserve 1/2 cup). With a wooden spoon or a pair of chopsticks, stir until mixture forms a shaggy mass. Dust with a little reserved flour, then knead in bowl for 1 minute, incorporating any stray bits of dry dough.
3. Turn dough onto work surface. Knead lightly for 2 minutes, until smooth. Cover and let rest 10 minutes, then knead again for 2 minutes. Try not to add too much reserved flour; the dough should be soft and a bit moist. (At this point, dough may refrigerated in a large zippered plastic bag for several hours or overnight. Bring dough back to room temperature, knead into a ball and proceed with recipe.)
4. Clean the mixing bowl and put dough back in it. Cover bowl tightly with plastic wrap, then cover with a towel. Put bowl in a warm (not hot) place. Leave until dough has doubled in size, about 1 hour.
5. Heat oven to 475 degrees. On bottom shelf of oven, place a heavy-duty baking sheet, large cast-iron pan or ceramic baking tile. Punch down dough and divide into 8 pieces of equal size. Form each piece into a little ball. Place dough balls on work surface, cover with a damp towel and leave for 10 minutes.
6. Remove 1 ball (keeping others covered) and press into a flat diskc with rolling pin. Roll to a 6-inch circle, then to an 8-inch diameter, about 1/8 inch thick, dusting with flour if necessary. (The dough will shrink a bit while baking.)
7. Carefully lift the dough circle and place quickly on hot baking sheet. After 2 minutes the dough should be nicely puffed. Turn over with tongs or spatula and bake 1 minute more. The pita should be pale, with only a few brown speckles. Transfer warm pita to a napkin-lined basket and cover so bread stays soft. Repeat with the rest of the dough balls.

Recipe formatted with the Cook'n Recipe Software from DVO Enterprises.
Add Recipe to Cook'n
Sources:
www.coastalbreezenews.com
www.envirosax.com
www.beegreen.com
www.planetebags.com
www.dhgate.com
www.cooking.nyt.com