My Go-To Fall Breakfast: Superfood Pumpkin Spice Oatmeal
Ever since I got my first jar of pumpkin butter from Trader Joe's this fall I have been making the same breakfast at least five times a week that is jam-packed with brain-boosting, metabolism-revving superfoods. It is so delicious and I don't think I could ever get sick of it!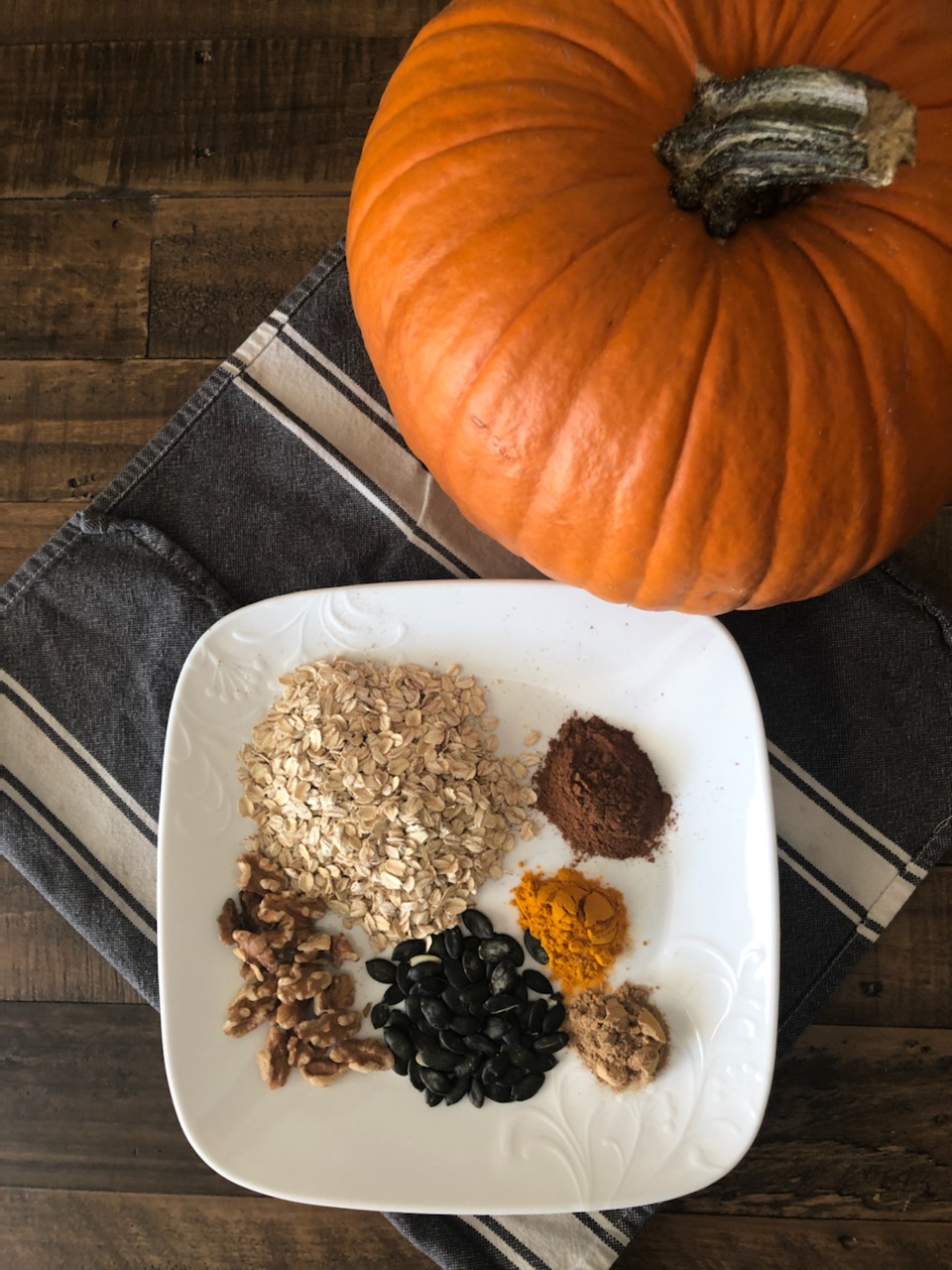 Here's the recipe and a little bit about our superstar ingredients so you'll know why I call this a superfood breakfast. This bowl of oatmeal can be quite adaptable, but here is my basic recipe:
Old-fashioned oats:
oatmeal is a whole grain that gives you 13 grams of protein in one small half-cup serving. And oatmeal has a lot of fiber, which makes you feel full longer. When I eat a bowl of this in the morning, I do not feel hungry for several hours afterward. Oatmeal has a low-glycemic impact, so it provides a good source of energy throughout the morning hours, without a dramatic increase or drop in blood sugar.
Turmeric and Ginger:
This is my little secret for my sneaky metabolism-boosting ingredients. Adding a couple shakes from my little jars of powdered tumeric and ginger is a great way to wake your metabolism up in the morning. Here are a few of my favorite health benefits from ginger and turmeric.
Turmeric is probably the most powerful medicinal spice out there. The main active compound in turmeric that is helpful to our health is called curcumin. Curcumin actually only makes up three percent of turmeric, but you can still receive many of the benefits by adding turmeric to your diet, whether in pill or powder form. Curcumin has been shown to prevent cancer, help battle against depression, delay aging and fight age-related diseases, and even lower your risk of heart disease.
Ginger has been shown to be really effective against exercise-induced muscle pain. You could think of it as a natural replacement for some popular post-workout supplements that are supposed to help you be less sore after a hard workout. Ginger also has powerful anti-inflammatory effects that help relieve stiff and painful joints. Ginger helps move things along quickly in the stomach. This is great because it is believed that delayed emptying of the stomach is a major driver of indigestion.
Chia seeds:
adding a tablespoon of chia seeds is so great because it is not only delicious, but also has great health benefits as well. Chia seeds are high in calcium, great source of fiber, are great at controlling blood sugar, and are a great plant-based source of protein.
Nuts and pumpkin seeds:
I like to add a handful of chopped pecans or walnuts and some raw pumpkin seeds to add some crunch as well of plenty of healthy fats, which are great for your brain. Pecans provide more than 19 vitamins and minerals and are linked to breast cancer and osteoporosis prevention. Walnuts are a super plant source of Omega-3s and have higher antioxidant activity than any other common nut. 
How to get the pumpkin flavor:
Like I said, I was adding a spoonful of pumpkin butter, but you could alternatively use a heaping spoonful of real canned pumpkin and a teaspoon of pumpkin spice. This would be the healthier option because I know pumpkin butter has quite a bit of sugar added. Trader Joe's makes a pumpkin spice almond milk that is also delicious in this oatmeal and brings a lovely fall flavor, so you could look for something similar.
I like to end things with a splash of this almond milk, or if I really want it to taste decadent, I have been known to add a splash of heavy cream, but this, in my mind, almost seems to counterbalance all the healthy benefits I am getting from this bowl, so I usually opt for the spiced almond milk :) The choice is yours!
Optional add-ins: pure maple syrup, pure vanilla extract, sliced bananas, mini chocolate chips.
You should try this superfood oatmeal tomorrow, if you can. You will not regret it! Just think of all the wonderful things it is doing for your body and brain, all while tasting absolutely delicious!
Superfood Pumpkin Spice Oatmeal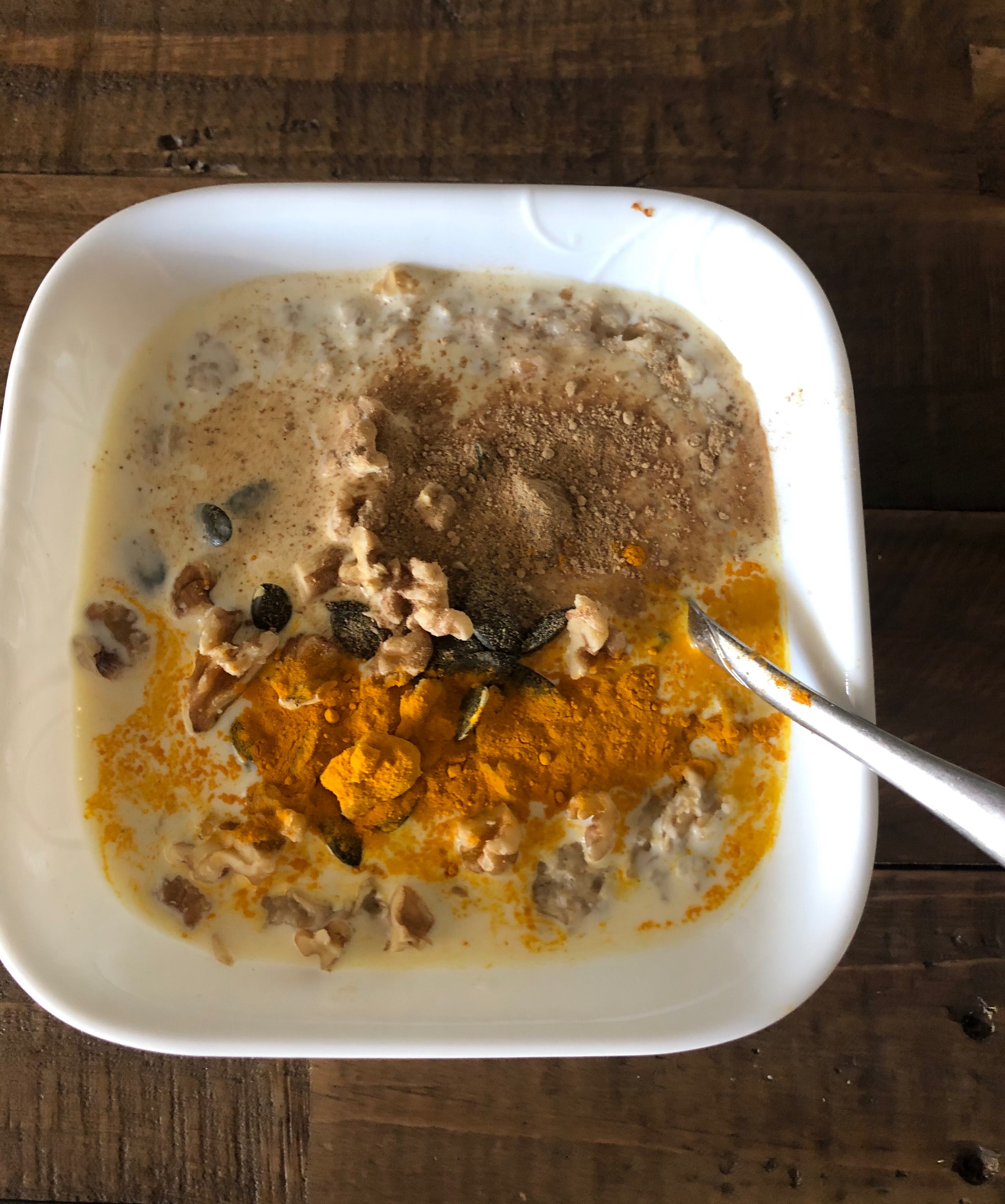 Superfood Pumpkin Spice Oatmeal
Serving size:
1
Calories per serving:

130




Ingredients:
1/2
cup
old fashioned oats
1
cup
water or
milk
(cow's milk, almond milk, cashew milk, etc.)
? to 1/4 teaspoon turmeric powder
? to 1/4 teaspoon ground ginger
1/2 to 1 teaspoon
ground cinnamon
1
tablespoon
chia seeds
1
ounce
chopped walnuts and/or pecans
1
ounce
raw or roasted pumpkin seeds
1/4
teaspoon
sea
salt
(i do a couple shakes of my pink himalayan salt grinder)
splash of
milk
(almond milk, cow milk, or even heavy cream)
Directions:
Add oats and water to microwave safe bowl and microwave for 2 minutes on high.
Add the rest of the ingredients and stir. Enjoy!

Recipe formatted with the Cook'n Recipe Software from DVO Enterprises.
Add Recipe to Cook'n
Sources:
www.publicdomainpictures.net
www.healthline.com
www.wideopeneats.com
www.powerofpositivity.com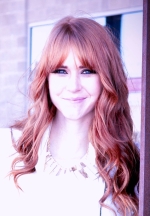 Mary Richardson
Weekly Newsletter Contributor since 2014
Email the author! mary@dvo.com