Snack Mixes- Do You Love Them or Hate Them?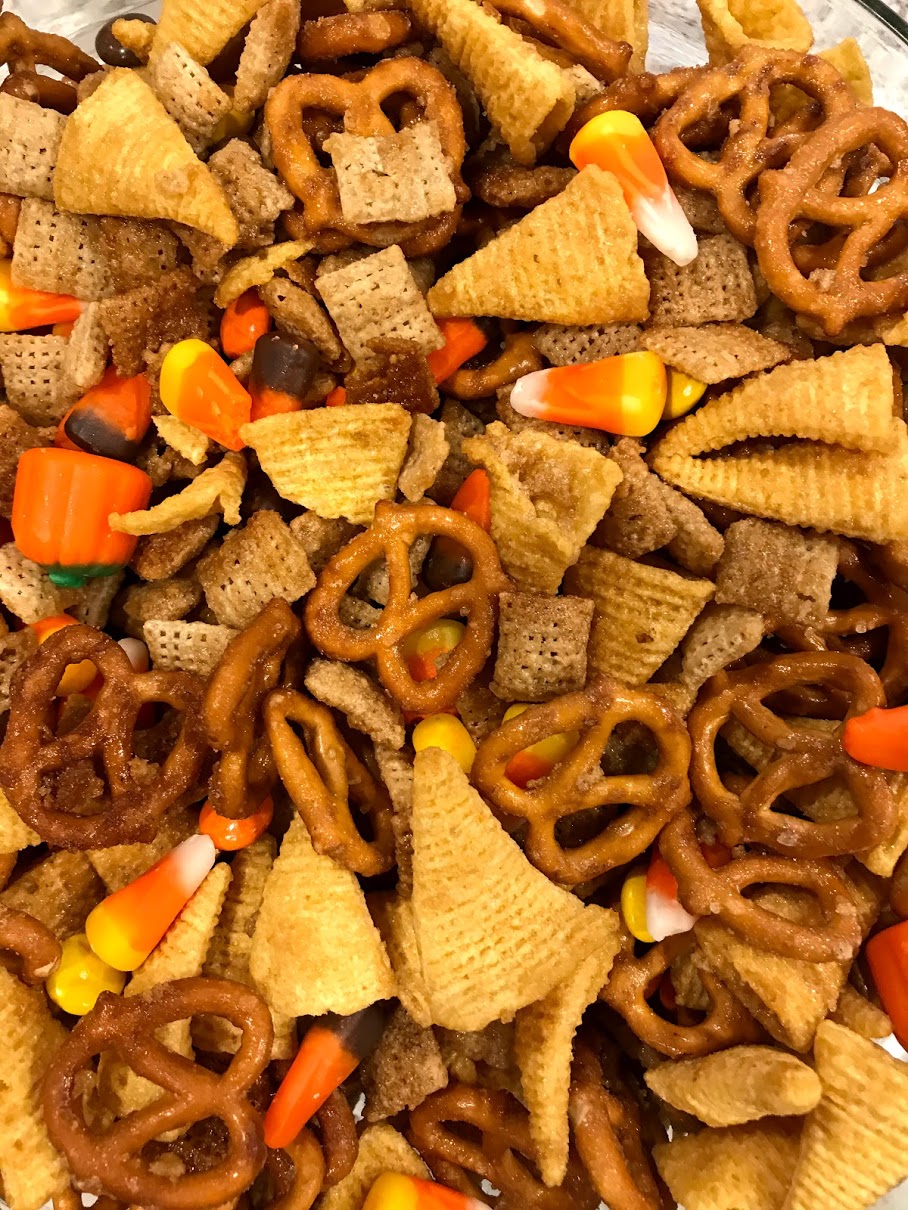 I recently hosted a game night, and it was the perfect excuse to make some festive Harvest Chex Mix! I love having a reason to make desserts and snacks, because then I have someone to help me eat it all! It's particularly a great time to make snack mixes such as the Harvest Chex Mix recipe I've included below.
Halloween Harvest Hash Chex Mix
Sweet, salty, colorful- delicious!
Yield:
30 cups
Serving size:
30
Calories per serving:

168




Ingredients:
3/4
cup
butter
, melted
3/4
cup
brown sugar
, packed
2
tablespoons
vanilla extract
1
(12-ounce) box
rice
chex cereal
1
(7-ounce) package
Bugles
4
cups
pretzels
1
cup
candy corn
1
cup
candy corn, pumpkins
1
(8-ounce) package
Reese's Pieces
Directions:
Preheat the oven to 275&degF.
Melt the butter in the microwave in medium bowl or measuring cup.
Add the brown sugar and vanilla extract and whisk well until combined and dissolved.
In a VERY large bowl, add the Chex cereal, pretzels and Bugles.
Pour the sauce over the cereal mixture and toss gently until evenly coated.
Line two large baking sheets with parchment paper.
Divide mixture on the two baking sheets and spread in even layers.
Bake for 45 minutes, stirring every 15 minutes.
Remove from the oven and allow it to cool. Then add it to a large bowl, along with the candy corn, pumpkins and Reese's Pieces. Toss to combine.
Store in airtight container.

Recipe formatted with the Cook'n Recipe Software from DVO Enterprises.
Add Recipe to Cook'n
You see, my husband and I have very different taste buds, especially when it comes to sweets! When we're at a restaurant and the waiter offers the dessert menu, I can guarantee that 99% of the time, we will be craving something different. And snack mixes are no exception! They're one of my favorite things to make- and he thinks they're absolutely disgusting. After almost 9 years of marriage, we've just come to agree to disagree when it comes to desserts ;).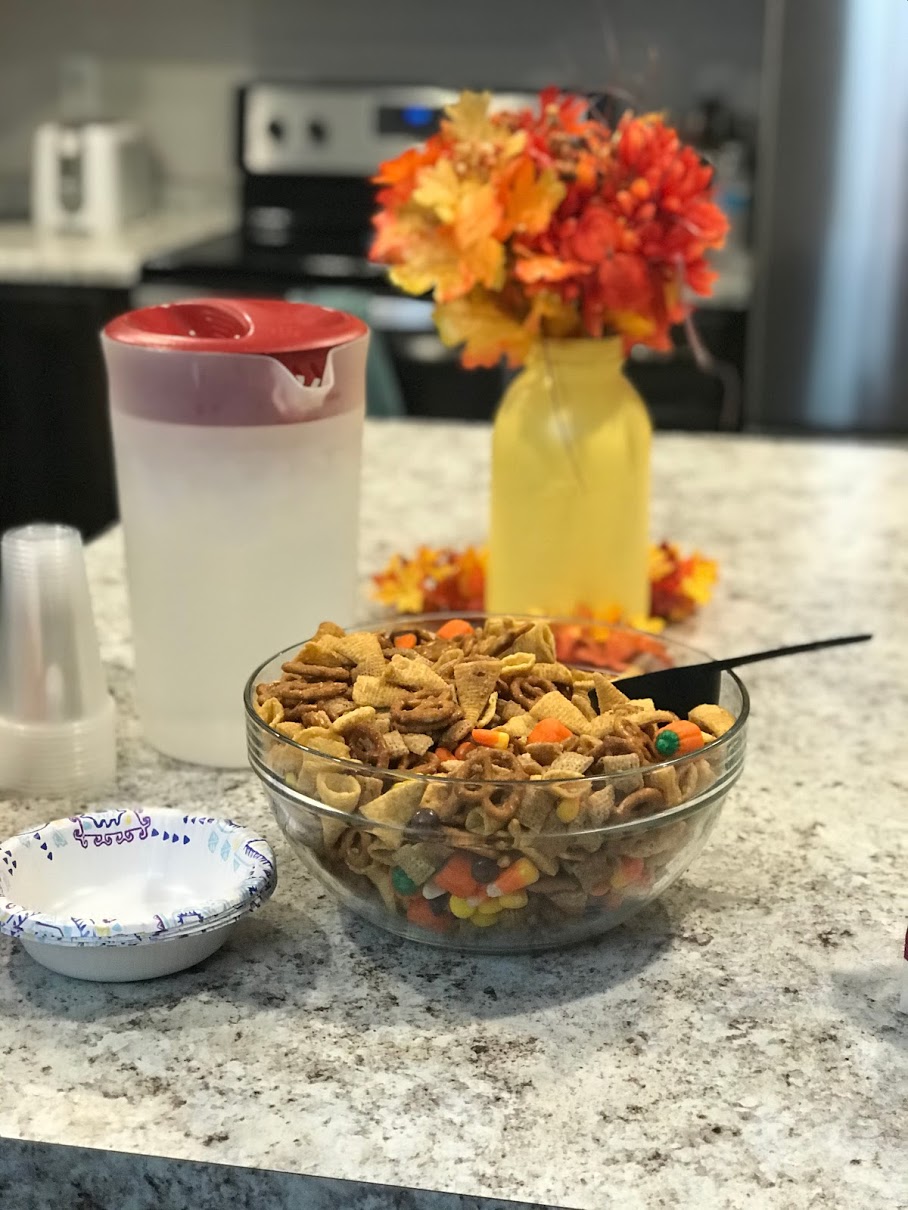 I guess the more I think about it, there is a lot to love or hate about snack mixes...
Reasons to Love Snack Mixes:
They're colorful!
They're easy to tailor for different holidays and occasions, making them a fun, festive food!
A little goes a long way. The recipe I've shared above makes like 30 cups! That means with a serving of 1 cup, you could feed 30 people with just one recipe! #easyrecipesforthewin
They're perfect for game nights, movie nights, book clubs- anything where you just want something tasty to snack on without downing half a cake in one sitting.
They are the perfect combination of sweet and salty.
Instead of limiting yourself to one flavor, you get to try LOTS of tasty things! You no longer have to decide between candy corn, Reese's pieces, or Bugles- because you can have them all!
Reasons to Hate Snack Mixes:
They can be more expensive to make, because you're having to buy multiple goodies to complete the mix.
You can't just grab a handful and put it in your mouth- because let's be honest, not everyone wants to chew a candy corn, peanut butter M&M, bugle and pretzel all at the same time.
By saying yes to tasty mixes, you're saying no to ice cream, cake, brownies, or other tasty desserts.
……………..Is there anything else to hate??? I sure can't think of anything ;). But I'm a little biased ;).
Seriously though, I love snack mixes and I think they are such a great party food! Where do you stand when it comes to snack mixes? Do you love them? Or do you hate them? I'd love to hear your opinions below! (And if you have a favorite snack mix you make I'd love the recipe ;) )
Picture Source:
https://onelittleproject.com/harvest-hash-chex-mix/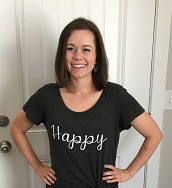 Camille Hoffmann
Monthly Newsletter Contributor since 2014
Email the author! camille@dvo.com