Two On-The-Go Grilling Ideas
It has been over 80 degrees every day this week, and I am trying to beat the heat! With summer quickly approaching, here are two ideas for quick grilling in your own backyard or to take along with you to the pool, or a park! The secret to eating well over the busy summer is to prep well ahead! Here are two simple ideas:
Teriyaki Chicken
Garlic Lemon Chicken Skewers
Frozen chicken is great to keep on hand, and easy enough to thaw out, but it is pretty convenient to buy a large pack of fresh chicken breasts on Monday, and then come home and prep them before you even put the meat away. I bought two bottles of Lawry's marinade, and it makes my life so easy!
Chicken breasts are often sold too thick to grill through or quickly, so I slice mine in half laterally, which essentially "doubles" the amount of pieces I have. I put half of those in a gallon Ziplock with ⅔ bottle of marinade, and then cube the rest of the meat and marinate it in the Garlic Lemon sauce.
Teriyaki Night:
There's really nothing to do but grab the meat and go, don't forget tongs! As far as sides, I like to chop yukon gold potatoes small (so they'll cook quickly!) toss them in melted butter and ranch seasoning and salt, then double wrap in tin foil. I did two of these packets at once and we used one for each meal, and some for leftovers! You can also easily grill up some corn and bring a watermelon along as a side, this is SUMMER!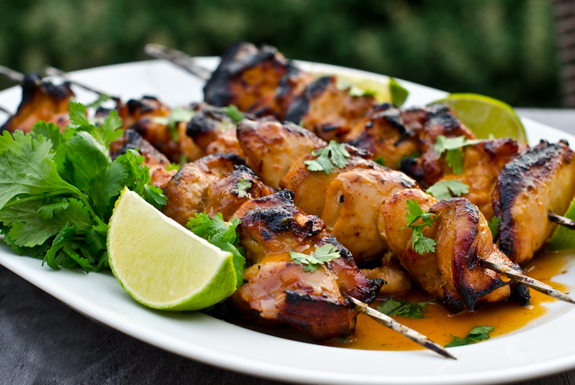 Garlic Lemon Skewers Night:
Go ahead and soak your wooden skewers now so they won't burn up on the grill. I soak for 20 minutes to 8 hours, it doesn't really matter! Then sometime during the day you'll eat them, skewer the chicken onto the sticks. It is easier if the meat is room temperature as cold chicken makes your fingers freeze!
I also skewer any vegetable I have leftover in my refrigerator, this week it was mushrooms. They were a family favorite marinated in that same sauce as well! We also grilled asparagus with this meal, my kids LOVE it! I have a metal roasting pan I use on the grill, but you could cook this in tin foil as well if that is easier. I just add a little butter and Lawry's seasoning salt.
I keep a large stash of paper plates and Capri suns on hand all summer long, so my picnic process is really streamlined.
Especially with kids, things always come up during the day, so I love thinking about my future self and being prepared when it comes to dinnertime. Now get outside and enjoy the weather and a good meal with good people!
Sources:
https://www.jessicagavin.com/grilled-chicken/
https://www.onceuponachef.com/recipes/honey-lime-sriracha-chicken-skewers.html

Stefanie Hathaway
Monthly Newsletter Contributor since 2016
Email the author! stefanie@dvo.com