What to do with a Saltine Cracker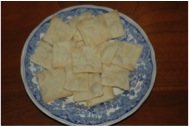 My mother, who had a small family during the Depression, was a waste-not-want-not kind of person. And, her generation tried to pass that gift on to us and was successful in some cases. For instance, if a piece of meat had a bone in it my mother would use it in soup. I still to this day use the hambone for making ham and bean soup. I also remember having saltine crackers crumbled up in my soup. I always enjoyed crunching them up in my hands and the salty flavor it added to the soup. So to entertain myself, I decided to make some saltine crackers. I wanted to see if the homemade was better that store bought. Although my crackers didn't taste exactly like a saltine, they were close enough. They were tender and crunchy and, of course, had a fresher taste than store bought. In the past, when I have bought saltines, I have ended up with the majority of them going rancid. That's not the "waste- not-want not" attitude! The question is … how can you us them up?
While making the crackers, I started to think of other possible ways to use saltines. So I went to Pinterest to see what other people did with them. I think Pinterest should have the slogan "You can find anything on Pinterest." I found a few ideas to jazz up a saltine cracker with a savory or sweet taste. Here is the link to a couple that I really liked. http://www.food.com/recipe/fire-crackers-423316 and http://www.the-girl-who-ate-everything.com/2011/03/saltine-cracker-toffee.html .
It turns out that you can spice them up with any spices you like and then crisp them up in the oven. Speaking of sweet, they can even be made into a toffee and chocolate delight. I love sweet and salty! I hope you have as much fun experimenting with these crackers as I did. I think you could get your children involved with these recipes. I bet they would come up with some great ideas of their own. http://www.halfhourmeals.com/recipe/homemade-saltine-crackers/ below is the recipe I used to make my crackers. It was quick, easy and a lot of fun! I think you could do this type of experimenting with other kinds of crackers as well.
Homemade Saltine Crackers
Ingredients:
1

cup

all-purpose

flour

, cornmeal, or wheat flour of your choice

1 to 2

tablespoons

butter

4 to 8

tablespoons

water

1/2

teaspoon

salt
Directions:
Place the flour into your food processor. Add the melted butter, one tablespoon for crispy and two tablespoons for crunchy. Add salt. Pulse until well blended. Add the water a tablespoon at a time until you get a ball that sticks together (be careful not to add to much water). Place dough on a floured board and roll until ? inch thick. Place on cookie sheet. At this time you can dock the dough if you would like. (This keeps out some of the air bubbles) Place in a 400 degree oven and bake for 10 to 15 minutes or until the crackers are light brown around the edges. Remove crackers from pan and let cool completely. Break into serving size portions. (I used square 2" cookie cutters)
Add Recipe to Cook'n
Sources:
http://www.diy-enthusiasts.com/decorating-ideas/fun-picnic-ideas-pack-use-clever/
http://www.fda.gov/food/resourcesforyou/consumers/ucm109899.htm
http://asubtlerevelry.com/how-to-amplify-music-on-a-phone

Jeanne Wolfley
Monthly Newsletter Contributor since 2008
Email the author! jeanne@dvo.com
---