Table Talk-Chiai Seeds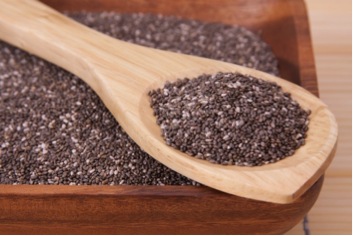 During my often exhausting search to find good food that is quick and easy make, I stumbled across a package of Chia seeds. I hadn't heard much about them, (except in relation to the dreaded Chia pet, shudder) so I thought I would do some digging and see what the hype was all about.
I found that Chia seeds come from the Aztec and Mayan cultures. They used chia seeds as a staple in their diet, like beans and rice. Chia seeds were sometimes known as "Indian running food", as runners and warriors would eat the seeds because of their long lasting energy and the ability of keeping them hydrated.
What I discovered next was what hooked me though. The health benefits of Chia seeds are quite amazing. It can be used as an energy boost, an appetite suppressant, maintain blood-sugar sugar levels, and help regulate digestion, to name a few. Per serving, Chia seeds also have more calcium than a glass of milk, more antioxidants than blueberries, and more Omega-3s than Salmon.
Nutrient Facts
Serving Size: 1 Tbsp (13g)
Servings Per Container: 34.00



Amount Per Serving

% Daily
Value

---

Calories

60.00

Calories from Fat

40.00

---

Total Fat

4.50 g

7 %

Saturated Fat

0.50 g

3 %

Trans Fat

0 g

0 %

Cholesterol

0.00 mg

0 %

Sodium

0.00 mg

0 %

Total Carbohydrate

5.00 g

2 %

Dietary Fiber

5.00 g

20 %

Sugars

0.00 g

N/A

Protein

3.00 g

6 %

---

Vitamin A

0.00 %

Vitamin C

0.00 %

Calcium

6.00 %

Iron

4.00 %

---

* Percent Daily Values (DV) are based on a 2000 calorie diet. Your daily values may be higher or lower depending on your calorie needs.

---

Ingredients :
Whole Chia Seed contains 2282 mg of Omega 3 and contains 752 mg of Omega 6
Wow! So, good and healthy. Now what? How do you eat these guys??
Use one tablespoon finely ground chia seed and 3 tablespoons water for every egg in the recipe.
Homemade pudding for breakfast or a snack
If your family gets tired of eating cereal, like ours, this can be a nice and healthy change. It also is quick and easy, another bonus :0)
Healthy Homemade Chia Seed Pudding
Ingredients:
2

cups

of coconut

milk

or other milk

1/2

cup

chia seeds

2 3

tablespoons

cocoa powder (or to taste)(optional)

1

teaspoon

vanilla (or to taste)

1

tablespoon

or more sweetener of choice (optional)- we use

honey

or a few drops of stevia tincture
Directions:
Put in a blender and blend until smooth. Will thicken in about 10 minutes in the fridge.

There are endless flavor variations. You can omit the cocoa powder and vanilla and add a cup of strawberries for a strawberry version, or add cinnamon and nutmeg for a Chai Chia Pudding.
Add Recipe to Cook'n
Just add a tablespoon or two of chia seed (doesn't have to be powdered) to your soup
until the desired consistency is reached.
If you are looking for alternatives to wheat flour, like I do, Chia seeds can work well, especially in crackers.
Breading for those yummy chicken nuggets
Ever feel bad eating chicken nuggets? (that would be me!!) If you bread your nuggets with Chia seeds, worry no more. If that seems like too much Chia seed for your breading, just mix it with some almond flour or regular flour, and still get the health benefits and the good taste.
Run out of bread crumbs? Throw some Chia seeds in your meatloaf and problem solved.
To make sprouts, place seeds in water, drain, and let sit in a jar for a day or two. Every 12 hours or so, rinse your sprouts so they don't dry out.
Feeling tired? Your kids need a boost after a game? Make some energy gel by soaking a tablespoon or two of Chia seeds in a cup of coconut water for ten minutes.
Seem too complicated? Don't worry, you can just pour some into a bowl and dig in!
Sources:
http://yourfoodlife.com/blog/chia-seeds/
http://www.bobsredmill.com/chia-seed.html
http://wellnessmama.com/4981/uses-for-chia-seeds/
http://www.aviva.ca/shop/products.asp?itemid=5221&catid=141
Elise Grant
Monthly Newsletter Contributor since 2014
Email the author! elise@dvo.com
---