Mulligatawny soup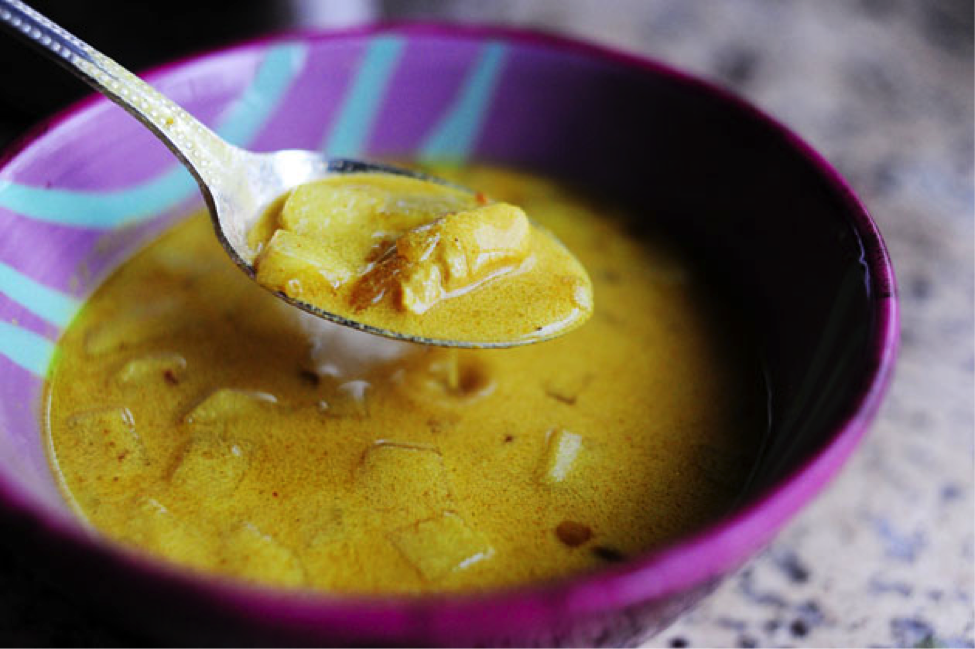 I saw this delicious looking curry soup on Pinterest and I just knew my husband would love it, so I gave it a try not once last week, but twice. We like to mix up our dinners and hop from one ethnic dish to another, and so it was a BIG deal that he liked this enough to ask for it twice, and even asked me to make it when we had company coming for dinner. Ironically, he had something similar as a child. In his family the ingredients, minus the apple were served on the side and you could add them to your own soup bowl, and those ingredients also included chopped, fresh parsley, which I think would be delicious and give a fresh flavor to the soup.
When I made my soup, rather than using homemade broth or canned broth, I used a tub of condensed broth base, and used 3 ½ cups of water. I have also added carrot and celery to this soup and it was approved by the hubby.
This is a delicious recipe and mild enough for those who cannot handle spice. If you like spice, feel free to kick it up a notch with some cayenne or even hot sauce. It is possible to cook the chicken ahead of time. This soup reheats well, though I do not suggest freezing. Serve with a garnish of chopped parsley.
Sources:
http://thepioneerwoman.com/cooking/2010/12/easy-mulligatawny/

Sharon Ng
Monthly Newsletter Contributor since 2012
Email the author! sharon@dvo.com