Guy Grub ... A Juicy Steak
Have you ever heard the saying "the way to a man's heart is through his stomach?" With Father's Day just around the corner, it's time to be planning some food for the gents. Even though we feel like we need to shower dad with gifts, the truth is ... the time you spend with dad making him feel special will be what he remembers. The exception might be giving him that car or truck that he's been dreaming of!
Nothing makes a man feel more like a king than a nice juicy steak grilled to perfection. Grilling a steak is not difficult but does require that you follow a few rules and some tender loving care. As far as the size of the steak, I would rather have quality over quantity any day. The steak doesn't have to take up the whole plate; it just needs to be mouthwatering.
Tips:
Make sure you have an excellent, well-marbled steak. The fat helps with flavor and tenderness.
Become friends with the grocery store butcher, they always seem eager to help.
Take the steak out of the refrigerator 30 minutes before cooking. It will cook better if it is not cold.
Pre-heat your grill. This is a good time to invest in a grill thermometer, especially if you feel at all uncomfortable with grilling a steak.
Don't flip the steak until you have developed a seared crust (450-650 degrees Fahrenheit). This usually takes 1 to 2 minutes for a 1 inch steak.
Don't overcook the steak. It is better to have it undercooked and have to put it back on the grill.
After grilling a steak let it set for about 5-10 minutes before serving (place a piece of foil (loosely) over the top to keep it warm. Letting the steak rest ensures the juices have settled into the meat.
---
Gorgonzola-Pine Nut-Herb Butter Steak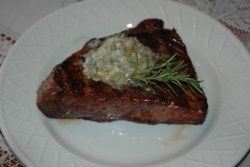 Filet mignon steaks are grilled outdoors and dabbed with Gorgonzola, pine nut butter. You can make the butter in advance and soften at room temperature before using.
Ingredients:
1/2 cup

butter

, softened
1/2 cup

crumbled

gorgonzola cheese
3 tablespoons

fresh

thyme

, minced
2 tablespoons

fresh

rosemary

, minced
2 tablespoons

fresh Italian

parsley

, minced
1 teaspoon

crushed red pepper

flakes
2 cloves
garlic
1/4 cup
pine nuts
salt

and pepper to taste
8

(8 ounce) filet mignon steaks
Directions:
Preheat the outdoor grill on medium - high heat. Place the softened butter, gorgonzola cheese, spices and pine nuts into a food processor. Puree until incorporated, season with salt and pepper.
Season the steaks on both sides with salt and pepper. Grill to desired doneness. To serve, top with 2 Tablespoons of spiced butter.

Recipe formatted with the Cook'n Recipe Software from DVO Enterprises.
---
Greek Steak
Prep time:
Cook time:
Yield:
Serving size:

1


Calories per serving:

201.151




Ingredients:
6

small New York cut or

beef sirloin steaks
1 tablespoon
olive oil
1 tablespoon

fresh

lemon juice
2 tablespoons

crumbled garlic spiced

feta cheese
1 tablespoon

chopped, pitted black

olives
Seasoning:
3 teaspoons
garlic powder
3 teaspoons

dried, crushed

basil

leaves
3 teaspoons
oregano
1 teaspoon
salt
1/4 teaspoon
pepper
Directions:
Combine seasonings; press into both sides of steak. Grill on preheated grill until desired doneness. Before serving sprinkle with feta cheese and olives.

Recipe formatted with the Cook'n Recipe Software from DVO Enterprises.
---
Either one of these recipes is sure to please the men in your life. And, don't forget to tell dad you love him!!
---


Jeanne Wolfley
Monthly Newsletter Contributor since 2008