Feed His Belly, Win His Heart
Girls, we've been told by our mothers, grandmothers, aunts and best friends that a sure way to win a man's heart is through his stomach. You're probably laughing right now, because you've experienced this. Well is it true? Does this morsel of advice hold up? There's only one way to find out-test it. Whether you're a single lady on the hunt for that special someone or you've already got one, these quick, easy recipes, that the most inexperienced cook can handle, will help you find a way to his heart. (Note: results may vary).
Step 1: Give him a taste of your skills
Whether you're looking to impress the guy down the hall, or the guy next door, something simple like chocolate chip cookies is a good place to start. Who doesn't like the smell and taste of freshly baked cookies? Using the recipe below, whip up a batch of delicious cookies and take them to your potential man. He'll be grateful for the sweet treat and impressed at your baking skills. Being the clever person you are, say something like "Oh, you think the cookies are good? You should try my pasta it's delicious!" Chances are he'll take you up on that offer, which leads us to step 2.
Step 2: Impress him with your cooking skills
Now you've got your guy interested, how do you impress him further? You could try something simple like Chicken Alfredo, a tossed green salad, and any sort of bread. Not only is this meal extremely easy and fast to prepare it looks like a professional made it. All you need is a bag of noodles, a can of Alfredo sauce, or for those of you who may be more advanced, a homemade Alfredo sauce, and some chicken. First, put the noodles on to boil. Second, start browning the chicken, once it's cooked add it to the Alfredo sauce and warm it. When the noodles are cooked, plate them and top with the sauce. Although this main dish isn't completely homemade your man will appreciate the time and effort you put into planning the meal and he'll be grateful that it isn't something out of a box.
Alright, you've given him cookies, fed him dinner, you're ready for the last step in snatching his heart. It's time for step 3.
Step 3: A little dessert goes a long way
At this point, the last thing you need to do to reel him in is to present him with a delicious dessert. Some classic choices include homemade brownies ala mode, cake, or root beer floats. But this isn't just some social gathering, this is the chance to get the man of your dreams, so try something more exciting like cheesecake. Cheesecake is fairly easy to make, it takes some time, but it's also a "classy" dessert. Use the recipe below to hook your potential man on your cooking skills.
That's it! Three easy steps to a man's heart! You've got the recipes and the skills so get it on it. On the off chance that my advice didn't help you catch a man, hopefully it entertained you and made you want to try one of these recipes, but if it did help you get the man of your dreams I'm expecting an invite to the wedding!
Chocolate Chip Cookies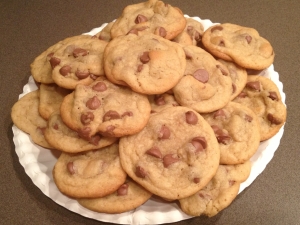 Ingredients:
1 cup

white

sugar
1 cup
brown sugar
1 teaspoon
baking soda
1 cup

butter

, softened
3 cups
flour
2 teaspoons

hot

water
2
eggs
2 teaspoons
vanilla extract
1/2 teaspoon
salt
2 cups
semisweet chocolate chips
1 cup

chopped

walnuts

(optional)
Directions:
1. Preheat oven to 350 degrees F (175 degrees C).
2. Cream together butter, white and brown sugar until smooth (I like to spoon mix it). Beat in the eggs one at a time (or together) and then stir in the vanilla. Dissolve baking soda in the hot water. Add to batter along with salt. Stir in the flour, chocolate chips and nuts if you desire. Drop by large spoonful onto ungreased pans.
3. Bake for about 10 minutes or until edges are nicely browned.

Recipe formatted with the Cook'n Recipe Software from DVO Enterprises.
allrecipes.com
---
Cheesecake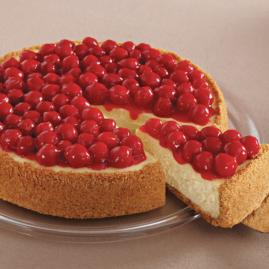 Ingredients:
1 1/2 cups
graham cracker crumbs
2 teaspoons
lemon juice
1/3 cup
packed brown sugar
1 pint

heavy

whipping cream
1/2 teaspoon
ground cinnamon
1/3 cup

white

sugar
1/3 cup

butter

, melted
2 (8-ounce) packages
cream cheese
2 (21-ounce) cans

cherry pie filling

(this can be substituted with any kind of fruit/topping as desired)
Directions:
1. In a small bowl, stir together the graham cracker crumbs, brown sugar and cinnamon. Add melted butter and mix well. Press into the bottom of an 8 or 10 inch spring form pan. Chill until firm.
2. In a medium bowl, beat together the cream cheese and lemon juice until soft. Add whipping cream and beat with an electric mixer until batter becomes thick. Add the sugar and continue to beat until stiff. Pour into chilled crust and top with pie filling (or other desired topping). Chill several hours or overnight. Just before serving, remove the sides of the spring form pan.

Recipe formatted with the Cook'n Recipe Software from DVO Enterprises.
---