Cream of...Soup Mix
Many delicious recipes call for cream of something soup. The condensed versions are loaded with salt and MSG, and if you have bought any recently, they aren't cheap. Did you know that you can make it at home? This way you can control some of the salt (it is still in the bouillon), and you can save yourself some cash, and a trip to the market, I detest going to the store for one ingredient. Have I mentioned that it is SUPER EASY?! Give it a try! Also, this condensed version is gluten free, which is great news for those who can't use the regular red and white cans of cream of condensed soup.
This recipe replaces one standard size can of cream of condensed soup (not family size).
**Tip for high blood pressure folks or those watching their sodium intake: omit the bouillon, and when you make the soup (the mixing with water step, at the very end), instead of water, use low sodium broth.
** Tip for gluten free diets: double check that the bouillon you use does not contain gluten, some brands do use it in bouillon.
---
Cream of...Soup Mix
Ingredients:
2 cups

nonfat

dry milk powder
3/4 cup
cornstarch
2 tablespoons

dried

onions

flakes
1/2 teaspoon
black pepper
3/4 cup

misc. bouillon

powder (veggie, beef or chicken)
1 teaspoon

dried

basil
1/4 teaspoon

dried

thyme
Directions:
Mix all ingredients. Additional options: for cream of mushroom soup, add dried, chopped mushroom.
To Prepare:
Whisk 1/3 cup powder mix with 1 1/4 cup water in saucepan. Cook and stir over medium heat until thickened.

Recipe formatted with the Cook'n Recipe Software from DVO Enterprises.
---
To make your lives even easier, I made this easy little text box, which you can feel free to print and keep with your soup mix.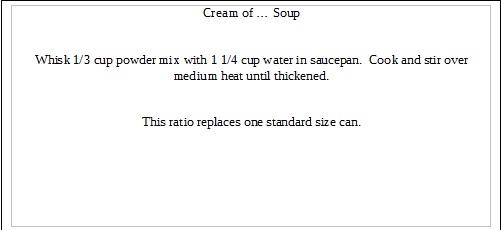 ---
What are your favorite recipes that use Cream of Something Soup?
---


Sharon Ng
Monthly Newsletter Contributor since 2012