Cookbook Reviews: 101 Things To Do With...
101 Things To Do with a Casserole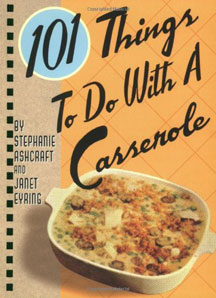 With school starting up again, dinnertime can be a rushed affair! Once the kids come crashing through the door, it's all about homework, catching up on the day, and then suddenly it's dinnertime again. I love casseroles since they are easy to put together, you can often make them ahead of time and leave them in the fridge until you are ready to bake them, and there are lots and lots of different kinds of casseroles! Our new cookbook this month, "101 Things To Do with a Casserole", has a ton of amazing recipes for all kinds of different casseroles from Breakfast, Chicken, Turkey, Pork, Beef, and Vegetarian to a whole section of Family Favorites!
There are also some great helpful tips that will teach you how freeze and make ahead casseroles for even more convenience. There are other great tips about ingredients and cooking advice. I really like this cookbook, I use it and I always find something new and delicious to make in it! I grew up on casseroles, and I always made the same ones over and over, so this was a nice way to make something new, but still easy!
Another great thing about casseroles is that they usually heat up really well, so the leftovers make great lunches for the next day! My husband usually takes leftovers instead of sandwiches for lunch, and he has also noticed that casserole dishes make great leftovers. A lot of the recipes in the cookbook are really delicious, and are easy to get creative with to make it your signature dish! I find myself using ground beef in a chicken recipe, or adding green chilies to this or that. By trying the recipe once the "right" way, and then trying it again with an alteration, you are really giving yourself a ton of recipes that your family will love!
Some of the recipes in this cookbook (and these are all ones that I have made) include: Blueberry French Toast Casserole, Rice and Green Chili Casserole, Broccoli Chicken Casserole (try this one with Pepper Jack cheese, it's one of my husband's favorites!), Turkey Tortilla Casserole, Chicago Style Pizza Casserole, Sloppy Joe Pie, Cowboy Casserole, and Baked Mostaccioli.
101 Things To Do with a Toaster Oven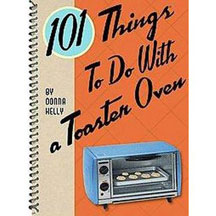 I am very excited to introduce to you a very unique cookbook, and one that I have in my home and use often. It's called "101 Things to do with a Toaster Oven" and yes, it really is 101 recipes of things you can make in a conventional toaster oven! Two or three Christmases ago, my in-laws gave me a toaster oven. They know that I love to get anything kitchen related and they also knew that I didn't have one of these yet. I was excited to have a new gadget, but I admit that I didn't really know what to do with it. I did the traditional English muffins once or twice, and an occasional baked potato, but other than that my toaster oven kind of sat around for a little while until I figured out what to do with it.
I was the manager of a bookstore at the time, and on a whim one day, I started looking through my book ordering spreadsheets to see if there was anything out of the ordinary I could order in for my customers to enjoy. I saw the title of this cookbook and immediately ordered it in-for myself! I mean, what good is all that book ordering power if I can't use it on myself once in a while, right? So, I waited for this cookbook to come in the next shipment and hoped it was a good one that I could purchase and use to finally put my newest gadget to use. When it eventually did come in, I was so excited to see the wide variety of recipes it contained! It was so far beyond English muffins and potatoes! There are recipes for appetizers, breakfast, sandwiches, snacks, main dishes (both carnivorous and veggie), and even desserts!
The great thing about toaster ovens is how quick they are, they don't use as much power, don't heat up the kitchen as much as an oven does, and they are so easy to clean! Most of the toaster ovens now come with several settings like toast, broil, bake, and even convection bake. They really are so much handier than I realized, and once I got this cookbook my toaster oven became a new favorite way to get a quick and delicious meal on the table.
Some of the recipes you will find in this cookbook include: Spinach Artichoke Dip, Three Cheese Bites, Savory Sunrise Scones, Parmesan Baked Eggs, Baked Mac N Cheese, Turkey Salsa Rolls, Toaster Oven Smores, Heavenly Halibut, Garlic Herb Pork Chops, Harvest Stuffed Zucchini, Chocolate Bread Pudding Cups, Ultimate Crumb Cake, and Hazelnut Pear Pound Cake Stacks. I could go on and on with all of the delicious recipes in this cookbook! If you don't already have a toaster oven, go get one just so you can enjoy this awesome cookbook!
---
---
An unbeatable value with exclusive benefits for members only.
Get a newsletter like this each week when you join the Cook'n Club.