Add a Little Love to Lunch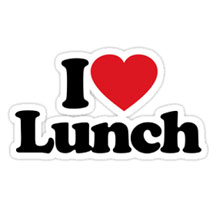 Sometimes it seems lunch packing and those crazy mornings leave little time to make lunch special. I think it is important to remind our loved ones that we love them every day. Here are some easy ways to add a little sweetness to that routine lunch and keep it from getting blah.
•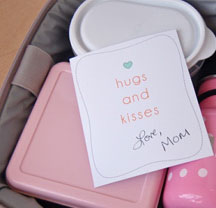 Include a little love note.
• Slip a kids drawing into mom or dads lunch box.
•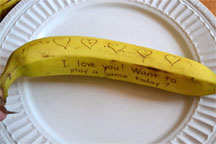 Scratch a note on a banana with a toothpick.
•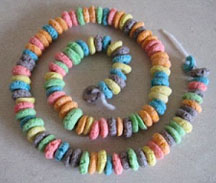 Add a fruit loop necklace.
• Throw in their favorite candy.
• Print out a funny cartoon and add it in.
• Print out an inspirational talk to add to the lunch box.
• Purchase Halloween Candy after Halloween to add.
• Purchase left over Valentines after the holiday is over.
•

Use cookie cutters to cut cute shapes in sandwiches.
• Cut cheeses for cheese and crackers into heart shapes.
• Add a gummy worm to a sandwich, maybe not a good idea for queasy people.
• Add a favorite picture.
• I love you because __________ note.
• Slip in a cracker jack type prize, like a ring from a quarter machine or a sticker.
• A reminder note about an upcoming fun event, such as 30 more school days until summer break!
• Tell your spouse what you appreciate about him or her.
• Encouraging words for upcoming tests or tasks.
Many companies make and sell premade love notes for lunches now, though those are less individualized, they will still be special to whomever receives them. Whatever you choose to do, that loving thought no matter how small, could really brighten a loved one's day, and that is priceless.
Title Image
http://ih0.redbubble.net/image.12053027.0712/sticker,375x360.png
http://frogprincepaperie.com/wp-content/uploads/2010/08/DSC_3333-e1281884522290.jpg
http://www.thekitchn.com/lunch-surprise-write-a-secret-154283
http://www.feelslikehomeblog.com/wp-content/uploads/2010/11/fruit-loop-garland-300x255.jpg
http://4.bp.blogspot.com/_GbVUEzSS-54/TEToVS5UQhI/AAAAAAAAFGk/37yTFeh07lo/s1600/cookie-cutter.jpg
---
---
An unbeatable value with exclusive benefits for members only.
Get a newsletter like this each week when you join the Cook'n Club.