Lunch in a Thermos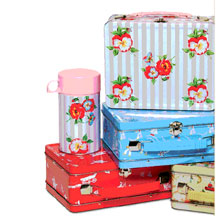 Sandwiches are a great and tasty option for lunches, don't get me wrong. Check out this newsletter for some great sandwich ideas. Sometimes we get tired of the same old, same old. If you are looking for a new idea, this article could help you find what you are looking for.
As the weather gets chilly, and we are forced to layer on more clothing, and the leaves start to fall into autumn bliss, we might want some warmer lunch options. How do I take a warm lunch to school or work and have it stay warm? Your trusty, often neglected thermos is your new warm secret weapon.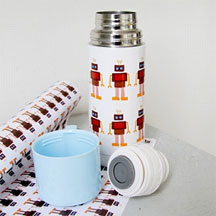 When I was younger, buying a lunch kit without a thermos wasn't an option. I haven't bought a kids lunch kit so I am not sure if that is still how they are packaged and sold. I do know that you can buy thermoses separate from your lunch kit, that come in varying patterns, sizes and styles.
Thermoses can not only keep that yummy cup of hot cocoa or cider warm but they are also great at keeping soups, stews and even rice warm! Don't be deceived by your trusty, hopefully not rusty thermos though, because they also keep things cold!
Here is some information for all you inquisitive minds on the how's and why's of thermoses.
"A thermos is also called a vacuum bottle because it uses a vacuum-a space that has no air in it-to keep heat from escaping from hot things inside; it also keeps heat from getting inside to make cold things warmer. The vacuum is located in a thin space between the thermos liner and its outer wall, where it stops the movement of heat to and from the outside air. A vacuum works in a thermos because it is empty of air (and molecules) and therefore has no conductivity. (Heat is caused by the motion of molecules.) Because the opening of a thermos is also tightly sealed with a stopper or lid made of a nonconductive material, no heat can escape or enter there, either. Hot food stored in a thermos can keep its heat for many hours; in the same way, cold food can remain cold because the vacuum insulates it from the warm air surrounding the thermos.
The linings of thermoses used to be made of glass, which is a good insulator. The linings were also coated with silver, which made them shiny and reflective. Such mirrored liners worked very well-they were able to efficiently bounce back the invisible rays of heat energy (radiation) given off by all hot things. But there was one problem: glass thermos bottles broke easily. Today, most thermos containers are made of metal or plastic, which generally don't work quite as well. Also, because vacuums in thermoses aren't perfect-they contain some air-and because their lids don't seal perfectly, they cannot keep cold things cold and hot things hot forever."
(http://www.answers.com/topic/how-does-a-thermos-keep-cold-things-cold-and-hot-things-hot)
In order to get the most heat potential out of a thermos, first fill it with boiling water and let it heat up. Dump out the hot water, and then put in your warm food. I think this is called the Law of Thermodynamics, please don't tell any of my science teachers that I didn't usually pay attention in class, if I am wrong.
Here are some great ideas that you may have not thought about putting in your thermos:
Leftovers
Sloppy Joe Filling w/ a Bun On The Side
Taco Meat w/ a Tortilla & Cheese On The Side
Hot Dips w/ Pita or Tortilla Chips On The Side
Soups, Stews & Chili
Chicken Fingers w/ Dipping Sauce On The Side
Ravioli
Warmed Chicken Salad w/a Bun on the side
Spaghetti & Meatballs w/ Sauce
Mashed Potatoes & Gravy
Fried Rice
Plain Rice
Ramen Noodles
Mac and Cheese
Hot Dog w/ a Bun & Condiments On The Side
Pretty much any kind of casserole
Curry
Hot Cocoa w/ Marshmallows On The Side
Hot Apple Cider- Add in some Carmel Sauce for a delicious treat
Even lunch time treats like a warm, creamy, rice pudding.
Nothing beats having a warm lunch to fill you up when your nose, hands and everything else are freezing. Here is one of my recipe favorites that you can add to your Cook'N Cookbooks and your thermos bottle.
---
Super Easy Chicken Chili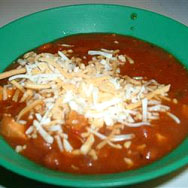 Ingredients:
2 tablespoons olive oil
1 onion , chopped
1 1/2 (14-ounce) cans chicken broth
2 (15 1/2-ounce) cans great northern beans
1 (4-ounce) can chopped green chili pepper
1 roasted chicken , bones and skin removed, meat torn into bite-size pieces
3 tablespoons ground cumin
2 tablespoons chili powder
2 tablespoons cayenne pepper
1 (8-ounce) container sour cream
1 (8-ounce) package shredded Monterey Jack cheese


Directions:

Heat olive oil in a large saucepan over medium heat. Stir in onions, and cook until softened and translucent, about 3 minutes. Pour in chicken broth, great Northern beans, chopped chiles, and torn chicken. Season with cumin, chili powder, and cayenne pepper. Increase heat to medium-high to bring to a boil, then reduce heat to medium-low, and simmer for 10 minutes.
Stir in sour cream and simmer for 5 minutes. To serve, ladle into bowls and sprinkle with Monterey Jack cheese.
http://allrecipes.com/recipe/super-easy-chicken-chili

Recipe formatted with the Cook'n Recipe Software from DVO Enterprises.
---
Cited article on How a thermos works Read more: http://www.answers.com/topic/how-does-a-thermos-keep-cold-things-cold-and-hot-things-hot#ixzz21UQ7Ioq7 Title image https://www.myretrobaby.com/item_images/lunch_thermos_lg.gif Robot thermos http://tinydipity.com/wp-content/uploads/2012/03/Blafre-thermos-retro-robots-1.jpg INFO on thermos link http://www.answers.com/topic/how-does-a-thermos-keep-cold-things-cold-and-hot-things-hot Recipe http://allrecipes.com/recipe/super-easy-chicken-chili/