Do It Yourself Lazy Lunches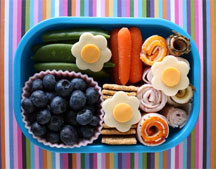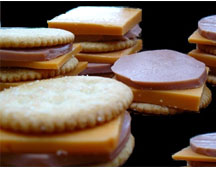 Lazy lunches, you know those premade cracker, meat and cheese combinations available in the fridge case at the grocery store, the ones your kids (and maybe you) go absolutely nuts over? The ones that cost way more than they should and maybe could be a bit healthier and come with a drink, in little separated plastic trays? Have you ever thought of making your own? You can save money, and make them individualized and healthier by cutting down on preservatives, and add yummier things (maybe besides that fake tasting slimy cheese).
How to start? The first thing you need is a container. You can use a container from a previous Lazy Lunch, or you can purchase a re-useable container with a lid. To make individual sections in the container, cut up food grade plastic (like a clean milk jug), and form a separating barrier. You can use Glad press and seal wrap, or foil, to close up the old Lazy Lunch container. You can also purchase smaller containers to portion out pudding, Jello, canned fruit, or applesauce. Using press and seal might work, or you might end up with chocolate pudding all over your lunch bag; I think I would error on spending a little to avoid a mess. Often when you buy a package of different sized plastic food storage packaging, you get some of those small condiment containers, and small containers. These would be perfect for individual sized treats.
Fill it up. Here are some ideas of foods you can fill your Lazy Lunch with:
Meats- Use Lunch Meats, either packaged or sold in the Deli, use a small round cutter to cut the meats in appropriate, cracker size circles. To save time for future lunches, cut several and flash freeze in units, remove as needed when packing lunch boxes. For an adult twist, try salami, or summer sausage.
Cheese- Cut presliced cheeses in appropriate sizes. Use any type you like, or mix different types.
Fruit- Grapes, precut oranges, blueberries, apple slices (soak in ginger ale to prevent yellowing), the possibilities are endless.
Cracker/other Carb- Try whole grain, again the possibilities are endless. A fun alternative is goldfish/whale crackers. (This is another great thing about a DIY lazy lunch, you can use generic, or store brands!) Pasta salad can be used alternatively.
Veggies- Broccoli, carrot sticks, celery with or without peanut butter, cherry tomato, olives.
Treats- This is my favorite part! Pudding cups, jello, canned fruit such as peaches or pineapple, a cookie, cookie bar, or even a candy option. ***Tip- if you aren't opposed to giving you or your child a candy, do your shopping after Halloween next month! You can save up to 90% on bagged candy! Throw it in the freezer if needed, especially for chocolate, and you can easily save some cash for months to come. ***Try dry cereal as an optional treat. More ideas for sack lunch treats are found as this link.
Drink- This gives another option to save on calories, by adding a bottle of water, and a drink additive such as Crystal Light you can have a healthier option. Though any kind of boxed or pouch drink works. You can save mass money by using a refillable water bottle. Since I enjoy ice cold water, I freeze my bottles half full, and use that to keep my lunch cold.
Aside from the typical cheese and cracker meal there are some additional options to make a lazy lunch.
Chips and salsa
Chicken or tuna salad to go with your crackers
Mini bagels with cream cheese
Beef jerky
Hot dogs and buns packed separately, and cut in half lengthwise
Dried fruits, nuts and trail mix
Wraps.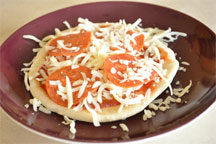 Mini pizzas (using English muffin, or by rolling out refridgerated biscuit dough and baking it, or try making your own dough.)




---
No Fail Pizza Crust
Ingredients:
2 1/2 cups

all purpose

flour
1 teaspoon
salt
1 cup

warm

water
1 tablespoon
baking powder
4 tablespoons

butter

, softened
1 (1/4-ounce) package

yeast

(I used rapid rise)
Directions:
Dissolve the yeast in warm water and set aside. Mix the flour, salt and baking powder together. Add the softened butter and cut into the flour mixture using a pastry blender or fork. Add the yeast mixture and stir together to combine. Knead the dough on a lightly floured surface until well blended. Place the pizza dough into a oiled bowl and turn the dough to coat. Let rest for about 20 minutes. Cover the bowl with dish towel or plastic wrap while the dough rests. Preheat the oven to 400 degrees.
Spray your pizza pan with non stick baking spray or brush with olive oil. You can also use a pizza stone. Press the pizza dough into the pan. Pre bake the pizza crust for about 10 minutes. Remove from the oven and spread with pizza sauce and add all your favorite toppings. Place the pizza in the oven and bake until the crust is golden browned and the cheese is melted about 10-15 minutes.

Recipe formatted with the Cook'n Recipe Software from DVO Enterprises.
---
When making your own dough recipe, I recommend cooking the dough completely, not adding the cheese or sauce, and supplying a spoon to finish pizzas with sauce and cheese before eating, to avoid the pizza from getting too soggy.
With any prepacked food, it is important to include an ice pack, if the food will not be refridgerated to keep bacteria from growing.
I hope these ideas will help you to find healthy, cost effective solutions to packing lunches for yourself and your family. What are your sack lunch favorites?