101 Things to do with a Casserole
by Stephanie Ashcraft and Janet Eyring
---
---
NOTE: You must have Cook'n installed to use this download!
---
101

Things to do with a

Casserole!
Call it a one-pot, a casserole, or a hot dish, no one can deny the convenience and satisfaction these traditional meals provide! Whether you've had a late night at work, or have limited ingredients and finicky kids, the mighty casserole is the answer to the grumbling in everyone's tummy. From the authors of the best-selling 101 Things to do with a Slow Cooker and 101 More Things to do with a Slow Cooker comes the sixth book in this million-copy-selling series-101 Things to do with a Casserole!
This book is the affordable, easy, and simple guide to creating home-cooked, fill-you-up, warm-your-heart masterpieces using your favorite Pyrex dish. It includes recipes for breakfast (Blueberry French Toast Casserole), as well as main meals with chicken (Grandma's Chicken Pot Pie), turkey (Turkey Divan), pork (Orange Rice and Pork Chops), beef (Sloppy Joe Pie), and a host of family favorites (Deep Dish Sausage Pizza). There are even vegetarian options like Veggie Shepherd's Pie!
Stephanie Ashcraft, author of the original 101 Things to Do with a Cake Mix, was raised near Kirklin, Indiana. She received a bachelor's degree in family science and a teaching certificate from Brigham Young University. Since 1998, she has taught cooking classes based on the tips and meals in her cookbooks. She currently lives in Rexburg, Idaho.
Janet Eyring's interest in learning how to cook healthy, inexpensive meals without living in the kitchen has inspired her many creative recipes. She also teaches cooking classes at Macey's Little Cooking Theatre. She currently lives in Highland, Utah.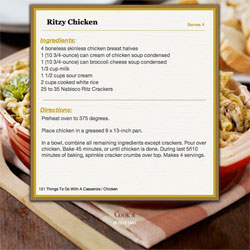 New Cook'n theme included.
Recipes Included:
After Thanksgiving Casserole
Asparagus Casserole
Asparagus English Muffin Bake
Baked Beans 'N Dogs
Baked Breakfast Burritos
Baked Cheesy Zucchini
Baked Mostaccioli
Baked Ravioli Alfredo
Beef Potpie
Blueberry French Toast Casserole
Broccoli and Ham Potpie
Broccoli Chicken Casserole
Buried Pepperoni Supreme Pizza
Canadian Bacon Pizza Bake
Cashew Chicken
Cheddar Ham Noodle Casserole
Cheeseburger Casserole
Cheesy Chicken
Chicago Style Pizza Casserole
Chicken Rice
Chilean Corn Casserole
Chili Casserole
Chilighetti
Chunky Veggie Casserole
Corn Bread on Chili
Cornbread and Chicken Casserole
Country Broccoli, Cheese, and Ham
Cowboy Casserole
Cream Cheese Enchiladas
Creamy Chicken and Rice
Creamy Spinach Casserole
Crescent, Hashbrown, and Sausage Bake
Deep Dish Sausage Pizza
Deep Dish Tacos
Delicious Chicken
Easy Lasagna
Eggs for Everybody
Enchilada Casserole
Family Friendly Chicken Enchiladas
Fiesta Chicken Casserole
Fish and Cheesy Pasta Casserole
Grandma's Chicken Potpie
Grandma's Yummy Potatoes
Green Bean Casserole
Green Bean Chicken Casserole
Ham and Swiss Pork Chops
Hashbrown Heaven
Helpful Hints
Home Style Chicken Casserole
Home-Style Shells and Cheese
Hominy Casserole
Incredible Cheeseburger Pie
Indiana Corn Lover's Casserole
Italian Macaroni Bake
Jambalaya
Mac and Cheese Bake
Mango Chicken
Meat and Potato Casserole
Meatball Casserole
Mexican Pizza
Mozzarella Potatoes
Omelet Brunch
Onion Ring Barbecue Bake
Orange Rice and Pork Chops
Paula's Turketti
Pineapple Chicken
Pizza Puffs
Poppy Seed Casserole
Quick Mexican Dinner
Raisin French Toast Casserole
Rice and Green Chili Casserole
Ritzy Chicken
Rotini Bake
Sausage Hashbrown Breakfast Bake
Sausage Pepperoni Casserole
Sausage Spaghetti Casserole
Scrambled Egg and Ham Pizza
Sloppy Joe Pie
Southwest Casserole
Southwestern Chicken Roll Ups
Southwestern Eggs
Spinach Frittata
Stacked Black Bean Tortilla Pie
Stuffed Pasta Shells
Stuffing and Turkey Casserole
Sweet Lemony Chicken
Sweet Onion Casserole
Swiss Chicken
Swiss Sausage Casserole
Taco Pie
Tater Tot Casserole
Teriyaki Chicken
Tortilla Chip Enchiladas
Traditional Tuna Casserole
Tuna Tater Tot Casserole
Turkey and Potato Bake
Turkey Divan
Turkey Noodle Casserole
Turkey Tortilla Casserole
Vegetable Stuffing Casserole
Veggie Shepherd's Pie
Wild Rice and Chicken
---
---
Cook'n Is Several Products in One!