Tips and Tricks for Crowd Control
While Cooking for the Masses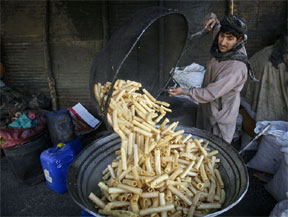 Okay, okay, maybe that title refers more to controlling our huge family during meals. My late grandmother was one of those types who cooked enough for an army, but usually, she needed to. I remember as a young girl the guest list would often top out at over 40 people. Lots of family were there and the people that my grandmother "collected" as family, whom we loved just the same. Through the years, being the only "helper" allowed in the kitchen, I picked up some tips and tricks for entertaining and cooking for large crowds.
Often these get togethers were in celebration of a holiday, though not always. Whatever the event, my grandmother enjoyed the craziness that preparing food for fifty entailed, and she passed that on to me. Here are a few of the things she taught me about controlling her crowd and get togethers over the years.
Know your crowd and by that I mean family, friends, guests... Keep in mind that some may have special dietary needs. So many people have food allergies, such as gluten or dairy, are vegetarians, struggle with diabetes, or are simply watching their diet, some eat lots more than others. When putting together a menu plan it is not essential to build an entire menu around one person, but good hosts make sure that there will be ample options for everyone. Make sure you inform such guests with the food options that might address their needs. Doing so discreetly is often appreciated as well.
Know your recipes. Now is not the time to try a whole menu from scratch. Use recipes you are familiar with for the majority of the meal. It is okay to try a few new recipes, and you just might find a winner, but doing a whole menu from scratch may end in a very anxious host, or worse, failed dishes.
Use Lists. Grocery lists, lists of recipes, lists of things you can do ahead, lists of pans you need, or even of who is bringing dishes if you are enlisting help, these will help keep things in control and might save you from running to the store mid freak out on Christmas day... ending up having to stop at the 7-11 because nothing is open, just saying, it happens (to me). Cook'n software can help you with this by giving you the option of making grocery lists, and even lets you import aunt Ethel's Famous fudge recipe into the program, in your own cookbook, then you can double the servings of the recipe... So you could make fudge for fifty, or make enough fudge for fifty, eat it all yourself, and gained fifty lbs (not recommended).
Pre prep- pans, serving utensils, paper products, linens, clean out the fridge to store leftovers
Food prep- do whatever you can ahead of time. This would include defrosting meats or poultry, chopping and peeling vegetables, preparing desserts, chilling drinks, I have even gathered all necessary ingredients together in one spot the night before, example- If I am making a large soup I would gather the canned broths, and whatever does not require refrigeration in the large stockpot I intend on using. This solves the having to search for pans, wash them, and keeps me a little more sane.
Easy options. Grandma always put out a huge meat and cheese tray, complete with cheese and olives (which doubled as "handy" entertainment). Anyone could help prepare the trays as an appetizer. We snacked on these appetizers before the often late meal was ready, and often were so full on appetizers that we had to cut back on dinner.
Keep it warm- Chaffing dishes and crock pots can assist you in keeping food warm, and freeing up oven and stove space for other dishes.
Phone a friend- Ask someone to be your assistant. Whether this means they meet up early at your house, or they prepare a few dishes and bring them with you. You don't have to go it alone. Personally, I love cooking for others, and find it's even more fun when you have someone to join you in the kitchen. Having someone to share the last minute buzzing activity can help you stay in control, and having someone to laugh with.
Make it fun. For me, this means I need some good music, and a large bottle of Cola, but find something that makes it enjoyable for you. Get out of the kitchen and have fun with your guests. This is the point where you can let loose and lose a little control!
Man cooking papadum rolls in Pakistan: http://photoblog.nbcnews.com/_news/2012/03/13/10665489-cooking-for-a-crowd?lite