Soup For A Swarm
I grew up in a large family (six kids) so it is fair to say that my mom has been "cooking for a crowd" for a very long time. In fact, some might say that her cooking become somewhat worse when she tried to adjust to serving for just a couple (this is the part when I really hope my amazing mom isn't reading this... love you Mom!). As big as we may have started out, with every wedding and joyous birthdate we have only grown. What was eight is now a whopping 27! When we are all together it is some amazing feat to keep everybody fed and happy. Somehow my mom has always handled it in stride.
In recent years she has embraced her inner wisdom and changed things around a bit. What used to be roast and potatoes or steak and salad for everyone has given way to more simple things. Maybe it was the sheer number or maybe it was just what came of spending family gathering after wonderful family gathering trapped in the kitchen preparing and cleaning up! Whatever brought on the change it has been a nice change. Sometimes I even get to talk to my mother when I go to visit her on a Sunday. Who'd have thought?
She started to think of what you could put a whole lot of in one dish or slow cooker. She also considered what allows for flexible timing in case one family gets delayed or we need to keep leftovers warm for someone. And the hands down favorite for our family was soup. She did invest in a second slow cooker and sometimes she doubles up in those and sometimes she sticks with grandma's giant stock pot, but either way, everyone knows that there will be lots of warm deliciousness waiting when they arrive. Throw in some fresh bread and it is pretty much like heaven.
We have even started splitting the duty so mom isn't always stuck feeding all the hungry masses. One of the beauties of a slow cooker is how wonderfully portable it is. On occasion we even do soups potluck style. My sisters and I (let's face it, the boys in my family usually volunteer for soda or ice cream assignments) will each make a soup and load it up in the old family with the kids and go mobile. That is fun because we get to try new soups and there is a variety that even the kids get excited about.
Enough chit chat about my loud, wild, and hungry family... my blood pressure is going up just thinking about it. Let's get to some recipes! Here are two soups to try cooking for a crowd and some bread, because, let's face it, soup isn't soup without some bread to dip.
---
Baked Potato Soup For a Crowd
Ingredients:
12

large Idaho

potatoes

(8-9 lbs)
2

medium

onions
1/2 cup

virgin

olive oil
1 quart
sour cream
1 cup
bacon drippings
1/2 pound

mozzarella cheese

, grated
1 quart
whipping cream
10 1/2 ounces
cream of mushroom soup
2 teaspoons

granulated

garlic
2 teaspoons
white peppers
1 teaspoon
salt
1/2 pound

butter

, melted
1/2 pound

Cheddar cheese

, shredded
1 bunch

green onions

or 1 bunch shallot, chopped
2 cups

bacon bits

, crumbled
Directions:
1. Coat the potatoes in the olive oil.
2. Bake potatoes and onions in 375 degrees F oven for 45 minutes.
3. Let cool for 30 minutes.
4. Cut the potatoes in half lengthwise; use a spoon to scoop out the potato.
5. Peel the skin and roots from the onion.
6. Use a food processor to blend all of the ingredients except cheddar cheese, green onions, and bacon bits. The heat will melt the cheese.
7. Put the blended soup into a 10 quart stock pot over low heat until serving temperature.
8. Put shredded cheddar, bacon bits, and onions for everyone to use to top their soup.
Yields 2 gallons.
Recipe courtesy of Chef lovestocook at http://www.food.com/recipe/baked-potato-soup-for-a-crowd-203896

Recipe formatted with the Cook'n Recipe Software from DVO Enterprises.
---
Minestrone Soup for a Crowd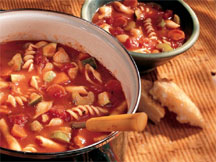 Total Time: 1 Hr 30 Min
Ingredients:
2 cloves

garlic

, finely chopped
1

medium

onion

, chopped (1/2 cup)
2

small

zucchini

, chopped (2 cups)
2

medium

carrots

, sliced (1 cup)
2

medium

celery stalks

, chopped (1 cup)
1 can

(28 oz) muir glen organic diced

tomato

, undrained
Directions:
1 Spray 8-quart nonstick Dutch oven with cooking spray; heat over medium heat. Add garlic and onion; cook about 2 minutes, stirring occasionally, until onion is tender.
2 Stir in remaining ingredients except pasta. Heat to boiling. Reduce heat; cover and simmer 45 minutes.
3 Heat to boiling. Stir in pasta. Return to boiling. Reduce heat; simmer uncovered 10 to 15 minutes or until pasta is tender.
Source:
bettycrocker.com

Recipe formatted with the Cook'n Recipe Software from DVO Enterprises.
---
Easy Dinner Rolls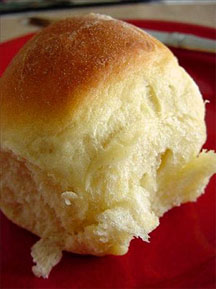 Ingredients:
1 cup

water

(110 degrees F)
2 packages

yeast

(Do not use the quick rising in this recipe)
1/2 cup

butter

, melted
1/2 cup
sugar
3
eggs
1 teaspoon
salt
4 1/4 cups
flour
Directions:
1. Combine water and yeast in lg bowl; let stand for 5 minutes.
2. With wooden spoon, stir in butter, sugar, eggs and salt.
3. Add flour, 1 cup at a time and beat in as much as you can.
4. Cover and refrigerate for at least 2 hours, or up to 3 days.
5. Grease a 13x9 baking pan.
6. Turn dough out onto floured surface.
7. Divide into 24 equal pieces.
8. Roll each piece into a smooth round ball.
9. Place in rows in prepared pan.
10. Cover and let rise for 1 hour; until doubled.
11. Heat oven to 375*.
12. Bake until golden brown, about 17 minutes
Recipe from MizzNezz at: http://www.food.com/recipe/easy-dinner-rolls-40633?oc=linkback

Recipe formatted with the Cook'n Recipe Software from DVO Enterprises.
---