Cookbook Reviews: "Taste of Broadway" and Guilt-Free Goodies!
Taste of Broadway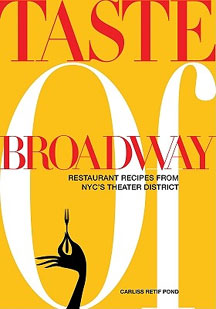 Our first new cookbook this month is one that is quite unique from anything we have offered before and I am SO excited to introduce you to it! It's called "Taste of Broadway: Restaurant Recipes from NYC's Theater District", sounds amazing, right?!
On top of tantalizing recipes, which I will get to in a moment, there is a fascinating introduction that gives the stories behind some on the most famous restaurants on Broadway. I was so interested in the back stories of the restaurants, the stories of the founders and chefs, and the magic that is Broadway seeped through the pages and made me want to go see a show and have a meal! There are lots of quotes throughout the book as well from some of the people that make the food in the Theater District so memorable and others, such as producers and performers, even Dick Clark. One other feature of this cookbook that makes it unique and really makes it stand out is the photographs. There are some brilliant photographs of the Theater District in this book, of the restaurants, the people, candid scenes, and picturesque photographs of the restaurants. If you didn't want to go to New York before you looked at the introduction, you will after looking at the pictures!
Okay, so if you just aren't that in to all of the pictures and back stories, this cookbook is still for you because of the amazing recipes! If you are going to be entertaining this season (or any time of year) and want to completely WOW your guests, try a few things from this cookbook! These are recipes from people who pride themselves on serving some of the best food in the world, food good enough for celebrities and yet food served in restaurant owned by families. There are Starters, Salads, Soups, Pasta, Poultry, Seafood, Meats and Game, Sides, Desserts, and even Drinks to make any party menu pop, or just for something new and exciting to serve at home to your family. You know that every recipe in this cookbook is going to be fantastic since it is definitely tried and true from the mass population that comes to these restaurants!
Some of the recipes you will find in this cookbook include: Crabmeat Stuffed Avocado, Shrimp Scampi, Chicken Satay, Popeye's Spinach Salad, Gorgonzola and Mango Salad, French Onion Soup, Rigatoni Caprese, Linguine Alle Vongle, Crispy Duck a l'Orange, Chicken Tikka Masala, Tilapia with Crabmeat Dressing, Grilled Atlantic Salmon, Do Ahead Braised Short Ribs, Steak Tacos al Carbon, Bubble and Squeak (I grew up eating this!), and Asparagus Gratinee.
I am doing a whole separate paragraph for the desserts in this book because of how absolutely amazing they are! Try the Panna Cotta (passion fruit custard), Lemon Tart Brulee (AMAZING), Saintly Zeppoles (fried doughnuts filled with ricotta cheese and chocolate chips), or Manzanas al Horno (a baked apple and cinnamon treat). I could go on and on about these fabulous desserts, they all sound delicious and I can't wait to try more of them! I hope you enjoy changing up your kitchen with this book!
---
Stevia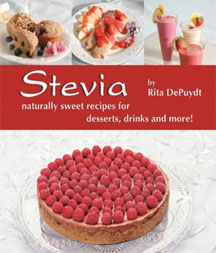 Our second cookbook this month is very appropriate for this time of year, especially if you are like me and find yourself baking and making more sweets and treats during the holidays (and, I'll be honest, all winter long!) than the rest of the year combined, this book is for you! It's called "Stevia: Naturally Sweet Recipes for Desserts, Drinks, and More" and it's all about using the natural sweetener Stevia instead of sugar, making your sweets guilt free without losing out on taste!
Stevia is an incredibly sweet herb, contains no calories, and has a glycemic index of 0! You can use stevia in a powder, whole leaf stevia concentrate, and ground stevia leaf. Each form of stevia has different ratio of sweetness compared to sugar (200 to 300 times stronger than sugar), so watch the ingredient list in each recipe, but the greatest advantage of stevia is that it does not adversely affect blood sugar and so it can be used by people with diabetes or hypoglycemia! So, to all those who have been neglecting their sweet tooth-welcome back to the dessert table! Stevia is being heralded as the safest sweetener known to man and it comes recommended by a lot of nutritionists.
This book is actually a revision, combining the author's first two books on baking with stevia into one volume, and even added some new recipes that were included in either volume before! The author includes a very well done introduction on the health benefits of stevia, the history of stevia, facts about and uses for stevia, tips on growing your own stevia, and so much more! This is really the answer to all of your questions about natural sweeteners, plus includes all of the great recipes. It's great to look through the recipes and see how little stevia you have to use to sweeten with. For example, a whole quart of lemonade uses 1/3 teaspoon of powdered stevia!
There are a lot of uses for stevia; it's not just cookies and brownies. This book includes recipes in Beverages, Muffins and Breads, Cakes, Cookies and Bars, Custards, Crepes, Puddings, Pies, Fruit and Gelatin Desserts, Sauces and Toppings, and Frozen Desserts. There is little of something to satisfy every sweet tooth, and what better time of year to try to cut down on the sugar intake? For our many vegan readers-there are several recipes in this cookbook that use tofu and soymilk, and for our non-vegan readers-there are plenty of recipes that don't use ingredients you may not be familiar with like tofu too. Literally, something for everyone! I always make treats for our neighbors, and receive many treats in return, and this year I am going to give treats that I won't feel guilty for eating the leftovers! I love the muffins too, I am always on the lookout for breakfast foods to send in the car with my husband on his way to work and naturally sweetened muffins fit the bill nicely! There are SO many recipes in this cookbook, over 150, and there are also lots and lots of tips, an ingredient glossary, and an equivalency chart for converting sugar amounts into stevia amounts you can use stevia in your own recipes as well!
Some of the recipes in this cookbook are: Quick Cranberry Punch, Strawberry Nog, Hot Cocoa, Cranberry Orange Muffins, Peanut Butter Banana Chocolate Chip Muffins, Applesauce Gingerbread, Spice Cake, Strawberry Cream Cake, Cashew Coconut Chews (cookie), Oatmeal Raisin Cookies, Pumpkin Bars, Flan, Banana Coconut Custard, Tapioca Pudding (a staple in my diet!), Blackberry Cream Pie, Baked Pears, Sparkling Gelatin, Raspberry Sherbet, Quick Berry Ice Cream, Maple Nut Ice Cream, and of course Chocolate Ice Cream complete with Chocolate Sauce! I hope that as you do your holiday baking you will indulge in a few (or more!) of these delicious and guilt free recipes to please your family, friends, and your own palate!