White Chilies and Chowders
There is no better time of the year than this for enjoying warm, hearty chowders and chilies. Last week I came in the house from shoveling the 10 inches of snow we had just been pummeled with and the smell of chili filled the air. It was Heavenly! There is something about a spoonful of hot goodness that is just better when your nose and toes are frozen.
I know that you aren't all covered in a foot of snow, but these recipes will warm your soul regardless of the weather outside.
---
Bob Talbert's White Chili
1 1/2 pound boneless, skinless chicken breasts, washed and patted dry.
2 cans (14 oz. ea.) chicken broth
1 jar (48 oz.) great northern beans, with liquid
1 large onion, chopped
2 teaspoons minced fresh garlic
1 can (3 oz.) chopped green chilies, with liquid
2 teaspoons ground cumin
1 teaspoon ground oregano
Garnish with green chopped onion tops, shredded cheese or tortilla chips (optional)
Bake chicken breasts at 350 for 30 minutes. Cut in pieces. In a large pot, pour small amount of broth. Add onion and garlic and simmer until onion is wilted and hot. Add the chilies, stir, then add broth and beans with liquid. Mix in the cumin and oregano. Bring to a boil and add chicken pieces. Cover and simmer for at least 30 minutes. Serves 6.
---
New England Clam Chowder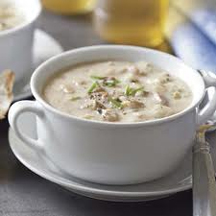 1/4 cup cut-up bacon or salt pork
1 medium onion, chopped (1/2 cup)
2 cans (6.5 oz each) minced or whole clams*
1 medium potato, diced (1 cup)
1/2 teaspoon salt
Dash of pepper
2 cups milk
1. In 2-quart saucepan, cook bacon and onion over medium heat, stirring occasionally, until bacon is crisp and onion is tender; drain off fat.
2. Drain clams, reserving liquid. Add enough water, if necessary, to clam liquid to measure 1 cup.
3. Stir clams, clam liquid, potato, salt and pepper into bacon and onion. Heat to boiling; reduce heat. Cover and simmer about 15 minutes or until potato is tender.
4. Stir in milk. Heat, stirring occasionally, just until hot (do not boil or soup may curdle).
Serves 4.
---
Slow Cooker Corn Chowder
2 1/2 cups milk
1 (14.75 ounce) can cream-style corn
1 (10.75 ounce) can condensed cream of mushroom soup, undiluted
1 3/4 cups frozen corn
1 cup frozen shredded hash brown potatoes
1 cup cubed fully cooked ham
1 large onion, chopped
2 tablespoons butter or margarine
2 teaspoons dried parsley flakes
salt and pepper to taste
1. In a slow cooker, combine all ingredients. Cover and cook on low for 6 hours. Serves 8.
---
White Bean Chowder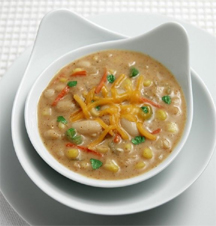 2 teaspoons vegetable oil
1 cup chopped onion
2 teaspoons minced garlic
2 cans (15 oz) white cannellini or Great Northern Beans, drained
1 can (4 oz) diced green chilies
1 cup frozen corn kernels
1/2 cup grated carrot
1/4 cup fine diced celery
1 cup low-sodium chicken broth
1 tablespoon ground cumin
2 teaspoons chili powder
1/2 teaspoon salt (optional)
2 cups fat-free or low-fat milk
1 tablespoon cornstarch
1 cup shredded reduced-fat Cheddar cheese, divided
4 tablespoons chopped fresh cilantro (optional)
In a large saucepan, stir together oil, onion and garlic over medium heat until onion is softened, about 5 minutes. Add 1 can of beans and mash into onion mixture with a potato masher or a slotted spoon (mixture will be chunky).
Stir in second can of beans, green chilies, corn, carrot, celery, chicken broth, cumin, chili powder and salt, if desired; bring mixture to a simmer. Blend cornstarch into milk and stir into chowder; bring slowly to a boil, stirring frequently. Reduce heat and simmer 5 minutes, or until corn and celery are tender and mixture thickens. Stir in about 3/4 cup cheese, just until melted.
Serve in individual bowls and top with fresh chopped cilantro, if desired. Top with remaining shredded cheese.
Notes:
Warm, healthy and hearty chowder for cool fall evenings! Recipe created by 3-A-Day™ of Dairy. Serves 6
---
Vegetarian White Chili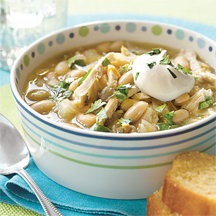 1 (15 oz) can of White Beans, drained
1 (15 oz) can of White Kidney Beans, drained
1 medium white or yellow onion, diced
3 cloves of garlic, finely chopped
1/2 green bell pepper, diced
1/2 (7 oz) can of diced green chilis
2 tsp Oregano
1 1/2 tsp Cumin
1/4 tsp Ground Cloves
1/4 tsp Cayenne Pepper
1 oz of Fire Roasted Red Pepper, chopped
2-3 cups of water (start with 2 cups and see if you need more)
2 tbsp. ketchup
Gently sautee chopped onion, garlic and green bell pepper until tender. Add all the rest of the ingredients, stir, and cover. Cook on a low simmer for 30-45 minutes, stirring 10 minutes or so. Check consistency and add a little water if it gets too thick.
Note: to lower sodium by a lot, use dry beans that have been soaked instead.
Serves 8. (approx. 1 cup serving size)
---