For Your Gluten-

Intolerant Friends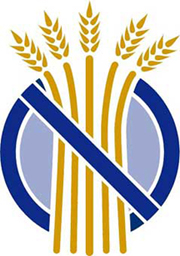 You all know the saying "Wheat is for Man." Wheat is one of the best foods. It is filled with proteins, vitamins and roughage. Some say you can live a wonderful life using only wheat.
Some love it, some do not, but one thing is for sure, for many people wheat or the gluten in wheat can be a nightmare. And, gluten is also found in barley, oats and rye. In some people, it can actually inflame and destroy the lining of their small intestines; interfering with the absorption of nutrients from foods eaten.
One of the reasons I am addressing this subject is because it is thought that over 2 million people in the United States suffer, in some form, from Celiac disease. As a result, sales for gluten-free products have gone up 28 percent from 5 year ago. If you need gluten-free products, it's very important to read labels. I was surprised when I found wheat in red licorice.
It used to be hard to diagnosis gluten intolerance because the symptoms can vary from person to person. Now it can be diagnosed with a quick blood test. Doctors say Celiac disease is now known to be a common genetic disorder. If, you have any kind of stomach issues, it might be worth your while to have a quick blood test to see if you are gluten intolerant. I won't go into detail as to what your symptoms might be.
Like I said before, it will vary from person to person. The internet and your doctor can help steer you in the right direction. It is important to note that there is a difference between gluten intolerance and Celiac disease. Science has pinpointed the protein in wheat that is called the gliadin factor as the problem with those who suffer from Celiac disease. Those who are sensitive to wheat, but don't have Celiac disease could be intolerant to a different part of the protein.
Almost every major store has a section of gluten-free foods. There are more foods than you might think that are naturally gluten free. There are also gluten free cookbooks helping you make good things to eat that will be satisfying substitutes for your breads and goody cravings. It is possible to make breads, cookies and cakes without the use of traditional flour.
I will from time to time give you some tried and tasty gluten-free recipes. This will help you as you probably know someone who you might need to feed from time-to-time that may have allergies to gluten. Also in my studies, I found that grain, once it is sprouted, is no longer a grain and its properties change. Some bread makers dry the sprouts and grind them into flour. This is helpful for many people, if you have gluten intolerance.
Why, you may be asking, do I have a sudden interest in gluten-free products? Well, come to find out, I am gluten intolerant! I am not yet gluten free and loving it, but I will be! I will work on these recipes and make them until I feel happy with them. I will, from time-to-time, pass some on to you. But I won't forget about you lucky people who love to eat wheat and can eat it. You should celebrate! For those of you who aren't so lucky, you're not alone.
You may not recognize some of the ingredients listed below. You can find them at the health food store or some grocery stores that have a health food aisle.
---
Blueberry Pancakes
1 cup brown rice flour
½ cup millet flour
1 Tablespoon millet flour
¼ Tablespoon tapioca flour
¼ Teaspoon xanthum gum
2 Teaspoon baking powder
2 Tablespoon canola oil
2 eggs
11/2 cup cow or rice milk
½ Teaspoon lemon juice
¾ cup blueberries
Pre-heat griddle to 350 degrees.
In a large mixing bowl, whisk dry ingredients together. Add oil, egg, lemon juice and milk. Fold in blueberries. If mixture seems thick, add a Tablespoon of water.
Spray griddle with cooking spray and drop ¼ cup of batter onto griddle. Spread out with back of spoon. Cook until brown.
---
Chocolate Brownies
1¼ cups applesauce
1 cup cocoa powder
¼ Teaspoon salt
2 cups sugar (or Xylitol)
1 banana (mashed)
1½ Teaspoon vanilla
1⅓ cup brown rice flour
2 cups chocolate chips (or vegan chips)
Pre-heat the oven to 350 degrees. Spray an 8x8 inch pan with vegetable spray.
In a large mixing bowl, combine all the above ingredients and pour into pan. Bake for 35 minutes or until toothpick comes out clean.
---
Trail Mix Snack
2 cups roasted sunflower seeds
1 cup yellow raisins
2 cups gluten free cinnamon Chex
1 cup dried cherries
1 cup chocolate chips
Toss all the above ingredients in a large bowl and store in airtight container.
---
Banana Bread
All-purpose gluten free flour can be bought at health food stores and many grocery stores.
2¼ cups gluten free all-purpose flour mix
½ Teaspoon xanthum gum
¾ Teaspoon baking soda
1¼ Teaspoons cream of tartar
2 Teaspoon cinnamon
½ Teaspoon salt
⅓ cup softened margarine
⅔ cup of brown sugar
2 eggs
4 Tablespoons warm rice milk
1 Teaspoon vanilla
3-4 mashed bananas (about 1 cup)
Pre-heat the oven to 350 degrees. Spray bread pan with cooking spray. In a mixing bowl, combine the flour, xanthum gum, baking soda, cream of tartar, cinnamon, and salt. Mix together. In another mixing bowl, combine softened margarine and brown sugar, slowly add the eggs and beat until fluffy. Add vanilla and mashed banana. Add wet ingredients to the dry ingredients, blend until smooth. Pour into bread pan and bake for 50 minutes. Allow to cool before removing bread from pan. Cool on a wire rack. Cool completely before cutting.
---
An unbeatable value with exclusive benefits for members only.
Get a newsletter like this each week when you join the Cook'n Club.