White House Favorites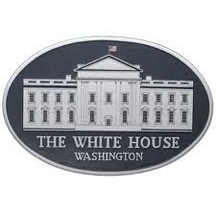 The last few years have been rough ones for most of us and I think we all deserve to be a little spoiled. This year, I believe we should all eat like kings and queens. Well, how about presidents and first ladies? Sounds good to me! Don't worry – these recipes shouldn't even require a bail-out!
These recipes may not have been served at any state dinners, but they were loved by presidents and their families. They are some favorites from families in the White House in this decade and many before!
---
Pat Nixon's Meatloaf
(Richard Nixon)
2 tablespoons butter
1 cup finely chopped onions
2 garlic cloves, minced
3 slices white bread
1 cup milk
2 pounds lean ground beef
2 eggs, lightly beaten
1 teaspoon salt
Ground black pepper, to taste
1 tablespoon chopped fresh parsley
1/2 teaspoon dried thyme
1/2 teaspoon dried marjoram
2 tablespoons tomato puree
2 tablespoons bread crumbs
Grease a 13-by-9-inch baking pan. Melt butter in a saute pan, add garlic and saute until just golden -- do not brown. Let cool.
Dice bread and soak it in milk. In a large mixing bowl, mix ground beef by hand with sauteed onions and garlic and bread pieces. Add eggs, salt, pepper, parsley, thyme and marjoram and mix by hand in a circular motion.
Turn this mixture into the prepared baking pan and pat into a loaf shape, leaving at least one inch of space around the edges to allow fat to run off. Brush the top with the tomato puree and sprinkle with bread crumbs. Refrigerate for 1 hour to allow the flavors to penetrate and to firm up the loaf.
Preheat the oven to 375 degrees. Bake meatloaf on lower shelf of oven for 1 hour, or until meat is cooked through. Pour off accumulated fat several times while baking and after meat is fully cooked. Let stand on wire rack for five minutes before slicing. Makes 6 servings.
---
Ronald Reagan's Macaroni and Cheese
from The White House Family Cookbook by H. Haller and V. Aronson
1/2 pound macaroni
1 tablespoon butter
1 egg, beaten
3 cups grated sharp cheddar cheese
1 cup warm milk
1 teaspoon salt
1 teaspoon dry mustard
1/2 teaspoon Worcestershire sauce
a pinch of paprika
 1.  Preheat oven to 350 degrees F.  Butter a 2-quart casserole dish.
 2.  Add macaroni to 2 quarts of boiling salted water and cook for 10 minutes.
 3.  Drain well in a colander. Transfer to a mixing bowl.
 4.  Stir in butter and beaten egg.  Add 2 1/2 cups of the grated cheese.
 5.  In a small bowl, combine milk with salt, mustard and Worcestershire sauce.
 6.  Spoon macaroni and cheese into the prepared casserole.  Pour milk mixture over and sprinkle top with the remaining cheese.
 7.  Sprinkle with paprika.  Bake on middle shelf of preheated oven for 35 to 40 minutes, or until macaroni is firm to the touch and the top is crusty and browned.
 8.  Serve at once, either as a light entree accompanied by a hot green vegetable and a crisp salad, or as a side dish with Hamburgers or Meat Loaf. Serves 4 as an entree, or 6 to 8 as a side dish.
---
Bread Pudding
(Thomas Jefferson)
1 1/2 pound cubed stale bread
4 cups scalded milk
1/2 pound butter
1/2 pint brandy
8 eggs
3 cups sugar
3/4 tablespoon nutmeg
2 tablespoons vanilla extract
Preheat oven to 350 degrees F. Cut up bread while milk and butter are heating in a pot. Combine liquids, eggs, sugar, and spice. Add bread last by submerging it using your hands so that it gets thoroughly soaked.
Transfer into a buttered 9 by 13-inch pan, pouring gently so that bread doesn't break up too much. Bake until an inserted skewer or knife comes out clean, about 40 minutes. Serves 12.
---
Jackie Kennedy's White House Hot Fruit Dessert
(John F. Kennedy)
1 orange
1 lemon
1/2 cup light brown sugar, packed
1/4 teaspoon ground nutmeg
1 (8 3/4 ounce) can pineapple tidbits
1 (8 ounce) can apricots
1 (8 3/4 ounce) can peaches
1 (17 ounce) can pitted bing cherries
jarred prune (can be added, to taste)
16 ounces sour cream
1. Grate the rind of the lemon and orange and add to light brown sugar.
2. Cut orange and lemon into very thin slices.
3. Drain and combine fruits.
4. Butter a 1-quart casserole and arrange in layers of drained canned fruits, lemon and orange slices, sprinkled with light brown sugar; repeat.
5. Bake at 350 for 30 minutes.
6. Serve warm with a dollop of sour cream on top.
---
Rosalyn's Peanut Butter Pie
(Jimmy Carter)
Back in l977, when Jimmy Carter was President, Rosalyn Carter made a bunch of PBPs. Here is the recipe for you...
Baked 9-Inch Pie Shell
Bottom Layer: 1 Cup Powdered Sugar
1 1/2 Cups Smooth Peanut Butter

Filling:
1/2 Cup Sugar
1/4 Cup Cornstarch
2 Cups Milk
2 Tablespoons Butter
3 Egg Yolks
1 Teaspoon Vanilla
Meringue:
3 Egg Whites
4 Teaspoons Sugar
Prepare filling: Mix dry ingredients. Add milk and egg yolks. cook over low heat, stirring constantly until thick. Add butter and vanilla. Set aside. Mix bottom layer ingredients well. Put about 2/3 of it in the bottom of pie shell. Prepare meringue by whipping egg whites and adding sugar gradually. Pour filling on top of bottom layer. Top with meringue. Sprinkle reserved peanut butter mixture on top of meringue. Bake at 325 degrees until light brown - about l0 minutes.
---
And last, but not least, from the 2005 Inaugural Menu:
Coca-Cola brined Pilgrim's Pride turkey with Dunkin Donuts old-fashioned cake doughnut sweet and savory stuffing
(George W. Bush)
Pilgrim's Pride Turkey
Coca-Cola brine
1 1/4 cups salt
1 quart Coca-Cola
2 bay leaves
1 medium onion, peeled and halved
2 cloves
1 10- to 12-pound Pilgrim's Pride Whole Butter Basted Turkey
1. Place salt and Coca-Cola in a large deep pot and whisk until salt crystals dissolve. Whisk in 4 quarts cold water. Pin bay leaves to onion halves with cloves and add them to brine. Let mixture cool to room temperature.
2. Add Pilgrim's Pride turkey, placing a large heavy pot or sealed zip-top bag filled with cold water on top to keep bird submerged in Coca-Cola. Place pot in refrigerator and marinate overnight.
---
Dunkin Donuts Old-Fashioned Cake Doughnut Sweet and Savory Stuffing
6 cups Dunkin Donuts old-fashioned cake doughnuts, chopped
2 cups diced onion
1/2 cup butter
2 cups cranberries
2 teaspoons dried rosemary
1/2 tablespoon dried sage
1 cup chicken broth
Cook onion in butter or margarine over low heat until soft. Add doughnuts, cranberries, rosemary and sage, chicken broth, salt and pepper to taste. Mix gently but thoroughly. Roast Turkey
Remove Pilgrim's Pride turkey from Coca-Cola brine. Thoroughly rinse turkey under a slow stream of cool water, rubbing gently to release salt and soda residue, both inside and out. Pat skin and both interior cavities dry.
Remove neck and giblets. Begin lightly spooning doughnut stuffing into the neck cavity, then into the body cavity. After the bird has been stuffed, secure the legs to the tail. If the band of skin is not present, tie the legs securely to the tail with string. Twist the wing tips under the back of the turkey so they won't overcook.
Roast turkey, breast side down, in a preheated 325 degree F oven for 2 hours. During this time, baste legs and back twice with Coca-Cola.
***A funny little fact about this recipe and others served with it!***
It is reported by sources close to the White House chef at the time, that tensions were created when the White House ordered that Scheib create a special inaugural menu to honor the brand names represented by more than a dozen top GOP and Bush campaign donors. Scheib was reportedly vocal about his unhappiness over having to create dishes that featured such ingredients as Coca-Cola, Dunkin' Doughnuts and Pilgrim's Pride Whole Butter Basted Turkeys. See the Menu Below...
---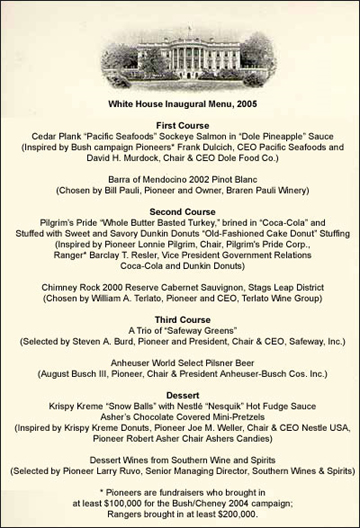 ---
An unbeatable value with exclusive benefits for members only.
Get a newsletter like this each week when you join the Cook'n Club.