Plugins for Cook'n
More and more people are switching to Cook'n Version 10 from older software products like MasterCook, BigOven, LivingCookbook, and even MacGourmet. Now, making the switch to Cook'n is easier than ever! Simply download these plugins and see how easy it is to combine all of your favorite recipes together into one database for easy access.
Note: Cook'n version 10.0.30 and higher is needed for all plugins. Click Help->About to see what version you have. Click here to upgrade to Version 10.

Upgrading from MasterCook is a snap with this Plugin.
Use this plugin to import all of your MasterCook recipes into Cook'n to simplify meal preparation!
Also Imports Mac Gourmet via MasterCook Plugin. Simply export your recipes from MacGourmet to a MasterCook file and use this plugin to import into Cook'n. It's easy.


Your LivingCookbook recipes have never looked as good as they do when you import them into Cook'n with this Plugin!
Have friends with LivingCookbook? Let them know that now they can share their recipes with you!

Upgrading from BigOven is easy with this Plugin.
Tell your BigOven friends that they can finally upgrade to Cook'n and start capturing internet recipes with One-Click!

Searching your database to find the perfect dish for dinner tonight and making menus and shopping lists is easy when all of your recipes are together in one database.
Get all 3 Plugins (MasterCook, LivingCookbook, BigOven) for one low price and completely enable your software with full import capabilities!
What Are Plugins
and

How To Use Them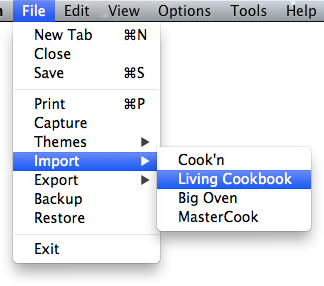 A plugin is a piece of software that acts as an add-on to the main software to enhance it and give it additional functionality. Plugins perform unique and specialized tasks that provide incredible benefit to those who need them.
The new Import Plugins for Cook'n are specially designed to help you import recipes from older software into Cook'n. Plugins eliminate the need for you to hand-type or copy-and-paste recipes into Cook'n thereby saving you loads of time and frustration and making it possible for you to take full advantage of Cook'n's revolutionary features. Now, with the new Import Plugins, switching from BigOven, LivingCookbook, and MasterCook is easy. Just download and install these plugins and import your recipes into Cook'n so you can have all of your recipes together in one database.
---
Cook'n Is Several Products in One!