---

Recipe from the November 2011 Newsletter
---
Ingredients:
2 cups flour
1 (3.4-ounce) package instant butterscotch pudding mix
2 teaspoons baking soda
1/4 teaspoon salt
1 tablespoon ground cinnamon
1/2 teaspoon ground ginger
1/2 teaspoon ground allspice
1/4 teaspoon ground cloves
1/3 cup finely chopped crystallized ginger
1 cup butter, room temperature
1 cup sugar
1 cup packed brown sugar
4 eggs
1 teaspoon vanilla extract
1 (15-ounce) can pumpkin puree




---

Directions:

Preheat an oven to 350 degrees F (175 degrees C). Grease 24 muffin cups, or line with paper muffin liners. Whisk together the flour, pudding mix, baking soda, salt, cinnamon, ground ginger, allspice, cloves, and crystallized ginger in a bowl; set aside.

Beat the butter, white sugar, and brown sugar with an electric mixer in a large bowl until light and fluffy. The mixture should be noticeably lighter in color. Add the room-temperature eggs one at a time, allowing each egg to blend into the butter mixture before adding the next. Beat in the vanilla and pumpkin puree with the last egg. Stir in the flour mixture, mixing until just incorporated. Pour the batter into the prepared muffin cups.

Bake in the preheated oven until golden and the tops spring back when lightly pressed, about 20 minutes. Cool in the pans for 10 minutes before removing to cool completely on a wire rack.

November 2010 Newsletter

Be sure to check the Cook'n Recipe Archive for more recipes.
---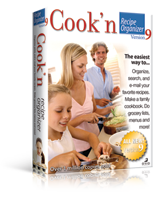 Be sure to check the Cook'n Recipe Archive for more recipes.
Piles of recipe cards in your drawer? Download Cook'n today and get organized!
Buy the CD or download of Cook'n right now! Includes over 300 of our best recipes.
---
"I might learn how to cook yet with all this software of yours. You can't believe how much it has helped. I've had friends come over (I'm just a single guy with a dog - but looking for the right woman) and rave about the meals I prepared for them. It's not all that hard if you just follow the directions. In the end I have to tell them my secret, it's not talent - it's your software.
Oh well, the food is still delicious. Now if I could just figure out how to use the dishwasher.
-John
Cook'n Is Several Products in One!