Hats Off to Hasselbacking!
Hasselbacking. This is a genius technique for infusing flavor into vegetables. The potato is the most common veggie to receive a hasselback (sounds like an award or something, doesn't it?).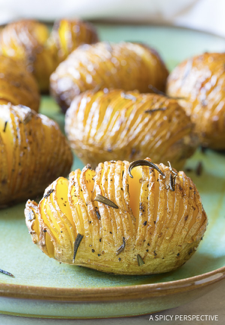 The hasselback, an accordion-like potato, was developed in a Swedish restaurant. The technique is simple: make thin slices crosswise toward the bottom of a potato-but not all the way through. As it bakes, the slices fan out while keeping the potato whole. The exposed flesh of the potato can then be covered in butter or oil and preferred seasonings. A uniformly flavored potato that's part French fry, part baked potato is the tasty result.
But this genius flavor-infusing idea needn't stop with the potato. There are many vegetables that are prime for this cooking approach. Vegetables with a uniform shape are best. You also want to be sure that whatever you choose is large enough to withstand the slicing and stuffing. Aim for vegetables that one or maybe two people could eat as a single serving. Some good choices:
• Potatoes
• Sweet Potatoes
• Zucchini
• Carrots
• Eggplant
• Cucumbers
• Avocado
• Tomatoes
Here is the basic HOW-TO and some tasty ideas I found on www.eatingwell.com: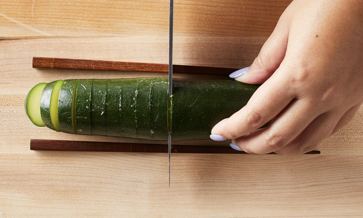 First, the slicing. Start with a sharp knife. Make slices anywhere from every 1/2 to 1/4 inch along the length of your vegetable. The more slices you make, the more flavorful the end result will be. And remember: You're NOT slicing all the way through to the bottom, because you want the veggies kept whole. So cut smart by placing your veggie between two chopsticks, as pictured. Your knife automatically stops at the chopsticks, leaving a uniform cut without cutting too deep.
Next, stuff. Anything goes, flavor-wise. Dried spices or finely chopped fresh herbs combined with extra-virgin olive oil or a little melted butter is the simplest way to infuse flavor. Drizzle it on before or after cooking.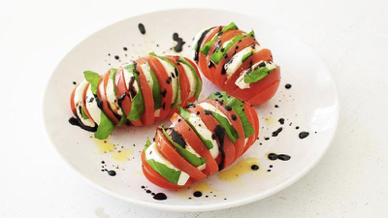 Or stuff with slices of cheese, cured meats, smoked sausage, and even other vegetables. Be sure to keep your stuffing ingredients thin. Otherwise, the vegetable could break apart as things are forced into the cuts. Longer vegetables like cucumber and zucchini start to curl if they're overstuffed. To minimize that effect, try stuffing every other cut or so.
Then, cook or not. Hassleback vegetables do well roasted, broiled, or grilled. If you feel that they're particularly fragile, roasting or broiling is the way to go. If you use the grill, place a double layer of foil atop the grate and don't flip the vegetables while cooking. Of course, you can skip cooking altogether. Tomato, avocado, and cucumber can be sliced, stuffed and enjoyed as is for a show-stopping side dish.
I'll close this fun tutorial with a wonderful recipe for hasselback zucchini "pizzas" (thank you, Eating Well!) Besides how good these taste, I love that this dish makes pizza possible for those of you that are giving up or trying to eat less bread! Hats off to hasselbacking!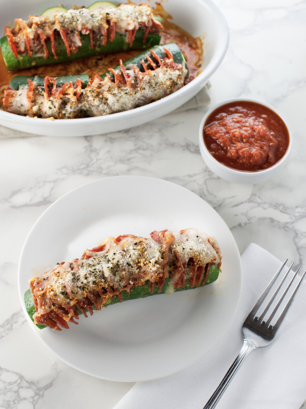 Hasselback Zucchini Pizza
Serving size:
1
Calories per serving:

710




Ingredients:
4
medium
zucchini
about 6-7 inches long
olive oil
sea
salt
to taste
black pepper
to taste
40
slices
pepperoni
halved
1
cup
pizza sauce
1
cup
shredded
mozzarella cheese
1/2
cup
grated
Parmesan cheese
1
teaspoon
dried
oregano
1
teaspoon
dried
basil
Directions:
1. Preheat oven to 375°
2. Slice the ends off of the zucchini.
3. Being very careful not to cut all the way through, make slits in the zucchini, slicing about 3/4 of the way down.
4. Drizzle a little olive oil over top of each one and sprinkle with a pinch of sea salt and black pepper.
5. Put a slice of pepperoni in eat slit.
6. Spoon 2 tablespoons of sauce over top of each zucchini.
7. Sprinkle 1/4 cup of mozzarella cheese over top of each zucchini.
8. Place the hasselback zucchini in a casserole dish.
9. Bake for 35 minutes.
10. Remove from oven; top each one with Parmesan cheese, oregano and basil.
11. Bake for an additional 5-10 minutes.
Add Recipe to Cook'n
Sources:
www.aspicyprespective.com
www.eatingwell.com
www.bettycrocker.com
www.peaceloveandlowcarb.com

Alice Osborne
Weekly Newsletter Contributor since 2006
Email the author! alice@dvo.com