Such an Easy and Delicious Way to Protect Health!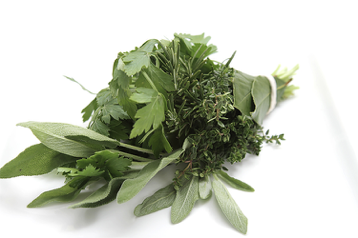 With FRESH herbs and spices, that is. They've been truly important to people throughout history (for their medicinal properties, well before culinary use).
Modern science has now shown that our ancestors were spot on; many of them do indeed carry remarkable health benefits. For instance, here are just a few, out of several, that are considered to be the world's healthiest (all supported by extensive research):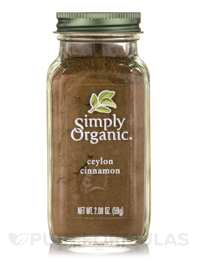 CINNAMON (Ceylon, NOT Cassia): Be sure you're using Ceylon cinnamon—known as TRUE cinnamon. Its medicinal properties comes from a compound called cinnamaldehyde. It has potent antioxidant activity, helps fight inflammation and has been shown to lower cholesterol and triglycerides in the blood.
But where Ceylon cinnamon really shines is in its effects on blood sugar levels. This popular and versatile spice can lower blood sugar by slowing the breakdown of carbs in the digestive tract and improving insulin sensitivity. All it takes is ½ to 2 teaspoons of cinnamon per day.
SAGE gets its name from the Latin word salvere, which means "to save." It had a strong reputation for its healing properties during the middle ages, and was even used to help prevent the plague.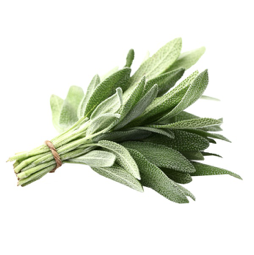 Current research reports that sage can improve brain function and memory. But it's especially effective in people with Alzheimer's disease. Alzheimer's disease is accompanied by a drop in the level of acetylcholine, a chemical messenger in the brain. Sage inhibits the breakdown of acetylcholine.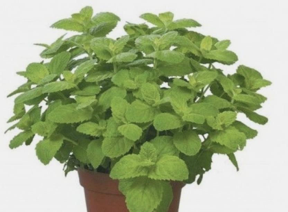 PEPPERMINT has one of the longest histories of use as a medicine. As is the case with many herbs, it's the herb's oil that contains the most potent health-affecting agent. Studies show that peppermint oil improves pain management in irritable bowel syndrome (IBS), for instance. This soothing oil works by relaxing the smooth muscles in the colon, which relieves pain experienced during bowel movements. It also helps to reduce abdominal bloating, which is a common digestive issue. Research also shows that when used in aromatherapy, peppermint oil fights nausea.
TURMERIC, one of the latest darlings of the natural health world, absolutely deserves its reputation. It contains several medicinal compounds, the most important of which is curcumin.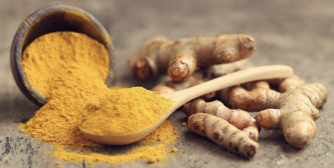 Curcumin is a remarkably powerful antioxidant, which fights oxidative damage and boosts the body's own antioxidant enzymes. Oxidative damage is one of the key mechanisms behind ageing and many age-related diseases.
It's also strongly anti-inflammatory, to the point where it matches the effectiveness of many anti-inflammatory drugs. Research also shows this is another herb that improves brain function, fights Alzheimer's, reduces the risk of heart disease and cancer, and relieves arthritis.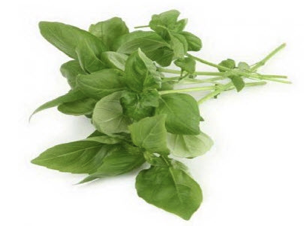 HOLY BASIL (not to be confused with regular basil) holy basil is considered a sacred herb in India. Loads of research show that it inhibits the growth of a range of bacteria, yeasts and molds; it boosts the immune system, and is reduces blood sugar levels (before and after meals). To top that off, it also effectively helps with anxiety and anxiety-related depression.
Aside from the health benefits of fresh herbs and spices, there's NOTHING that can compare to their taste. They simply transform any recipe. So that said, I'll conclude with a couple wonderful recipes that work wonderfully well with fresh herbs (whether fresh from your garden or from the store):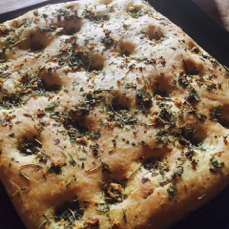 Easy Herbed Foccacia Bread
Serving size:
6
Calories per serving:

285




Ingredients:
1
package
active dry
yeast
1
cup
warm
water
1
tablespoon
sugar
1/4
cup
extra virgin
olive oil
1 1/2
cups
whole wheat flour
1
cup
unbleached white
flour
1
teaspoon
salt
1
tablespoon
minced fresh
garlic
coarse
salt
fresh sage, holy basil, rosemary and/or oregano
Directions:
Pour the yeast into warm water and let stand to dissolve for 5 to 10 minutes. Stir in the sugar and 2 tablespoons of the oil. Combine the flours and salt in a large mixing bowl. Work the yeast mixture in using your hands, then turn out onto a well-floured board. Knead for 5 minutes, adding additional flour if the dough gets too sticky. Shape into a round and roll out into a 12-inch square or circle.
Place on an oiled and floured baking sheet, cover with a tea towel, and let rise in a warm place for 30 to 40 minutes. Preheat oven to 400F°.
When the dough has risen, poke shallow holes into the surface with your fingers, at even intervals. Sprinkle the remaining 2 tablespoons of olive oil over the top evenly, followed by the garlic, salt and herbs. Bake for 20 to 25 minutes, or until the bread is golden on top and sounds hollow when tapped.
Add Recipe to Cook'n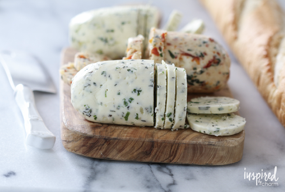 Herb Butter
Serving size:
3
Calories per serving:

200




Ingredients:
6 or 7
tablespoons
butter
1
tablespoon
fresh herbs
chopped (or 1/2 tablespoon dried herbs); a good combination is 2 parts rosemary, 1 part thyme, 1 part parsley.
Directions:
Cream butter and herbs together. Store in small container. Cover and refrigerate. Will keep up to three months. Use with vegetables or a sandwich spread. Good herbs to use: Parsley, sage, or a combination of parsley, chives, basil, thyme and tarragon. But the sky's the limit on this recipe. Be sure to experiment!
Add Recipe to Cook'n
Sources:
www.foodandstyle.com
www.pureformulas.com
www.instacart.com
www.flipkart.com
www.quickanddirtytips.com
www.earlycare.org
www.archannaskitchen.com
www.inspiredbycharm.com

Alice Osborne
Weekly Newsletter Contributor since 2006
Email the author! alice@dvo.com