Coconut Flour—
Nutrient Dense and So Good!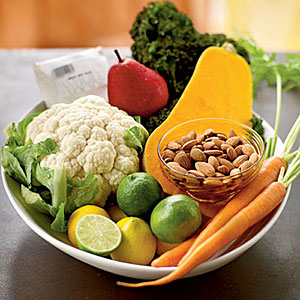 NUTRIENT DENSE food is my slogan, and I'm always looking for healthy alternatives to foods that are nutritionally inadequate. Fortunately, there's a ton of information on the Internet today that supports this goal.
So if you share this interest, then flour is the place to start. When seeking a healthy flour alternative, coconut flour is a terrific choice. Made from the meat of coconuts after the milk has been removed, coconut flour is loaded with nutrients that offer numerous health benefits.
Besides being very high in fiber, healthy fat, and protein, coconut flour is also a good source of lauric acid, a saturated fat thought to support the immune system and the thyroid. And like most healthy fats, lauric acid also promotes good skin health.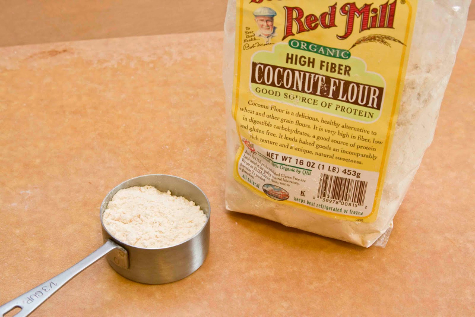 It's an exceptionally good source of manganese which helps to better utilize many nutrients including choline and biotin (found in eggs), vitamin C, and thiamin. Manganese also supports bone health, nervous system function, thyroid health, and helps to maintain optimal blood sugar levels.
And here's the biggie: Coconut flour is gluten free. Be assured, "gluten free" is more than a dietary trend—this eating approach is here to stay because Gluten is a protein molecule found in certain grains, such as wheat, barley, and rye. Gluten is highly allergenic, and even potentially deadly to those who have celiac disease, which is a condition where the gluten destroys the intestinal celia.
However, even if you don't have celiac disease, you can still be negatively affected by the gluten protein. Medical science research shows that exposure to gluten, especially wheat flour, causes an inflammatory response in the body, even in healthy individuals. Simply breathing in flour dust is found to cause inflammation of the lungs. Inflammation in the body can cause arthritis and even organ damage.
This is why coconut flour is so beneficial: Because it's gluten free, it doesn't trigger an inflammatory response within the body. This reason alone makes it a valuable alternative to the diet and learning to cook and bake with it is worth our while.
That said, it's important to know that learning to use coconut flour takes a bit of time and practice. Here are some good tips from www.nourishedkitchen.com on the subject:
FIRST, and this is a big deal: When baking with coconut flour, it is best to use established recipes rather than waste considerable expense and time with experimentation. Here are a couple books I highly recommend (Bruce Fife, Bruce & Leslie Fife).

In baking, you cannot substitute coconut flour for wheat or other grain-based flours at a 1:1 ratio. They are not equivalent.
Coconut flour is extraordinarily absorbent; very little coconut flour is needed to successfully produce a recipe. In baked goods, you generally substitute 1/4 cup to 1/3 cup coconut flour for 1 cup grain-based flour. You'll also need to increase the number of eggs. In general, for every one cup of coconut flour called for, you'll use six beaten eggs in your recipe in addition to approximately one cup liquid such as coconut milk.
Your batters will seem runny at first, but just wait a minute and all of a sudden things thicken up nicely.
If you are frying or sauteing and need to dredge meats or vegetables, you can use coconut flour in an amount that is equivalent to wheat flour.
Coconut flour is clumpy. To produce a fine-textured result, the coconut flour must be thoroughly beaten with the other ingredients in your recipe.
Coconut flour is dense and can also be dry. Each flour has its peculiar characteristics, and baked goods made with coconut flour tend to be dense and dry. To reduce dryness, make sure you're using plenty of eggs; you can also add cooked, pureed, or mashed fruit or vegetables to your baked goods to increase the moisture.
Baked goods made with coconut flour and other whole grains will not rise as high as those made with nutrient-empty white flour. Just wrap your mind around the idea that a muffin doesn't have to be 3 or 4 inches tall to be good.
I've been baking with coconut flour for several weeks now, and the results are getting better and better. I'll conclude with one recipe we're becoming very fond of—a muffin that's delicious, filling, and perfect for snacking. Try it and see if coconut flour might truly earn its way into your baking routine:
Coconut Flour Muffins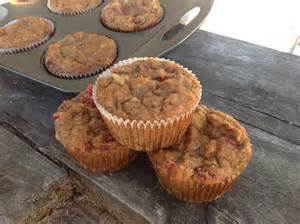 Delicious and filling, these healthy muffins make the perfect snack when the "munchies" hit.
Yield:
8 muffins
Serving size:

4


Calories per serving:

380




Ingredients:
6 tablespoons

coconut

flour
1 teaspoon

freshly grated

cinnamon

(or 1/2 teaspoon ground)
1/4 teaspoon

freshly grated

nutmeg

(or 1/8 teaspoon ground)
1/2 teaspoon
baking soda
4
eggs
3 tablespoons

melted coconut

oils

(NOT in the microwave)
1 teaspoon

apple cider

vinegar

(Bragg's is great)
1 cup

finely grated

zucchini

or carrot or apple (or combination)
1/4 cup

raw

honey
1 cup

raisins

(optional for some, but not for me)
Directions:
Preheat oven to 350°F. Line 8 muffin cups with liners or grease cups well. Sift dry ingredients together. In another bowl, blend liquid ingredients together. Fold liquid ingredients into dry until well blended. Divide batter between muffin cups; bake until raised but not dry, 20 minutes. These freeze well.
HOT TIP: Use the small side of your grater to grate the zucchini and carrot (not the apple, though—that side turns apples into mush). The finer the shred, the lighter the muffin. This applies to quick breads and cakes as well.

Recipe formatted with the Cook'n Recipe Software from DVO Enterprises.
Sources:
www.myrecipes.com
www.lovely-little-things.blogspot.com
www.shilofarmproducts.com
www.thecafewellness.com
---


Alice Osborne
Weekly Newsletter Contributer since 2006