Time-, Space-, And Energy-Saving Tips
You'll Thank Me For!
The first of the year is a good time to scrutinize our cooking processes and procedures to see if there aren't some things we can do easier and better.
I noticed, for instance, that I waste a LOT of time hunting for frequently-used recipes. So I pulled the ones I use most often and tape them where I can see them, quickly.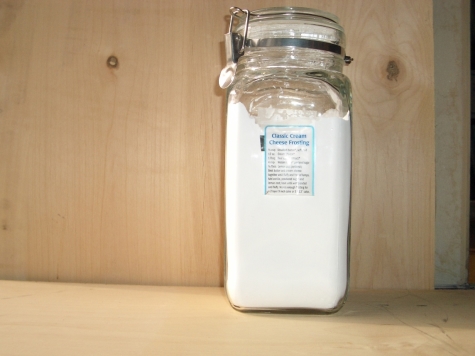 Here you see that I've taped my favorite butter-cream frosting recipe (cut from the back of the bag of powdered sugar) to my powdered sugar container. I also taped my favorite biscuit, pancake, and bread recipes to my flour container. And I cut the instructions off the back of the brown rice bag and taped them to my rice cooker. (I keep our rice in an air tight glass container to keep it fresher longer.) Little bits of time, added up, save a LOT of time (and energy) in the long run. I can't believe I didn't think of this sooner. DUH, right?
Another thing I did was to install a length of quarter-round to the back of the cupboard that is my tableware center. Doing this created a convenient and space-saving place to put my butter dishes.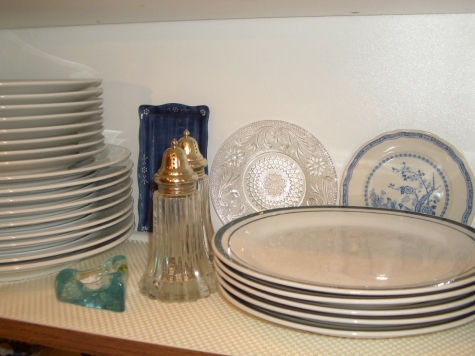 Another thing I'm doing is lining by baking pans with foil and then spraying that with vegetable spray. This step saves time because I don't need to wash the pan and it also keeps the pan looking nicer.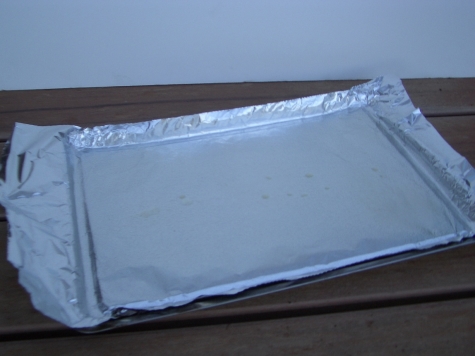 And still another thing I'm doing: Using this foil-lined baking sheet, I very often will place my entire ball of cookie dough on it. I flatten it out to all the edges and bake one gigantic cookie rather than a couple dozen of individual cookies.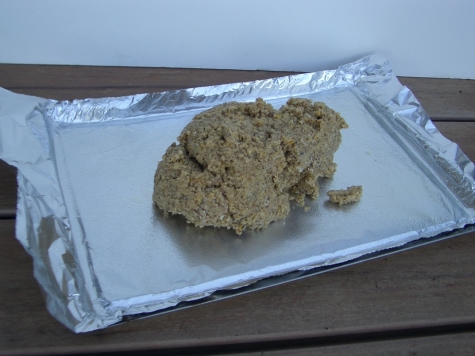 When finished baking, I can easily lift the cookie off the sheet and onto a cutting board. I then use my large butcher knife to cut the warm cookie into bars. Then I easily slide the cut bars (still on the foil) over to a cooling rack to finish cooling. The time this approach saves is obvious. And you can create all sorts of fun shapes using large cookie cutters.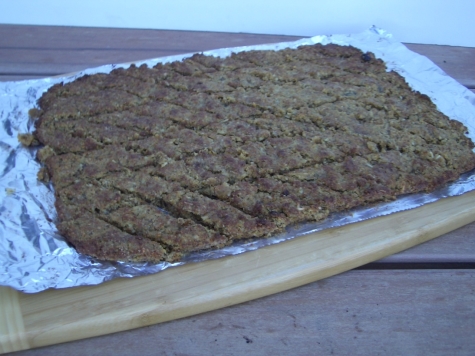 I also attached a large self-adhesive hook to the inside of the cupboard under our kitchen sink so I could hang my colander there. We can save a lot of time by storing things where we use them most. Storing things where they're used also makes finding things quicker and easier. And hanging things can free up space that could be used for other things.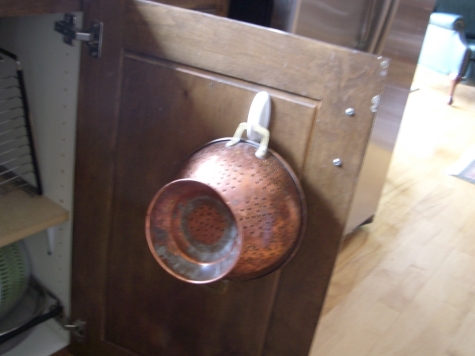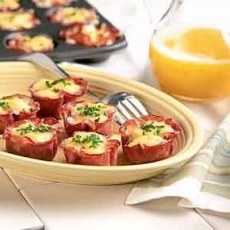 Finally, I'm learning to create delicious speedy meals. One of our favorites—a breakfast—is Ham and Cheese Egg Cups. This picture shows how cute and simple they are. Line the cups of a well-greased muffin pan with thin deli ham slices. In a small bowl whisk eggs (as many as the amount of cups you want to make-1 egg per cup), some grated cheese, and salt and pepper to taste. You could also add finely chopped bell pepper, green onions, etc. Divide this mixture amongst all the lined cups. Bake at 350°F until eggs are set, about 8 to 10 minutes. Lift egg cups out with a spoon and serve immediately. And when folks are in a hurry, these make the perfect grab 'n go breakfast!
Are there things you do to save time and energy when cooking. Please share with us. We may as well take advantage of these winter days to assess your cooking processes and procedures to see if there are some things you could improve on. Time is life, so we ought to make the best of it!
Sources:
www.nationaldairycouncil.org
---


Alice Osborne
Weekly Newsletter Contributer since 2006