Classic Belgian French Fries
Servings 4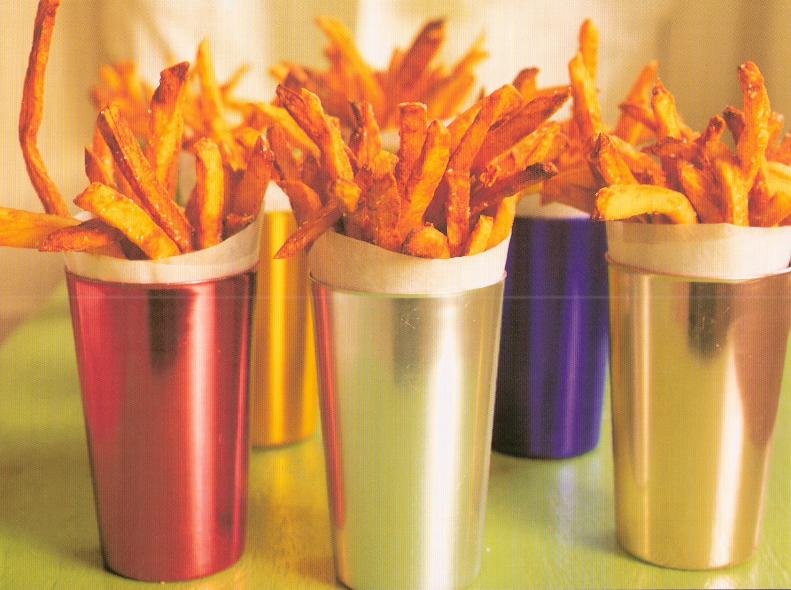 ---
Classic Belgian French Fries
In Belgium, deep-fried potatoes are the national dish, and Brussels seems to have a frietje stand on every corner. Just don't try telling a Belgian that their beloved fries are French. Many historians believe what French cooks call pommes frites were originated by Belgian peasants as far back as the seventeenth century. Of course, being so close to each other, the two countries share many recipes (and words, as frites and frietjes are surely related). When the American soldiers returned home after World War I, they brought back with them memories of the fried potato sticks they had in France, and called them "French" fries.

You could serve these Belgian style, with mayonnaise standing in for ketchup, or with my favorite dip: mayonnaise and ketchup mixed in equal amounts. For the best fries, use mature baking potatoes and a two-step frying process. The fries must be at room temperature before their second immersion, so be sure to allow enough time between the steps. There is a whole school of fried potato dishes in French cuisine, and recipes for some of them follow the classic instructions for French fries-but note that the gaufrettes and shoestring potatoes in the recipes below get only one trip to the deep fryer.
Serving size:

4


Calories per serving:

135




Ingredients:
2 pounds

large baking

potatoes

, such as russet or Idaho (about 3)
vegetable shortening or

vegetable oil

for deep-frying
salt

to taste
1

recipe (made without garlic), ketchup, or a combination, for dipping
Directions:
1. Starting at least 30 minutes or up to 4 hours before serving, scrub the potatoes well under cold running water. Peel them, if desired. Using a sharp knife or a French fry cutter, cut each potato lengthwise into long sticks about 1/4 inch square. Place in a large bowl of cold water. (If you like crispy fries, refrigerate the bowl of fries for 2 hours.) Drain well. In batches, spin the potatoes in a salad spinner, then pat completely dry with paper towels. Wrap the potatoes in paper towels to keep them from discoloring.
2. Place a large wire cake rack over a jelly roll pan. In a deep Dutch oven over high heat, melt shortening to a depth of 2 to 3 inches and heat it to 325 F. In batches, without crowding, deep-fry the potatoes until tender and just beginning to color, about 3 minutes. Using a wire-mesh skimmer, transfer to the wire rack and let cool. The potatoes can stand at room temperature for up to 4 hours.
3. Preheat the oven to 200 F. Transfer the cooled potatoes to paper towels and pat to remove excess fat. Reheat the shortening over high heat to 375 F. In batches, without crowding, add the potatoes and cook until crisp and golden brown, 1 to 2 minutes. Using a wire-mesh skimmer, transfer the fries to the wire rack and keep warm in the oven while frying the rest. Serve immediately, seasoned with salt and with a dipping sauce on the side.
NOTE: It's a fact that the most delicious French fries are cooked in rendered lard or beef fat. (McDonald's fries haven't been quite the same since they stopped using beef fat.)
GAUFRETTES (WAFFLE-CUT POTATOES): cut the ends off a potato to make it somewhat rectangular. Using the ruffled blade of a mandollne, cut the potato end to make a ridged surface. Turn the potato 90 degrees and slice again to make a waffle-cut chip. Continue cutting and turning the potato until all of it has been sliced. Repeat with the remaining potatoes. Transfer to a bowl of cold water and let stand for 5 minutes. Drain, spin in a salad spinner, and pat dry with paper towels. Deep-fry in 375 F vegetable oil until crisp and golden, about 3 minutes.
SHOESTRING POTATOES: Using a mandollne, cut the potatoes lengthwise into 1/16-inch square "shoestrings." transfer to a bowl of cold water and proceed as for the gaufrettes above.

Recipe formatted with the Cook'n Recipe Software from DVO Enterprises.
---
Source:
https://www.dvo.com/fried-food.php?CID=cookn_software