STORAGE Tip FOR the SPACE-CHALLENGED
My good friend, Nola, sends me terrific information all the time on preparedness and food storage. Her most recent note to me was "16 Food Storage Tips for the Space Challenged," by Gaye Levy. I want to elaborate on idea #12, Storage under the bed.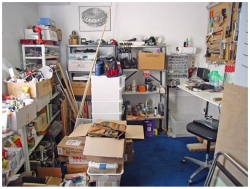 I'm a fanatic about removing clutter before we dive into serious storage of things. Clutter removal will free up all sorts of space you didn't think you had. So that's the place to start.
Now assuming you've purged yourself of all clutter (things you don't like, use, need, want, or have room for), let's now talk about storing under the bed. This is prime real estate and a good storage area, but for it to be an asset and not a liability, be smart and professional about how you use it.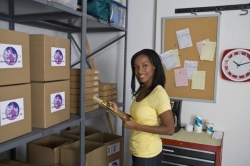 Here's what I mean: Study any commercial business or manufacturing site and you'll notice something: The folks running things a) know what and how much they have (due to ongoing inventories), b) know where these things are (due to a facilities map), and c) know when things need rotation and they do indeed move the old out to make room for the new (thanks to keeping track of expiration dates and other vital information).
When it comes to running a home, I say let's be as smart as the pros running a business, for crying out loud. So back to storing under the bed: no more chucking and stuffing! Here's the smart and professional way to do this: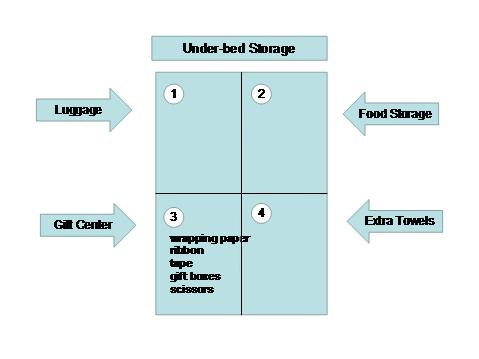 All beds are in the shape of a 3x5 card, so give each bed in the house its own card. On the card note what bed this card is for (Guest Bedroom, John's Bed, Master Bedroom Bed, etc.). Divide the card into 4 boxes and number them. Mentally divide the space under the bed into these same 4 boxes.
Then decide what you want to store under the bed, and be sure to group and store like items together (see illustration). List on the card what will go in each space under the bed. This becomes storage at your finger tips. For instance, cases of tuna and canned salmon might go in space 1; cases of soups, stews, and chowders could go in space 2; cases of tomato products could go in space 3, and cases of sweeteners (honey, sugar, brown sugar, powdered sugar, etc.) could go in space 4.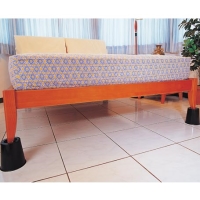 If you increase the height of your bed using bricks or commercial leg extensions (found at Bed, Bath and Beyond), you can put a LOT of food under a bed. There was a time years ago, when I used the space under the bed in the bedroom nearest our teensy tiny kitchen, as my pantry. I relied heavily on these under-bed-storage cards, and was able to manage. Was it ideal or convenient? NO. But it got the job done and I was glad for the space.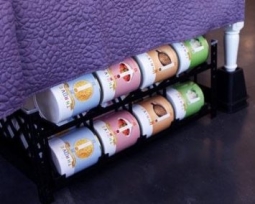 You can see that you can store a lot of food and preparedness items by using this system for all the beds in your home. Shoot, you could even use the same techniques for storing under your couches (assuming there's about 4 inches of space-cases of tuna fit really well under there).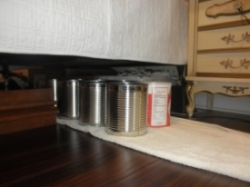 I also suggest you place the cases or lose canned goods on either flat rolling trays or old towels (so you can pull out what you're looking for.
The key to efficient under-bed-storage, though, is knowing where things are, what you have, and how much you have. These cards make it easy to keep track, inventory, and actually find things quickly and easily--a big time saving factor.
If you're interested in Gaye's other storage tips, check her out her blog: http://www.backdoorsurvival.com/. And she says that when you sign up to receive email updates, you'll receive a free, downloadable copy of her e-book, The Emergency Food Buyer's Guide.
Meanwhile, start functioning like the pros in how you set up and manage your tangible goods--and enjoy how much time, energy, and money you'll save by knowing what you have, how much you have, and where it is!
---
Sources:
www.annemckechnie.com
www.work.chron.com
www.hogarysaludsutiendamedica.com
www.daily-survival.blogspot.com
www.familysurvivors.com
---


Alice Osborne
Weekly Newsletter Contributer since 2006