Fruit Salsa
Serves 10
---
Ingredients:
2 tart apples, peeled, cored and diced
1 pound strawberries (frozen or fresh), chopped
2 cans mandarin oranges (undrained)
1 cup raspberries (fresh or frozen)
2 kiwi fruits, chopped
3 tablespoons strawberry jam or any other fruit jam
1 tablespoon brown sugar
1 tablespoon sugar and cinnamon
Cinnamon Chips (store-bought or recipe below)
CINNAMON CHIPS
Homemade Flour Tortillas (below)
1 3/4 cups sugar
2 tablespoons cinnamon
HOMEMADE FLOUR TORTILLAS
3 cups unbleached all-purpose flour
1 teaspoon salt
13 cups vegetable oil
1 cup warm water
Combine fruit into a large bowl, then add jam and sugars. Chill for 20 minutes.
For Cinnamon Chips:
Homemade tortillas are the best (see recipe directions below), but you can use store-bought as well to make delicious chips for dipping into the fruit salsa. First, cut the tortillas with a pizza cutter into chip shapes. Fry chips in a single layer in hot oil for about 30-40 seconds, then take chips directly from oil into a cinnamon sugar mixture. Stir the chips until well coated, then remove to cool on a paper towel.
For a lower-fat version of the chips, add the cinnamon/sugar mixture into your homemade tortilla dough, following the normal instructions. Then bake the chips (instead of deep frying) in a 350° oven for 12-15 minutes until crisp.
For Homemade Flour Tortillas:
Combine the flour, salt, and oil in a large bowl and mix together until crumbly, as for pie dough. Add water and mix until you can gather the dough into a ball. Transfer the dough to a lightly floured surface and knead until smooth and elastic, about 5 minutes. Cover with plastic wrap and set aside to rest for at least 30 minutes or up to 2 hours.
To form the tortillas, divide the dough into 12 equal portions. Roll each portion between the palms of your hands to make a ball. If you have a Tortilla Maker, flatten the ball and press in your Tortilla Maker per the instructions.
Otherwise, on a lightly floured surface, roll out each ball into an 8 inch circle. Layer the circles between sheets of plastic wrap as you go.
To cook the tortillas, heat a heavy skillet, griddle or comal over high heat until beginning to smoke. Place a tortilla in the pan and cook for 30 seconds. Turn and cook on the other side until slightly puffed and speckled brown on the underside but still soft enough to fold, about 30 seconds. Remove and continue until all the tortillas are cooked, stacking them as you go. Serve right away or cool, wrap in plastic wrap and refrigerate for up to 3 days.
---
---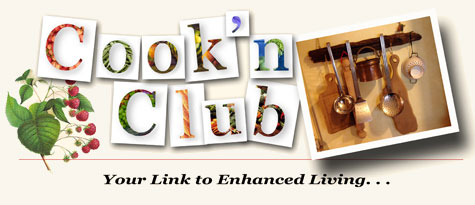 Contribute to the Cook'n Club!
DVO would love to publish your article, prose, photography and art as well as your cooking, kitchen and nutrition tips, tricks and secrets. Visit the Newsletter Submission / Win Win for All section in our Forum for more information and details.